Kairi Sane may be having her last WWE match On Raw this week or at least for a while.
PWInsider is reporting that Sane will be leaving the WWE, and this week's Raw match against Bayley will be her last. Kairi Sane is said to be leaving on good terms with WWE and simply wants to return to Japan.  She got married in late February, and her husband lives in Japan. She presumably wants to start her new life with her husband in her home country, which is understandable.
RELATED: THE GOLDEN ROLE MODELS ISSUE A CHALLENGE FOR A SUMMERSLAM DREAM MATCH
Since Sane is leaving on good terms she is said to be part of WWE's extended family. This may mean we could see her again in WWE. Perhaps when this Covid stuff ends and WWE takes a trip to Japan we may see Sane do a run-in to help her old friend and tag partner Asuka.
Kairi Sane Leaving Is A Major Blow To The Women's Single And Tag Divisions
Sane was a prominent part of the WWE Universe as she was a former NXT Women's Champion and WWE Tag Team Champion with Asuka. The WWE is really short on quality talent and losing someone of Sane's talent will be a major blow.
Sane's departure will not only be felt in the singles division, but the tag division as well. She and Asuka form the Kabuki Warriors and are former tag champions. The female tag division even though is much better than the men's is still not strong enough to lose a top level team like the Kabuki Warriors.
Last Second Change Of Exit Plan
Dave Meltzer of the Wrestling Observer reported the original plan for her departure was much different. Sane leaving is something WWE has known about for quite some time. The original plan was for Sane to sustain a career-ending injury. Asuka would then face the Superstar who injured Sane at SummerSlam.
RELATED: WWE'S EMBER MOON EMOTIONALLY REVEALS HER INJURY MAY BE CAREER-ENDING
The two superstars which were rumored to have been her attacker were Charlotte Flair and Shayna Bazler. This would work very well as it follows pretty closely to Sane's real life.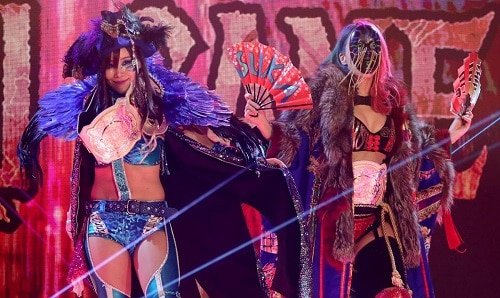 Kairi Sane's Real Life Injury
In late May, Sane suffered a legitimate injury at the hands of Nia Jax after she was thrown against the steel ring steps.  I know what you're thinking. Jax hurt a wrestler?  It is almost unbelievable because Jax has a reputation for working so safely…not.  That was hard to get out with a straight face.  
That injury put Sane on the shelf for a few weeks as she healed up. They could have put her in another match with Jax and Sane may have actually suffered a career ending injury. The career-ending injury plan was reportedly scrapped due to Paul Heyman leaving.
End Of Her Wrestling Career Or Just American Wrestling?
I doubt this will be the last time we see Sane wrestle. She will most likely end up in Stardom or another Japanese wrestling promotion. We could even see her return to WWE at some point if she and her husband decide to move to the US.
Everyone here at The Illuminerdi wishes Kairi Sane the best in her future endeavors whether they are wrestling related or not.  Good luck Pirate Princess may your adventures be vast and your treasure be abundant.
KEEP READING: TONY KHAN REVEALS HOW SOUTH PARK INSPIRED FIGHT FOR THE FALLEN DESIGN
Sources: PWInsider, WrestleZone, Wrestling Observer