AEW recently had their yearly Fight For The Fallen event, but CEO and President of AEW, Tony Khan, talked about his surprising inspiration for last year's set.
Tony Khan was a guest on Busted Open Radio and he spoke about how an episode of South Park was the inspiration for the stage and crowd placement for last year's event.  
"Yeah, the W.T.F. episode of South Park, the Wrestling Takedown Federation is their backyard company in South Park," Khan said.
RELATED: IMPACT WRESTLING TEASES BIG MYSTERY SIGNING TO DEBUT AT SLAMMIVERSARY
South Park Inspiring Tony Khan and The World Yet Again
Last year after Fight For The Fallen, Tony Khan wanted to show his inspiration and result side-by-side. For those who would like to watch the South Park episode itself and compare it for themselves, it's season 13 episode 10 titled "W.T.F."  The episode focuses on the boys starting a backyard wrestling promotion, Wrestling Takedown Federation aka W.T.F.
I See What You Were Going For There
The recreation was not identical, but Tony Khan went into what he liked about the South Park episode's design choice and what it reminded him of. He also went into what they did to make his design a reality.
"They had a set, the way they set up behind their house, they set up bleachers in the backyard, but the way it looked was like theater in the round kind of. And that was the amphitheater feeling that I wanted to create, so instead of putting the ring up on the stage where it would only be exposed to one side, we would put the ring down in the pit…and instead of using it as a mosh pit, we could put a ring down there," Khan said.
RELATED: BRIAN PILLMAN JR. WRESTLING FOR AEW AND LOOKING TO VALIDATE HIS FUTURE WITH MLW AND BEYOND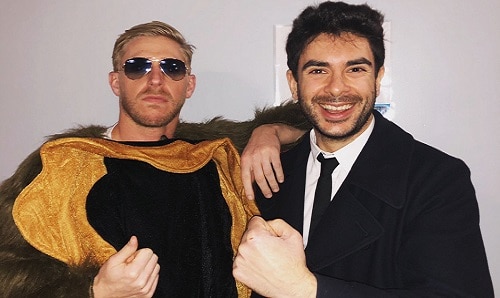 Maybe South Park Should Design More Stuff Because I Love This
I like the design of the arena a lot. It makes all the seats excellent and makes the ring more visible. It would also allow wrestlers to be fully aware if they are visible or not. They could hide getting weapons or blades to get some color.
The design also makes it seem more intimate and feel like a much smaller arena. For some reason it reminds me of the old ECW arena, even though they look nothing similar.
What do you think of the set? Did AEW pull it off? Is there a show or movie which had a really cool set/arena design you wish wrestling would adopt? If you could design a custom arena what would it contain? Don't be shy, we would love to hear your thoughts in the comments below.
KEEP READING: THE GOLDEN ROLE MODELS ISSUE A CHALLENGE FOR A SUMMERSLAM DREAM MATCH
Source: WrestleZone