After last week's thrilling season premiere that tied together Star Wars legends materials, books, and the films, fans may be a bit disappointed that the second episode of The Mandalorian, "The Passenger", is yet another episode that deviates from the core story.
While this episode was still fun and had some great moments, I understand the growing frustration that some fans may be having that The Mandalorian spends too much time avoiding its overarching narrative. What people need to understand is this show is not your procedural narrative TV drama. It's a western serial, and it it's essence it will always follow the "adventure of the week" format.
The Mandalorian Gets Weird
That being said there are some terrific moments in this episode.
The Razor Crest evading the New Republic pilots in the atmosphere of the planet was one of the best chases in recent Star Wars memory. The Frog Lady is quintessential weird Star Wars, and I argue that when Star Wars goes bold and goes weird, it's often some of its best material. I loved the many callbacks to the sixth episode of the first season, "The Prisoner". Including the Frog Lady utilizing the remains of the droid Q9-0 to speak to Mando and the reveal that the reason the New Republic was after him in the first place was his role in the prison break onboard the prison ship.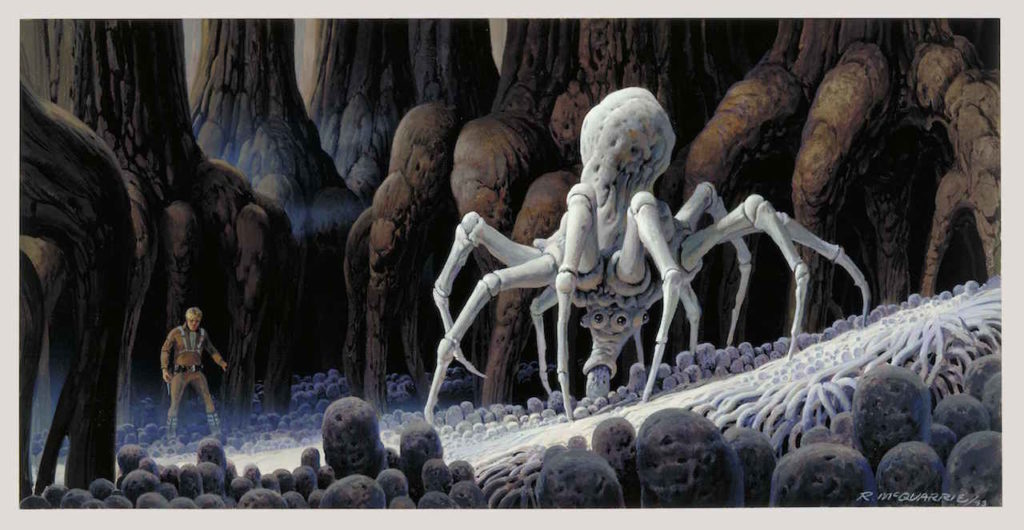 RELATED: THE MANDALORIAN SEASON 2 EXPANDS INTO A LARGER, LESS ISOLATED STORY
"The Passenger" contains many scenes stealing moments for a very, very hungry Baby Yoda. Fans may also notice that the designs of the spider creatures were a nice callback to some of Ralph McQuarrie's original renderings for Dagobah and The Empire Strikes Back.
While "The Passenger" may have seemed like more aimless wandering for Mando and The Child, this episode directed by Peyton Reed, did some great lore building and contained great action sequences. Fans need to be patient with how this series is plotting. We are definitely heading towards the answers of many of the series lingering questions and the introduction of some highly awaited characters. We just need to remain patient, and remember that this is, indeed, the way.
What did you think of the new episode of The Mandalorian? Let us know in the comment section below or let's really dig deep over on Twitter!
KEEP READING: LEGO STAR WARS HOLIDAY SPECIAL TRAILER TEASES A FUN AND SILLY ADVENTURE