The epic documentary, Insert Coin, has been released about the hugely successful videogame creator, Midway Games.
Fans of titles such as Mortal Kombat, NBA Jam, and other various titles will be able to peek into the history of the renowned development studio, who have significantly defined the coin-op arcade market between the 80's and 90's. Insert Coin will allow gamers to find out more about the company itself, including a look back at the earliest moments in the company's past. Viewers will also find out more about the games they produced and learn about the brilliant members of the team that made these great experiences possible.
The documentary was announced by Cargo Film & Releasing, who specialize in representing documentary features for all revenue streams in the global marketplace. This specific documentary will be a fascinating feature for gamers, game designers, and fans of the various franchises that Midway Games has produced.
Insert Coin Trailer
Director Joshua Tsui has crafted Insert Coin as a love letter, time machine, and insider's look at a studio that created pop culture giants that would fundamentally change how we played video games. The early 90's were like the wild west era of the gaming industry, and no studio represented that ethos more than Midway Games. Whose wildly controversial (and hugely successful) titles like Mortal Kombat, a game that thrilled players and shocked parental advisory groups across the globe with its over the top violence and colorful cast.
"Putting together Insert Coin was a wonderful trip down memory lane, but it's also so much more than that," said Joshua Tsui, Insert Coin's director. "This film documents a true paradigm shift in gaming, and Midway Games was instrumental in bringing fun, competitive titles from the arcade to the living room. I'm beyond excited to share this journey with our viewers, and hope they have as much fun watching it as we did making it."
RELATED: PONPU REVIEW: A SIMPLE YET FUN TIME WITH ROOM TO GROW
Tsui was there when it all went down, having worked on the Mortal Kombat franchise and even lent his face to Liu Kang in Mortal Kombat IV. Insert Coin features interviews with past Midway team members, including Eugene Jarvis (Defender and Robotron: 2084), Mark Turmell (SmashTV, NBA Jam, NFL Blitz), John Tobias (co-creator Mortal Kombat series), George Petro (NARC, Terminator 2: Judgment Day, Revolution X), and others. Also prominently featured are industry insiders Carly Kucerek (Coin-Operated Americans) and novelist and screenwriter Ernest Cline (Ready Player One, Armada).
"We're incredibly proud of this film and it was a pleasure working with Joshua Tsui and his team," said David Piperni, Founder of Cargo Film & Releasing. "As we kick off the latest console generation, we hope Insert Coin serves as a fun and informative ride that takes players back the era when gaming exploded as a mainstream pop-culture phenomenon."
It's hard to overstate the impact Midway Games had upon the gaming industry and the entertainment industry as a whole. Mortal Kombat went from a controversial arcade game to an iconic IP that spawned numerous sequels, theatrical films, comic books, action figures, and cartoon series. NBA JAM, Rampage, and Smash TV brought co-op and multiplayer to living rooms worldwide, allowing players to experience the thrill of the arcade in the comfort of their own homes.
Insert Coin explores the rise and fall of the epochal studio, featuring interviews with team members and industry icons, footage and insider stories from the early days of the company, and how it went from dominating the industry to becoming the stuff of legend.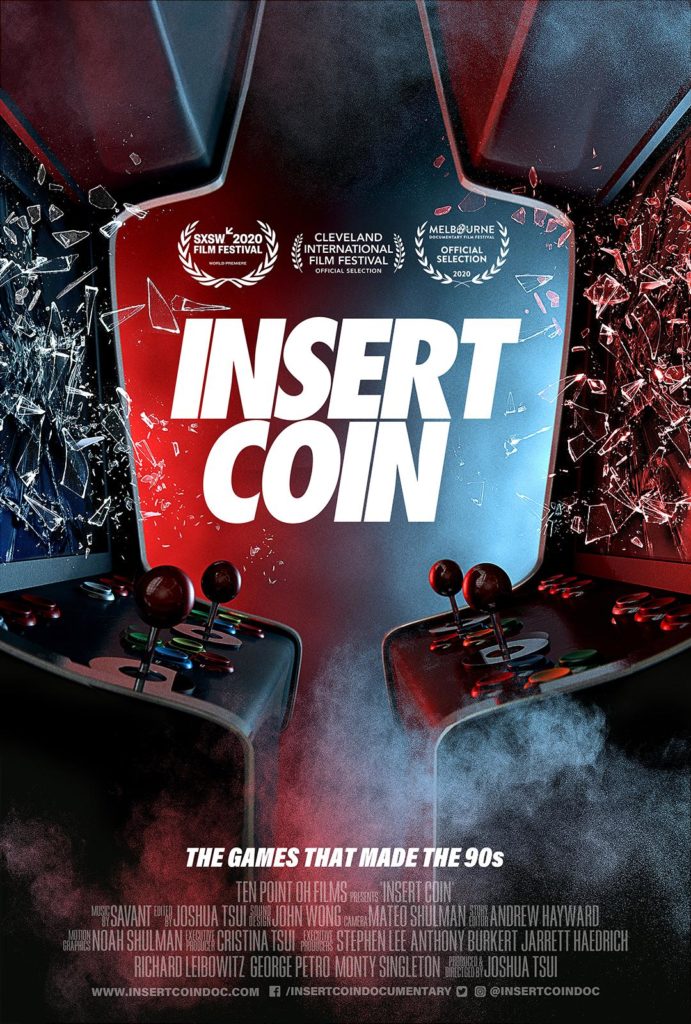 Insert Coin is available on Alamo Drafthouse's On Demand Platform and can be purchased or rented via the site.
KEEP READING: WWE UNDEFEATED WRESTLING GAME NOW AVAILABLE FOR IOS AND ANDROID FOR FREE; CHECK OUT NEW TRAILER
Source: Alamo