New year, new look at WandaVision!
2021 has finally arrived, and coming with it will be a brand new batch of big-time movies and TV shows after 2020 brought mostly pain and suffering in that department. Marvel Studios is at the forefront of this movement with as many as ten new projects set to arrive in this new year, starting off in only two weeks with WandaVision premiering on Disney+.
RELATED: PAUL BETTANY ADDRESSES VISION'S MCU FUTURE WHILE DIRECTOR TEASES "HEARTBREAKING" MOMENTS
The series first became official nearly eighteen months ago at San Diego Comic-Con 2019, and the past few months have brought the first two full trailers and plenty of other releases teasing what's coming in this MCU extravaganza. While the plot of WandaVision is still relatively unknown, Kevin Feige and the team behind this debut Disney+ show are pulling out all the stops with merchandising and promotion to get the MCU fandom's excitement level back to what it was at the end of Phase 3.
WandaVision Posters Ahead!
With the debut for this show creeping over the horizon, the MCU's glorious return to prominence is more real than it has in what feels like a lifetime. Marvel Studios is taking note of this and continuing the hype train with four new posters centered around four of the biggest characters in their first Disney+ project on Twitter.
The first image centers around Elizabeth Olsen's Wanda Maximoff including images of her outfits from nearly every decade explored in WandaVision. There are hints of both her comic accurate Halloween costume and even her nw superhero costume for the show, as well as a look at her with Kathryn Hahn's Agnes.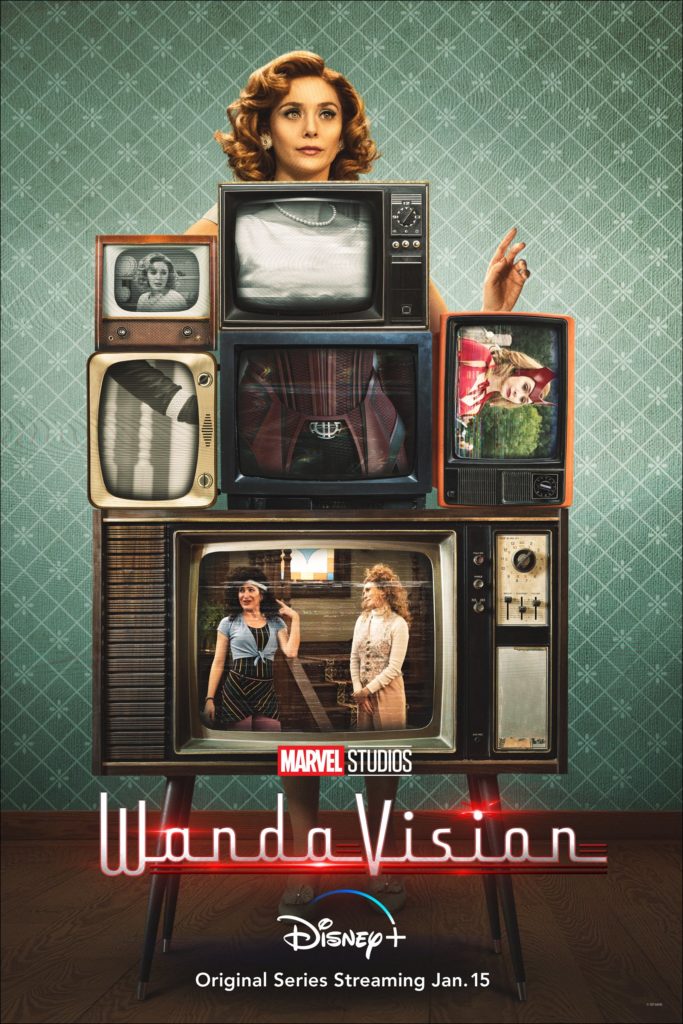 Paul Bettany is shown in his human Vision form as the screens show hints at his looks from other eras. His classic costume is teased, and the bottom picture shows him playing a guitar with the neighbors that come to dinner in the first trailer.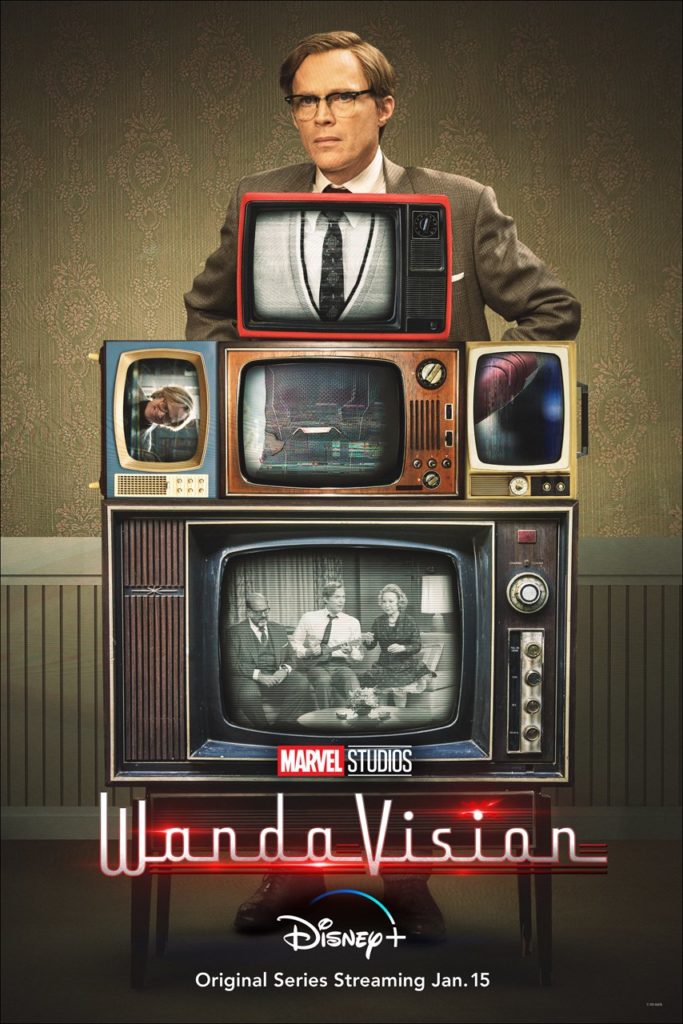 Kathryn Hahn's Agness is the focus f the their picture, although her image only has four TV screens as oppose to Vision's five and Wanda's six. She can be seen in her 80's workout getup, and the bottom image gives a second look at her in an unidentified time period.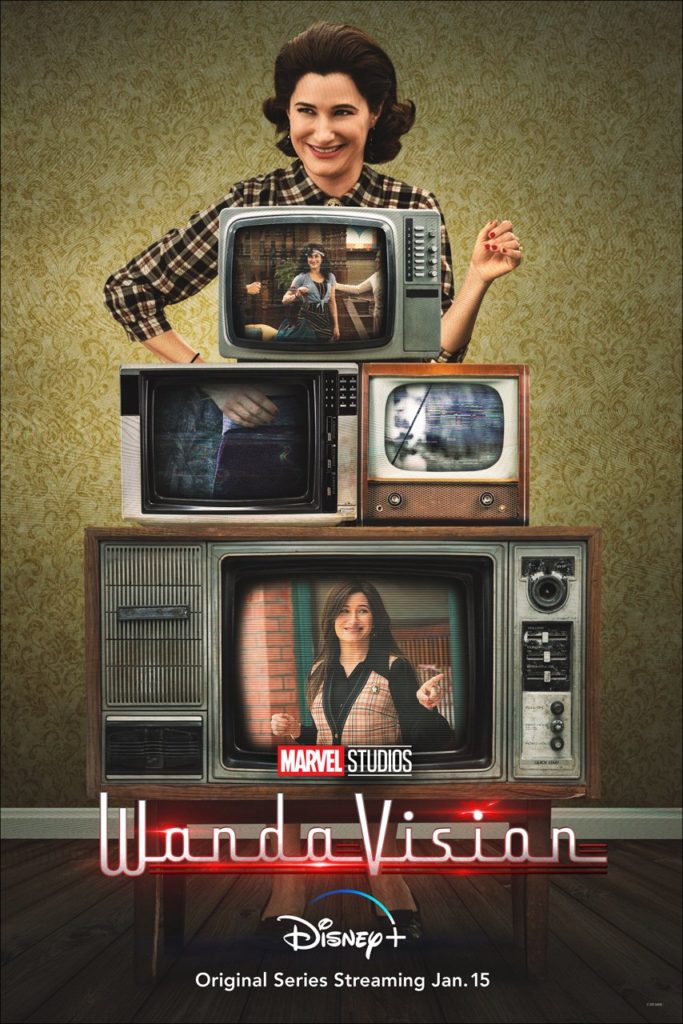 Lastly, fans get a look at Teyonnah Paris' grown-up Monica Rambeau in her debut appearance in the MCU. The bottom image appears to be from an early decade like the 50s or 60, but she can also be seen in the top image in what appears to be closer to the present day.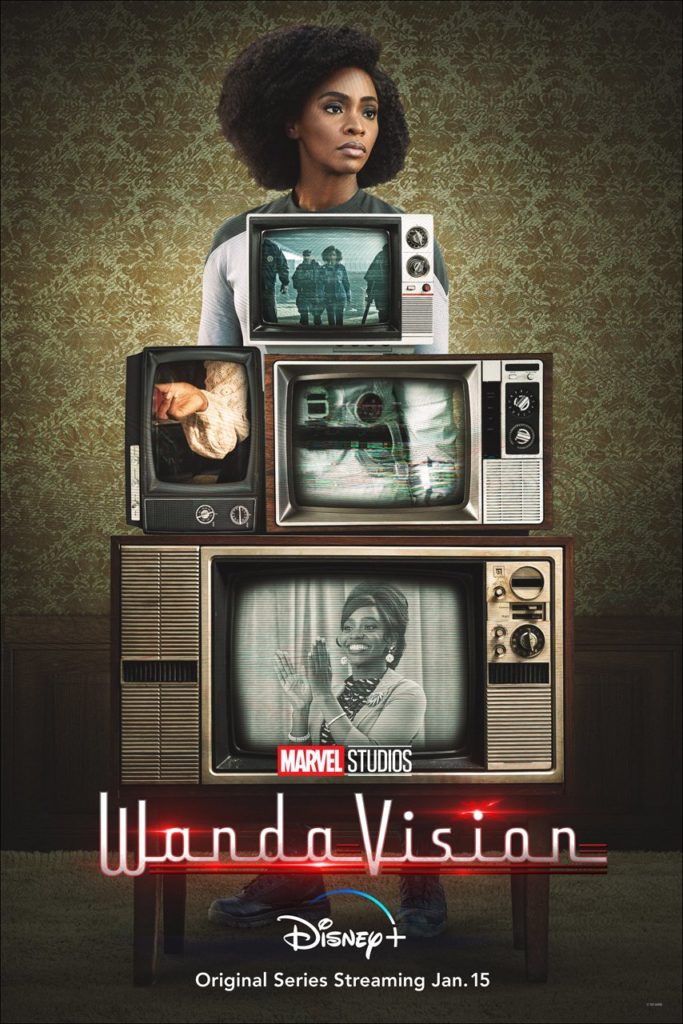 While these images may bring more questions than answers in terms of the four lead characters, it certainly continues to up the weird factor exponentially. Already set to be one of the most insane projects ever brought to life in the MCU, WandaVision will take a journey through the lens of at least six eras of network TV as the two superheroes' lives are turned upside down.
With only two weeks remaining until the first episode of this show premieres, theories and questions are forming on a regular basis concerning what will be explored in WandaVision as well as how it will advance the MCU narrative. One week earlier will bring the debut of the Marvel Legends series, whose first two episodes are focused on Wanda and Vision, which has fans hoping more information will be revealed at that time.
WandaVision will begin streaming on Disney+ on January 15, 2021. Are you excited for the new streaming phase of the MCU? What hints do you see in the posters? Let us know your thoughts in the comments below, and check back with The Illuminerdi for the latest comic book news and features.
KEEP READING: BREAKING DOWN 4 NEW MCU TRAILERS FROM DISNEY'S INVESTORS DAY