Jay White's wrestling future may be up in the air and he may be leaving NJPW.
In the fallout of Wrestle Kingdom 15 the future of one of their brightest talents is in question. White, who is the current leader of the Bullet Club or at least was, lost his match with Kota Ibushi. The two squared off for Ibushi's IWGP Heavyweight and Intercontinental Championships in the main event of Wrestle Kingdom 15, but White lost. However, a new rumor says that may have been White's last match in NJPW.
RELATED: NJPW NOW HAS A NEW DOUBLE CHAMPION AFTER WRESTLE KINGDOM NIGHT ONE
An unofficial NJPW podcast, Super J-Cast, has hinted that several sources have brought up the rumor of the possibility of Jay White not resigning with NJPW. They also said WWE may be interested in signing White.
"Several sources have indicated there is some doubt whether Jay White will extend his NJPW contract, rumored to be up at the end of the month. WWE are believed to be making a strong play for him and it's 50/50 whether he stays or goes," Super J-Cast wrote.
Jay White's Legacy With NJPW
Since the New Year Dash!! Event NJPW hasn't mentioned Jay White. This has left fans to speculate on the reason.  They have also wondered if this could be because White is leaving or has left NJPW.
Jay White originally wrestled for NJPW from 2015-2016, but had a lackluster time there. His biggest accomplishment was defeating Kenny Omega who was the IWGP Intercontinental Champion at the time in a non-title match. However, White left shortly after to wrestle for ROH.
RELATED: CARDI B AND LACEY EVANS BICKER BACK AND FORTH ON TWITTER
In 2017 White made his return to NJPW by teasing a mysterious "Switchblade" character and attacking none other than Hiroshi Tanahashi. White joined CHAOS and began his interactions with the Bullet Club. However, after not too long White joined Bullet Club. I don't know why he didn't just immediately join the coolest faction around.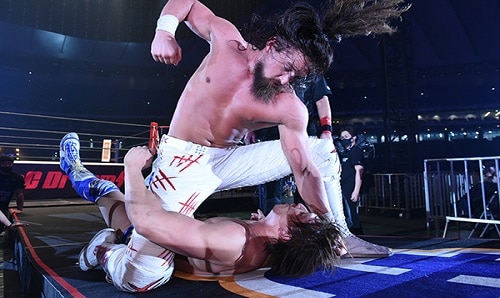 However, White's membership in Bullet Club eventually led to a civil war of sorts. In the aftermath The Elite (Young Bucks and Kenny Omega) left the faction and eventually the promotion. Within the next few months White became the leader of the Bullet Club.
White's NJPW career culminated with him winning the IWGP Heavyweight Championship and the IWGP Intercontinental Championship. However, White is currently without a championship and possibility without a promotion to wrestle in.
Do you think Jay White will resign with NJPW? Do you think White will sign with WWE? Is WWE a good new home for White? Is there a WWE Superstar you would love to see White wrestle? Drop a comment below and let us know what you think of this news.
KEEP READING: UNKNOWN NXT TALENT MOVING UP TO SMACKDOWN TO FEUD WITH REIGNS
Sources: SportsKeeda, Super J-Cast