AEW star and AEW Executive Vice President Kenny Omega will appear on Impact next week to address the shocking climax of the special "Winter is Coming" edition of AEW Dynamite.
Kenny Omega challenged Jon Moxely for the AEW World Championship. AEW President Tony Khan invited Impact Wrestling's Co-Executive Vice President Don Callis to do commentary.  This isn't all that unusual because Callis is long time friends with Omega and did commentary for some of Omega's biggest NJPW matches.  Callis was also there for Omega's match at Full Gear when he defeated Hangman Page.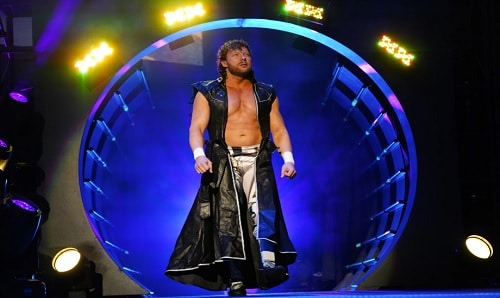 "Winter Is Coming" And So Are Spoilers Below
Kenny Omega and Moxley had a brutal back and forth match. After Omega took a nasty looking fall Callis came down to the ring to check on his friend. Callis called for medical attention and asked for the bout to be stopped in the best interest of Omega.  
However, while the referee was dealing with Callis, Omega struck while the ref was distracted. Kenny Omega grabbed the microphone and hit Moxley with it. This dazed Moxley enough for Omega to hit the One-Winged Angel to get the three count and thus winning the AEW World Championship.
RELATED: JON MOXLEY UNABLE TO WRESTLE AT NJPW WRESTLEKINGDOM 15
Before anyone realized what had just happened Omega and Callis ran out of the ring and the arena. However, on the way out they exchanged words with Khan and many other shocked wrestlers. As they were getting into their ride out of the arena Alex Marvez finally caught up with them and asked what the hell was going on?
"You're going to find out this Tuesday night," Callis said. To which Marvez replied "Tuesday? Dynamite is on Wednesday." Then Callis dropped the bomb on us. "This Tuesday Impact Wrestling on AXS TV me and Kenny [Omega] will tell you all about it Marvez."
Kenny Omega Going To Impact?
I know that is a lot to take in and unbelievable so I'll break it down. Don Callis and Kenny Omega planned and succeeded in taking the AEW World Championship to the rival promotion of Impact. Omega will appear on Impact this Tuesday and hopefully fill us all in.
RELATED: TONY KHAN HOPES TO HAVE BRODIE LEE BACK "SOON"
In the world of wrestling two promotions working together is far from unusual, but it was a lot more common in the territory days. However, even after Vince McMahon killed most of the territory system, it was still not unheard of. WCW had a working relationship with NJPW and WWE had a relationship with ECW.
However, what is strange is the big gap in popularity between AEW and Impact. NJPW and ECW were both very popular promotions and helped to have fans cross from NJPW to WCW and WCW to NJPW and same with WWE and ECW. You have to be a pretty big wrestling fan to watch Impact. Also the people who watch Impact are already watching AEW.  This is not a mutually beneficial arrangement. Impact is hoping for AEW to help boost their ratings. Kenny Omega and Chris Jericho are both good friends with Callis and this is I'm sure a favor they are doing for Callis.
No Good Men's Matchups But Great Women's Matchups
It will increase Impact's rating because I'm going to watch, so mission accomplished. I can't think of a single Impact guy I want to see wrestle a AEW guy.  However, I do want to see Impact women wrestle some AEW women. Jordynne Grace vs Nyla Rose would be interesting. Rosemary vs Abadon or Taya Valkyrie vs anyone just to name a couple good matchups. However, what everyone's thinking and hoping for is Kenny Omega meeting up with The Good Brothers for a Bullet Club reunion.
Are you excited to see AEW cross over into Impact? Are there any matchups you want to see happen? What do you think Kenny Omega and Don Callis will announce on Impact? Hit those comments with a V-Trigger and let us know what you think of this news.
KEEP READING: WWE LEGEND PAT PATTERSON, WRESTLING'S FIRST OPENLY GAY ICON, PASSES AWAY AT AGE 79
Source: ProWrestling