I've picked up some new gear over the year and have seen even more that I want. Here's a shortlist of my recommendations and wanted items inspired by 420, 2021.
The KANNASTOR GR8TR V2 Grinder is a beast. It retails for about $80 directly from Ryot but can be picked up cheaper from Amazon, where I got it for just about $60. I decided to bump up to a better quality product after having used a few cheaper grinders and not really digging how they perform.
It's fully modular and includes:

Storage Lid, Spare Grinder Plate Storage, Grounds Storage, Screen Chamber, 60 Mesh Stainless Steel Easy Change Screen, Anti-friction and Residue Rings, 2 (Two) Grinder Plates w/ Premium Micro teeth Quality, Deep Dish Grinding Chamber, Easy Change Plates, Polished puck base, Scraper Tool and Travel Pouch. Our patented Easy change screens require no tools, simply twist.
I've been using this for a few months now, and I can say with certainty now that it's solid. My only complaint is that in order to get to your freshly ground herb, you have to unscrew the whole top half of the grinder. It's not a huge deal, but I'd prefer just a simple twist lock mechanism instead of it being fully threaded. However, this does eliminate the problem I've had with the o-rings snapping on some of the other grinders I've used. 420 approved!
This has become my regular everyday device, though the next item on this list might take its place when it arrives. It's a very portable water filtration vape. My biggest issue with it is that the loading chamber isn't removable, which makes it a little bit of a pain to clean, but given it's design, I completely understand why that may have been hard to do. You can watch our unboxing below.
There's a mixer on the bottom to make sure you get an even burn throughout your material, and it's pretty easy to tell when your supply inside is tapped out by how much you're able to pull out of it. I don't smoke a lot, so your mileage may vary, but I'm able to get 2-3 days of use off of a single charge. It'll last far beyond 420, so check out my full review right here.
They recently released an updated version of this device that addresses a couple of the issues I had with this one. The chamber is now removable because it now works with both flower and concentrate, so there's 2 different chambers to use, depending on what you're using. I haven't had a chance to try it out yet, but it's on my list, you can pick up the Hyrdology9NX with both chambers for $300 or just one or the other for $270.
I've been wanting to try this device out FOREVER. Hopefully I should have one on the way soon, but I've heard nothing but good things about it. The switch is not only able to switch from Flower to Concentrate, but it also works as a collectors piece for those of you who like to have a lot of different glass products. You can buy a number of different attachments for it that can have varying effects on how you pull. They also sell the adapters so if you are a glassblower yourself, you can make your own.
I can't wait to get my hands on this thing and check it out. Hopefully I'll be using it next 420.
There are a number of cannabis inspired subscription boxes out there now and I'm sure as we see it legalized in more states and HOPEFULLY nation wide sometime in the near future, that many more will start popping up. Daily High Club is one of the more popular ones out there and always has some great stuff in their boxes. Everything from your regular essentials like rolling papers, lighters, and filters but also if you get the highest tier box, it comes with a new piece of glass every month as well.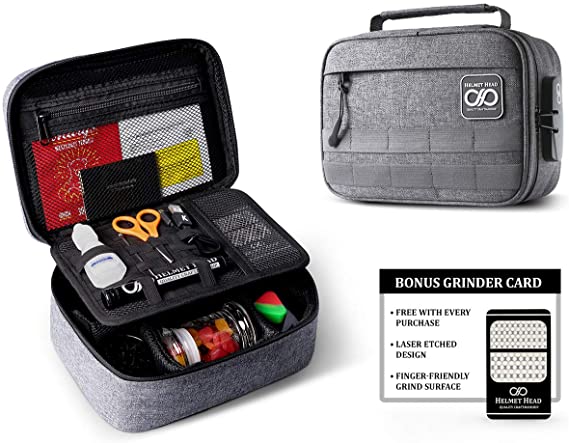 I travel a lot for work right now and needed to get a travel kit to store everything in without making my suitcase or hotel room smell like weed. I picked up this case, and it's great! The smell that used to permeate my room before I got it is gone, and it holds pretty much everything I need to take with me.
My only issue now is that since purchasing it, my collection has grown. I often have multiple strains on hand, meaning this case is slowly getting to be a little too small for my needs. The good news is they have additional sizes, and the next step up should be have more than enough space for me to celebrate 420 in style.
I've been using the air 2 for about 18 months now and still love it. I take it with me when I'm going somewhere the Hydrology9 wouldn't be practical and I have an adapter on the way to make it easier to use with my Studenglass Gravity Bong. Even after all this time, the battery still carries a good charge, but even if it was dying, you can easily purchase a new one from Arizer.
They even sell an external charging unit so you can make sure you never have a dead battery. I never remember to charge my shit, so honestly, I should buy that and a spare or 2. It's also pretty sturdy, I've dropped this thing a few times from 4 or 5 feet onto a wood floor and you wouldn't know it. You can usually find some pretty good deals for it on their website, whether it's 420 or not.
This thing is amazing. If you've ever made a DIY gravity bong out of a couple 2-liters and wanted to get something a little more classy that you can put on display. This is it. The Stundenglass Gravity Bong is well constructed, easily cleaned, and is now releasing some great add-ons like clear glass percolators and pineapple globes. This thing isn't cheap though. The basic model is going to run you about $500. I picked it up on a whim when I couldn't get an Xbox Series X or PS5 and don't regret that decision at all.
In addition to looking amazing, the pulls off of it are really clean and smooth and it works without having to put your mouth on it. We should have full video review of it coming soon, but take my word for it, if you've got the money to spend and are looking for some new gear, this is an excellent choice for any 420 themed day.
I'm not sure if I would actually wear these, but I kinda want them anyway. Teaming up with the crew from South Park, Adidas is dropping these Towelie themed Campus shoes, if you can get them. They're only available through the Adidas CONFIRMED app. They're $100 direct, but I'm sure you'll be able to buy them for 3x – 4x that from a scalper.
You can find a lot of these items on sale for 420, but if you see something you like and miss out on the deal, don't fret. 420 isn't the only time of year these go on sale. Check back in with them from time to time and you might be able to find it at a more appealing price.
Be sure to head over to Vapor.com to find some of these great products. Our readers can also save 20% sitewide with The Illuminerdi Discount code, ILLUMINERDISAVES20.