Velveteen Dream has been released by WWE amidst allegations of sexual misconduct.
It was first reported by PWInsider and later confirmed by Sean Ross Sapp of Fightful that Dream was released by WWE. Dream has confirmed the release via his Twitter.
In the Spring of 2020 Dream was accused of having "inappropriate contact" with a minor. This has loomed over Dream's career since and led to him making very sporadic appearances despite being one of the faces on NXT previously. The last time he wrestled was in December when he lost a match against Adam Cole.
RELATED: NXT TAKEOVER: IN YOUR HOUSE RUMORED AS NEXT NXT EVENT
According to Sapp, Dream missed most of the tapings since.  We don't know if he was told not to show up or if he missed by choice.  However, according to Sapp he was at many of the open ring sessions at the Performance Center.  It looked like WWE may try to retain him as a coach to help with classes.  This apparently became a "growing concern" for those watching the situation.  However, WWE decided to just release Dream instead amidst outside pressures presumably.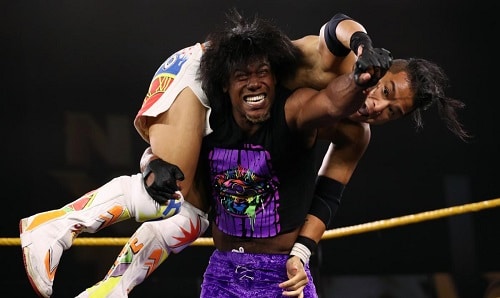 Velveteen Dream's Start With WWE
Velveteen Dream first started his WWE journey as a contestant on the Tough Enough show as Patrick Clark.  He made it deep into the season and was a frontrunner to win the season, but was eliminated before the season was over.  WWE saw his potential and signed him to a developmental contract.
In not too much time Clark debuted as Velveteen Dream with a persona similar to Prince mixed with an ultra ego. He garnered a lot of positive attention and soon became popular and a standout in NXT. Dream would eventually win the NXT North American Championship.
RELATED: DAVID FINLAY MAY BE CONSIDERING AN UNEXPECTED RUN IN WWE
Even at the age of 25, it was obvious Velveteen Dream had a long and successful career with WWE ahead of him.  It looked like only a matter of time before he was called up to the main roster.  He was a guy who just got it.  No matter what he was doing in the ring he did it well.  On the mic he was amazing and his wrestling skills were just as good.  Dream was able to connect with the crowd unlike many on the entire WWE roster.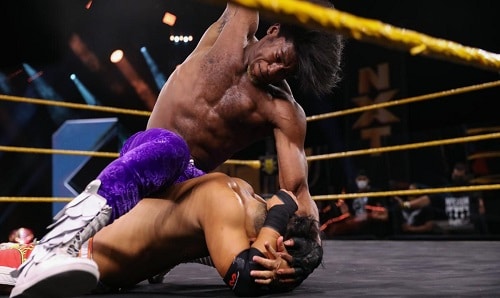 WWE Loses A Future Star And Wasted Potential
This is a huge loss for WWE because Velveteen Dream looked like someone WWE could put their faith in and would carry WWE into the next decade as a big star.  It is a shame he couldn't behave like a decent human being if these allegations are true – and if WWE is willing to release him, they must have some merit.  He was definitely someone to keep an eye on and watch as his career blossomed, but that may be all over.
Only time will tell if another big promotion wants to pick him up.  IMPACT picked up Rich Swann after his domestic violence release from WWE.  However, this is a very different issue.  I'm not sure if NXT wrestlers have a 90-day non-compete clause so he may end up somewhere very soon.  This is very bad for Dream: his wrestling dreams may be over, and it's all his fault.
Do you think Velveteen Dream will be picked up by another promotion?  Do you think he should?  Leave your comments below and let us know what you think.
KEEP READING: AEW DYNAMITE MOVING TO A NEW CHANNEL AND AEW INTRODUCING A NEW SHOW
Sources: WrestleZone, PWInsider, Sean Ross Sapp Tweet