John Cena talks about his loss at SummerSlam and when he is planning on retiring from the ring.
Cena survived a hellacious match against the Tribal Chief Roman Reigns on Saturday at SummerSlam.  On Monday morning, John Cena had to pull himself together to go on Good Morning America to promote his new Hulu film Vacation Friends.
RELATED: TRIPLE H TALKS ABOUT WHAT HE LOOKS FOR IN NEW TALENT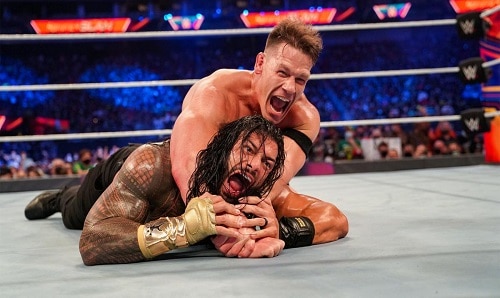 John Cena was asked about his loss at SummerSlam and he was as charming and self-deprecating as ever with his answer.
"Ah man, you know, I finished second place," Cena said. "Unfortunately in WWE you don't get a silver medal, but I'll take second place."
Cena gave it his all and had Reigns on the ropes and had many near falls during the match, but as Gorilla Monsoon would say "close only counts in horseshoes and hand grenades" Besides, no one beats Reigns anymore. However, that may change with Brock Lesnar's return.
With Cena taking on more and more acting roles and the buzz surrounding Suicide Squad the question of retiring from the ring came up.
"You know, I think… and I've made this comment before, I think I will try to do the best I can until I feel as if I'm offending the consumer," Cena said. "A lot of times you want to kinda hold onto that lightning bolt. There is nothing like the energy of being in that ring with the audience around you. There's nothing like it. I've had the fortune and opportunity to do a whole lot of stuff that energy is indescribable, that place is my home, I wouldn't be who I am without it.

The audience is my family, so I love the environment, but I also want to be kind to them and I don't want to do it selfishly just to do it. I still feel good, even though I finished second, I still feel pretty good. So, I still feel as if I have something to contribute, so time will tell."
Retirement May Be The Hardest Challenge John Cena Will Face
This may be the hardest thing to do in wrestling and the longer you do it and the more popular you become the harder it is to retire. Guys like Ric Flair, Terry Funk and Jerry Lawyer wrestle way past when they should have retired. The draw is too much to stay in that ring for as long as possible. Just look at CM Punk's eyes, Edge's or Lesnar's when they came back after a long time out. They love it and love the fans cheering them. That must be a hard thing to quit.
John Cena looked great at SummerSlam and didn't lose a step. As long as he stays healthy I think his retirement is still a ways out.
RELATED: GOLDBERG CONFIRMS HE IS DOWN TO 2 MORE MATCHES ON HIS LATEST CONTRACT
However, even though John Cena isn't going to be retiring anytime soon we won't be seeing much of Cena in the near future. According to Wrestling Inc. he still has one more WWE date to fulfill next month. After that he will be heading over to the UK to film a new spy thriller, Argylle. After that he will be filming more episodes of Wipeout in the coming months.
When do you think John Cena should retire? Should he retire now and just focus on acting? Who do you think should be his retirement feud? Leave a comment or three down below and let us know what you think.
KEEP READING: CM PUNK MAKES HIS MOMENTOUS AEW DEBUT
Source: Wrestling Inc.