The biggest wrestling free agent in the world is free no more. CM Punk makes his return to wrestling at AEW Rampage: "The First Dance." 
Rumors have been circulating the internet about Punk's return at lightspeed over the past month. This isn't new, but this time the rumor had a lot of merit. CM Punk has teased it and AEW has thrown out little hints over the past few weeks, but both are very self aware and could be trolling.
RELATED: CODY RHODES COMMENTS ON BIG NAMES GOING TO AEW AND BRAY WYATT'S RELEASE
The rumors said Friday at AEW Rampage: "The First Dance" was the day to watch to see if the rumors were true. Everyone watched with eager anticipation to see if Punk showed up. The show started with the entire crowd chanting "CM PUNK! CM PUNK! CM PUNK!" The world didn't have to wait long as Punk's WWE theme, Cult Of Personality, played and the arena went nuts.
Words Can't Do This Moment Justice
Wrestling Inc. did a good job recapping CM Punk's entrance and promo, but nothing can capture actually seeing it.
He slowly takes it in as he makes his way to the ring. He ends up hugging fans and ends up jumping into the crowd for a moment. "You guys really know how to make a kid feel like Britt Baker in Pittsburgh." Punk said he didn't know what he wanted to say, he was going to say what he felt. Punk says he's got the time, Wednesdays, Fridays, PPVs, he's not going anywhere. Crowd chanting "CM Punk!" a lot.

Punk says if what he did years ago, if he let anyone down, he wants them to know he wasn't going to get healthy mentality or physically if he stayed in the place that got him sick in the first place. Punk says it's hot in here and he takes off his jacket to show off his new AEW shirt.

Punk sits cross legged in the ring to tell a story. He says he was in a place and had to leave, it was ROH (crowd chuckles). Punk says he honed his craft there, and cried when he left, but knew he had to. Punk said that's when he actually left pro wrestling, but today he's back. Punk says he's back because he wants to face the young talent who has the passion he did as a younger wrestler.

He has a few scores to settle as well. Punk ends up calling out Darby Allin. We see Allin and Sting up in the rafters to listen. Punk says he's seen Allin get beaten up and tossed all over the place, but he's tough. Punk says he wants to help Allin, and there's nothing more dangerous he can do than wrestle CM Punk, except wrestle CM Punk on All Out! I'm back. Punk says a lot of people waited for him for a long time, so when people make their way out, get an ice cream bar on him.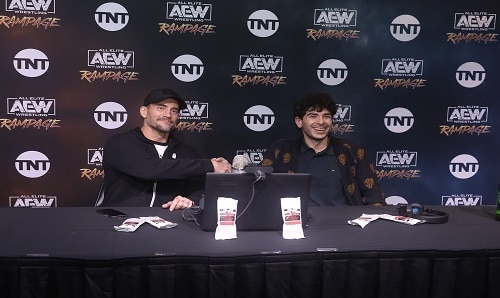 Nothing But Happy Tears After Seven Years Apart
The one thing they didn't mention was all the tears in the eyes of not only Punk but many of the fan's eyes and streaming down their faces. I can't think of another moment in wrestling with this many happy tears.
Punk left WWE in 2014 on very bad terms. He hadn't wrestled since except quick run-ins at a few indie shows under a mask.  In the seven years since he left WWE it didn't seem like he would ever wrestle again. He fought in the UFC and started acting.
RELATED: RUMORS HAVE DANIEL BRYAN GOING TO AEW
However, Punk is back and Darby Allin will be his first match back at All Out! On Sept. 5. Next week Punk will appear on AEW Dynamite to make a proper debut and hopefully GTS someone. I can only imagine the ratings going through the roof with Punk's wrestling return. This is truly a day I didn't think would actually happen.
Are you excited for CM Punk's return match or has the Punk ship sailed for you in those seven years? Is Allin a good starting feud for Punk or is there someone else who should have been his first feud? Are you glad he kept his Cult of Personality theme or should he have changed it? Leave a comment below or over on our social media and let us know what you think of this amazing news.
KEEP READING: TRIPLE H TALKS ABOUT WHAT HE LOOKS FOR IN NEW TALENT
Source: Wrestling Inc.