Paul Heyman recently said that his partnership with this Superstar wasn't to help them, but to put over Brock Lesnar.
Even though Paul Heyman thinks very highly of Cesaro and even considers him a "main event player" his partnership with Cesaro in 2014 wasn't to benefit Cesaro.
WWE fans love Cesaro, but WWE has never "got" Cesaro and doesn't know how to use him in a way that works.  This was true in 2014 during WrestleMania 30. This WrestleMania was special because this is when Lesnar broke the Undertaker's WrestleMania undefeated streak.
RELATED: ADAM PEARCE HINTS AT AN UNEXPECTED KING OF THE RING RETURN
WWE knew Lesnar wouldn't be on TV every week and wanted to hype up "The Streak" being broken, but if they teamed up Cesaro with Paul Heyman and Heyman could be on TV to talk about it.  Therefore the point of the partnership was for Heyman to brag about Lesnar breaking "The Streak" as often as possible.
Inside The Ropes recently did an interview with Heyman for their magazine and Heyman explained this more and what he thought of his partnership with Cesaro.
"I've always thought Cesaro was a main event player in WWE," Heyman said. "Cesaro was paired with Paul Heyman because Paul Heyman needed an excuse to be on television to say the words, 'My client, Brock Lesnar, conquered The Undertaker's undefeated streak at WrestleMania.' That was an elevation in terms of exposure for Cesaro, but it did him no favours in terms of showcasing his talents."
The Paul Heyman Special Touch
It's a shame the partnership didn't benefit Cesaro. Paul Heyman is the best talker in WWE and is arguably the best heel manager of all time. Cesaro's promos aren't the best and maybe having Heyman as his mouthpiece could have put him over the top and made him a main event player like Heyman sees him. However, WWE wanted Heyman to focus on Lesnar's win and not what Cesaro can do in the ring.
RELATED: BECKY LYNCH REVEALS INSPIRATION FOR NEW HEEL PERSONA
However, Cesaro did do something notable at WrestleMania 30. He won the inaugural André The Giant Memorial Battle Royal. Which has ended up not being the precursor to a big push like it was thought it would be or even earning the winner a title opportunity.  However, Cesaro was the first so that's something.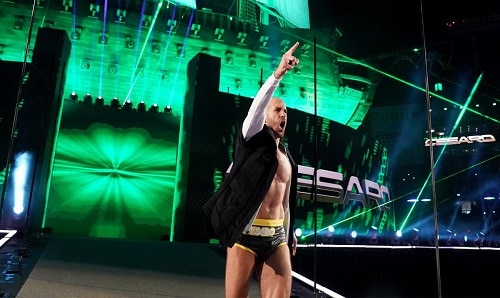 Even though the Heyman and Cesaro's partnership didn't help Cesaro, the ending wasn't anything special either. Not a big blowout or argument. The two just drifted apart like many meaningful relationships do. They just weren't right for each other. Paul Heyman went on to rekindle his relationship with Brock Lesnar and the two were together for years. Heyman has moved on to Roman Reigns and have been making magic together, but Lesnar is back in town and is pissed. Only time will tell which muscle man Heyman will stay with after this "Heyman love triangle" is resolved.
Since the Cesaro and Heyman breakup Cesaro found success teaming with Sheamus and forming The Bar. The pair won the Raw Tag Championships four times and the SmackDown Tag Championships once. He seems to be best suited for tag matches so hopefully he can put a couple more tag championships around his waist.
Were you surprised the Heyman and Cesaro partnership didn't help Cesaro more? Would you like to see Cesaro being a "Paul Heyman guy" given another shot?  Who in the WWE do you think would greatly benefit from Heyman being their mouthpiece?  Leave a comment below and let us know if you think Reigns or Lesnar needs Heyman's help more.
KEEP READING: BROCK LESNAR SIGNED TO CONTRACT CONSISTING OF 8-12 DATES
Sources: Inside The Ropes, WhatCulture