WWE medical forced Samoa Joe out of in-ring action and subsequently Joe vacates the NXT Championship.
Samoa Joe took to twitter to announce that WWE medical has asked him to step away from the ring because of "certain injuries" and will be out of the ring for an "indeterminate amount of time."
RELATED: TOP WWE SUPERSTAR HINTS AT JOINING ADAM COLE IN AEW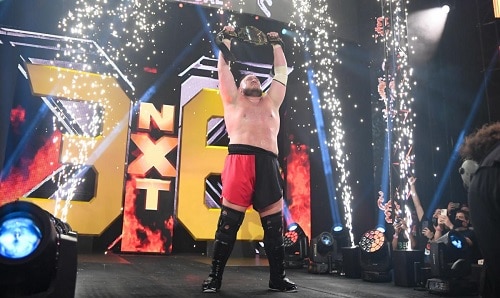 "Recently WWE medical has informed me that due to certain injuries, they'd like to have me step away from the ring for a brief, but indeterminate amount of time," Samoa Joe said.

"I realize this week we are on the cusp of a new NXT, we are on the brink of a new era in our history and that era deserves a fighting champion. That's why it makes a difficult decision very easy to make. Effective immediately, I relinquish the NXT Championship. Best of luck to those who will vie for it. My sincerest condolences to whoever wins, because I will be along shortly to recollect what is mine."
Not The Best Timing For Samoa Joe, WWE Medical
This news comes right before the big revamping of NXT which WWE has dubbed NXT 2.0. It isn't known what exactly WWE had planned for Joe and if he was supposed to have a huge role in the first episode of the new NXT.
Since Samoa Joe just became NXT Champion on Aug. 22 at NXT TakeOver 36 by defeating Karrion Kross I'm sure WWE had big plans for him in the future.  He hasn't even had time to defend his championship.  Just to make things even harder to take is Joe just came back to the company on June 15 after being released in April.
RELATED: JEFF HARDY TRENDING AFTER BEING INVOLVED IN 24/7 CHAMPIONSHIP MATCH
Prior to his release he was on ringside commentary because he had been plagued with injuries. Hopefully these "certain injuries" aren't enough to keep him out of action for long. It isn't known what these injuries are or if they are related to the same ones which put him at the commentary table.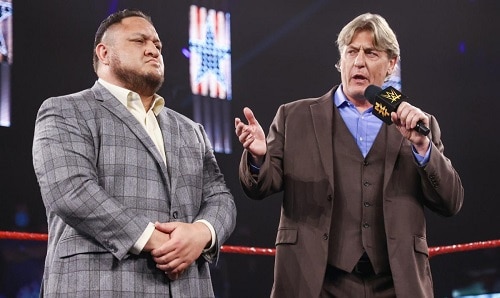 Finally Some Good News
However, we do have some good news regarding the NXT Championship. NXT GM Sir William Regal has announced the vacated championship will find a new title holder via a Fatal 4 Way. Previously this match was set to name a number one contender for the championship. However, Regal has decided to make it for the championship instead. The four competitors now competing for the NXT Championship are: Pete Dunne, LA Knight, Tommaso Ciampa and Kyle O'Reilly.
We here at The Illuminerdi wish Samoa Joe a speedy recovery from whatever these injuries may be.  We hope to see him destroying poor opponents very soon.  Hopefully he can still have some involvement in NXT even if it isn't in the ring.
KEEP READING: FINN BALOR WANTS TO OPEN WWE'S FORBIDDEN DOOR
Do you think the NXT Championship should be awarded so soon after being vacated? Would you rather it be down tournament style? Or perhaps you'd rather have the Fatal 4 Way match at the next TakeOver? Who would you like to see as the next NXT Champion out of the four contenders? Is there someone else you would love to see hold the NXT Championship? Leave a comment below and let us know what you think of Joe vacating his championship.
Sources: Wrestling Inc., Joe's Twitter Announcement, Wrestling Inc.