Bryan Danielson explains a conversation he had with WWE in which he was asked to respect their intellectual property.
Danielson was a guest on Rasslin podcast with Brandon Walker while on the podcast he recalled a conversation he had with Executive Producer and Chief of Global Television Distribution Kevin Dunn. This conversation is why Danielson isn't leading or encouraging the fans to do the "YES!" chants.
RELATED: BRAY WYATT PROMISES "SEE YOU ALL VERY SOON" IN NEW SOCIAL MEDIA TEASE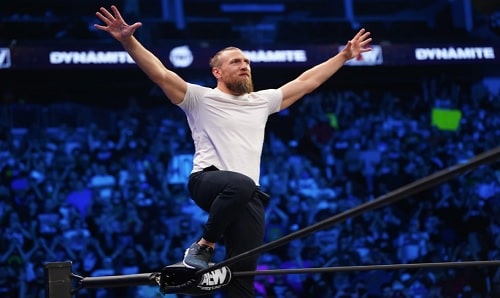 "I'm not doing it myself because I respect WWE's intellectual property," Danielson said. "I don't think anything legally, they haven't threatened anything legally. So I had a great conversation with Kevin Dunn with WWE before I debuted with AEW.

I was very upfront with WWE about, 'Okay, I want to let you guys know I'm leaving. This is my debut date' and all that kind of stuff. They asked me, politely, to respect their intellectual property, even some of the things that couldn't be legally enforced. I'm trying my best to do that."
Bryan Danielson And The "What?" Chant
Bryan Danielson has indeed not led the fans in the chants.  He typically smiles and waves at the fans and maybe says thank you.  The chant isn't going away anytime soon and the only thing which will stop it is a new catchphrase chant.
RELATED: TOP WWE SUPERSTAR HINTS AT JOINING ADAM COLE IN AEW
I think it is wise for Danielson to respect WWE's wishes because once he retires he may find himself back at WWE as a trainer or a backstage person. It is just smart to not burn bridges even if you don't think you'll ever have to go back. Plus WWE has a legal team and it is probably best to not upset them.
The second part of this quote which is important and may upset many wrestling fans is that he is trying to respect WWE's wishes.  This is important because a lot of fans want to believe Danielson left on very bad terms and hated every moment over in WWE.  However, Bryan Danielson respecting their wishes especially on things they can't legally enforce means he isn't on bad terms with WWE.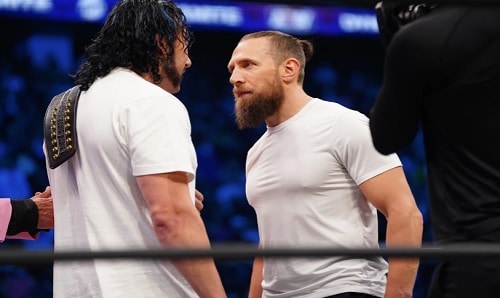 Dave Meltzer of the Wrestling Observer later clarified the IP WWE was referring to was mostly his music and not his "Yes!" chant. This also makes sense for his WWE theme, Flight Of The Valkyries. It was written in the 1800s and therefore is in the public domain so WWE wouldn't be able to stop him from using it.
Bryan Danielson made his AEW debut at All Out on Sept. 5.  Since his debut he hasn't wrestled, but that changed on this week's Grand Slam edition of AEW Dynamite.  He took on AEW World Champion Kenny Omega in a non-title match.
Do you think Bryan Danielson has what it takes to beat Omega for the AEW World Championship?  Do you think he should encourage the "Yes!" chants and risk WWE legal?  Do you like his new theme or should have used Flight Of The Valkyries?  When I'm asked if you should leave a comment below I always say YES! YES! YES!
KEEP READING: TETSUYA NAITO IS OUT OF G1 CLIMAX 31 WITH AN INJURY
Sources: Rasslin podcast with Brandon Walker, Wrestling Observer, Wrestling Inc.