Digimon Ghost Game has reached its 10th episode, and finally gives viewers the chance to see the Digivolution of another Digimon partner.
The new series features three brand new Digimon as the partners of the protagonists of the show. Until now, Gammamon was the only Digimon that could evolve – but now we finally see Jellymon's Champion form.
RELATED: DIGIMON GHOST GAME ALREADY EXCITING & THRILLING FROM 1ST EP
The main monsters featured in Digimon Ghost Game are Gammamon, Jellymon, and Angoramon. These Digimon are partners of Hiro, Kiyoshiro, and Ruri, respectively, as they investigate the appearances of Hologram ghosts that attack and torment people, causing Ghost stories to circulate.
Digimon Ghost Game Introduces Tesla Jellymon
The Champion stage had only been reached by Gammamon, who also can change in to two different Digimon of this level. This is truer to the multi-line evolution seen in Digimon and was already a suggested feature as the Digivolution possibilities were seen in the opening credits . So far Betelgammamon and Kausgammamon have debuted but Wezengammamon has yet to be a feature in a episode.
The latest episode of Digimon Ghost Game, Episode 10, focused on Kiyoshiro and Jellymon, and as a result of their bond developing, we finally see Jellymon's Champion evolution.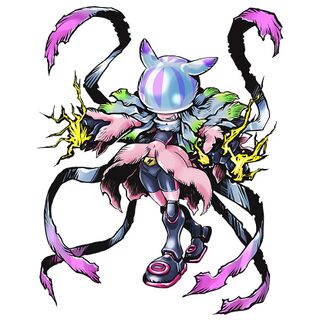 Tesla Jellymon felt like a huge debut compared to previous Digivolutions due to one reason. Although all three partner Digimon have their Champion evolution appear in the opening sequence, Tesla Jellymon only appears for a brief second. This means that fans never get a clear look at her until now.
Not only was her Power electrifying, her evasiveness was the defining talent of this Champion Digimon. The design even has a rebellious style, which matches Jellymon's personality perfectly.
It was great that admitting how much she needed Kiyoshiro and stated that the bond shared made her stronger, in order to unlock this evolution. Especially since Jellymon often passively terrorised Kiyoshiro for his inability to deal with fears and superstitions.
Even though Jellymon was very mischievous, there was still moments where Kiyoshiro connected with them. The 'limit break' that occurs, after Kiyoshiro had gone to his limit of fear and anxiety, also shows that he could become so much stronger and powerful with Jellymon in future episodes.
If you wish to see Tesla Jellymon in action, watching the episode of Crunchyroll using the following Link.
Angoramon will hopefully follow as the next Digivolution  as they also had their Champion stage appear in the opening credits. Hopefully it won't be long before fans can see all expected features and start looking forward to ultimate Digivolution.
What do you think of Tesla Jellymon? Are you excited to see more Digivolutions? Which has been your favourite moment so far in Digimon Ghost Game? Let us know on social media, or in the comments below, and keep following The Illuminerdi for more anime hype.
KEEP READING: SPIDER-MAN: NO WAY HOME WRITERS AVOID QUESTIONS ABOUT FUTURE MARVEL MOVIES