WWE is looking for a match to fill the void left on the WrestleMania card after Shane McMahon's recent release.
When Shane McMahon makes an exit he really makes sure he leaves a path of destruction behind him. As we noted last week McMahon was released following the heat he garnered after the Royal Rumble PPV and reportedly tried to make the match about him.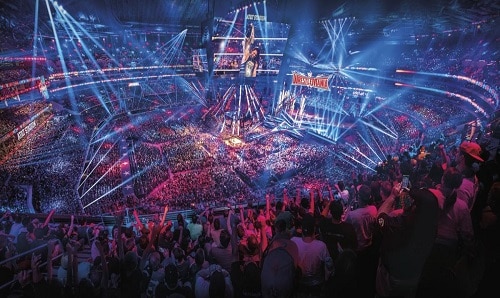 According to WrestleVotes McMahon being released has left a hole on the WrestleMania card. He was supposed to have a match on the card and with his release the match will obviously not happen. Just to make the hole in the card even worse the match was supposed to be placed near the top of the card.
RELATED: SHANE "THE BEST IN THE WORLD" MCMAHON QUIETLY RELEASED
"Source states the spot Shane McMahon was going to have on the WrestleMania card was to be positioned near the top. Therefore, the wrestling promotion now needs a new "major attraction" matchup outside of the titles. This goes w/o saying, but the WM card is still in complete flux. It's quite amazing," WrestleVotes said.
A Big Hole Left On WWE's WrestleMania Card
The match being such an important match and placed near the top it makes it even harder to find a suitable replacement. We don't know who was originally supposed to have a match with McMahon on the card. However, some rumored opponents did get leaked.
One of the possible matches proposed was against Seth Rollins. Another match was against current WWE Champion Bobby Lashley. It was also reported that McMahon himself had brought up a possible match against Austin Theory.
The fact that WWE has to fill this hole in their card must have WWE in a panic. They usually have their cards worked out well in advance and this is especially true for WrestleMania which is scheduled for April 2 because it is such an important event for WWE. They don't want to leave anything up to chance because they may call in a big name like John Cena or The Rock and have to work around their movie schedule.
Speaking of Cena and The Rock, WWE may need to give them a call and see if they can have them wrestle. WWE is looking for a "major attraction" and those two definitely fit the bill. So far the card only has two matches officially announced. The first is Brock Lesnar vs. Roman Reigns for Reigns' Universal Championship and the second is Ronda Rousey vs. Charlotte Flair for Flair's SmackDown Women's Championship. These are both the matches for the Royal Rumble match winners so they are kind of obvious.
The hole in the card also leaves Rollins, Theory or Lashley without an opponent. It is possible they will just have a Triple-Threat match and solve that problem. However, as far as the "major attraction" that match wouldn't fit the bill and if Rock or Cena aren't used to fill in the gap WWE needs someone else.
RELATED: WWE MAY HAVE ITS PLACE IN THE METAVERSE SOON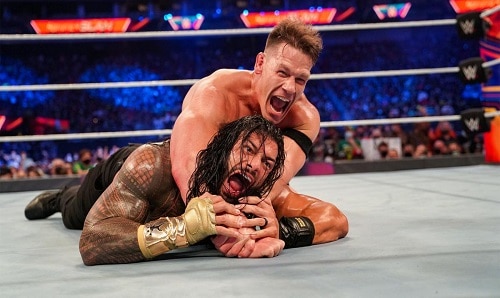 So here are some other options which could give WWE exactly what they are looking for. What about having Lita coming back for WrestleMania? She could beat Becky Lynch for the RAW Women's Championship at Elimination Chamber and lose it in the rematch at WrestleMania. Another option is, and I hate to say this but, bringing Goldberg back for WrestleMania and having him wrestle someone. This of course relies on him not injuring himself at Elimination Chamber.
Who do you think WWE will use for their "major attraction" match? Would you like to see Goldberg or Lita stick around for another PPV? Let us know what WWE Hall of Famer you would want to see fill the opening.
KEEP READING: THE BOOGEYMAN SIGNS CONTRACT TO RETURN TO WWE
Sources: Wrestling Inc., WrestleVotes