The Adam Project reunites the Free Guy duo of Ryan Reynolds and Shawn Levy for a time-traveling adventure set the release on Netflix next month. After the film's first screening last night, to rave reviews from those in attendance, Netflix has released the official teaser trailer and teaser art! After watching the teaser, it is easy to see why there is so much buzz about the film. Check out the teaser trailer below.
The Adam Project Official Teaser
The Adam Project stars Ryan Reynolds as Adam, who travels back in time and teams up with his younger self, played by Walker Scobell. The teaser is pretty vague about what they're actually trying to do. But according to the film's logline, Adam teams up with his younger self and late father to come to accept his past and save the future. From who or what is still up in the air. But it will require the use of high-tech futuristic weaponry and vehicles, which are usually signs of a fun movie experience.
RELATED: REBEL MOON: ZACK SNYDER REVEALS STAR-STUDDED CAST FOR HIS NEW NETFLIX SPACE EPIC
Aside from the fun concept, cool gadgets and effects, and signature Ryan Reynolds snark, The Adam Project also stars Zoe Saldana and the reunion of Jennifer Garner and Mark Ruffalo. Being a rom-com enthusiast, the reunion of Garner and Ruffalo is already worth the price of admission… or monthly subscription cost. Plus, Saldana is in her element kicking ass in a sci-fi adventure. All signs are pointing to an absolutely delightful movie experience for everyone.
If the cast and teaser aren't enough, Netflix also provided some first look and teaser images. While the images are incredibly well shot and framed, it really doesn't help give any context to the movie. These images and teaser trailer are the truest teasers released in a long time. It catches attention but gives nothing about the movie. Hopefully, more projects take note.
First Look and Teaser Images
The Adam Project looks like a fun film for audiences of all ages. The first reactions have been nothing but positive, and Reynolds and Levy have praised the experience.
"I haven't personally done a movie that reflects my life the way THE ADAM PROJECT does."

Ryan Reynolds, Star/Producer
In THE ADAM PROJECT, Ryan and I aimed to combine a heightened time travel premise with grounded and relatable characters and themes. We talk a lot about wish fulfillment being so critical to the movies we love and to the movies we want to make.

Shawn Levy, Director/Producer
With so much positivity throughout the creation and exhibition of the film, it's hard to not have high expectations. The Adam Project releases globally on Netflix on March 11, 2022. Head over to Netflix now to set your reminder.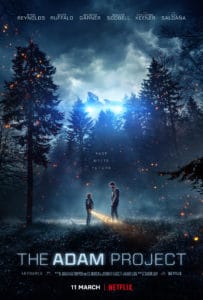 About The Adam Project
A time-traveling pilot teams up with his younger self and his late father to come to terms with his past while saving the future.
Global Release Date: March 11, 2022
Director: Shawn Levy
Writers: Jonathan Tropper, T.S. Nowlin, Jennifer Flackett and Mark Levin
Producers: David Ellison, Dana Goldberg, Don Granger, Shawn Levy, p.g.a., Ryan Reynolds, p.g.a.
Executive Producers: Mary McLaglen, Josh McLaglen, Dan Levine, Dan Cohen, George Dewey, Patrick Gooing, Jennifer Flackett, Mark Levin
Cast: Ryan Reynolds, Mark Ruffalo, Jennifer Garner, Walker Scobell, with Catherine Keener and Zoe Saldaña

Are you excited to check out The Adam Project? Can Levy and Reynolds make a movie unloved by audiences? Why isn't the reunion and Ruffalo and Garner more prominent in the promotions? Let us know what you think in the comments below or share with us on Twitter.
KEEP READING: Bel-Air Review: The Crown is Waiting and Bel-Air Has the Courage to Wear It