Zack Snyder has put together an impressive cast for his upcoming Netflix science fiction film Rebel Moon. This project initially began as Snyder's pitch for a Star Wars film, but after Disney acquired Lucasfilm things changed. Snyder has since left his mark on the DCEU and worked with Netflix on Army Of The Dead. And now, after the success of Army Of The Dead, which has spawned its own franchise with a prequel, sequel, and anime series, it seems Netflix and Snyder are hoping Rebel Moon could be the next franchise building hit.
Rebel Moon is the story of a peaceful colony on the edge of the galaxy that is threatened by the armies of a tyrannical regent named Belisarius. Desperate, the colonists dispatch a young woman with a mysterious past to seek out warriors from neighboring planets to help them make a stand.
RELATED: GUZ MARTIN AND STUART MARTIN WEIGH IN ON THEIR CHARACTERS FUTURE IN ZACK SNYDER'S ARMY OF THE DEAD FRANCHISE: EXCLUSIVE
The Star Wars influence is clear in this description and it will be exciting to see Zack Snyder take on a space-based epic. Snyder gave audiences a taste of this in Man Of Steel with his version of Krypton. Snyder co-wrote Rebel Moon with Army Of The Dead co-writer Shay Hatten and 300 co-writer Kurt Johnstad. Snyder and Johnstad will receive story by credits. Zack Snyder is producing the film with producing partner and wife Deborah Snyder as well as Wesley Coller under their The Stone Quarry production banner.
ZACK SNYDER ANNOUNCES THE STAR STUDDED CAST OF REBEL MOON
Snyder took to Twitter to announce the cast of Rebel Moon tweeting, "Honored to welcome this incredible cast to Rebel Moon. Charlie Hunnam, Djimon Hounsou, Doona Bae, and Ray Fisher join previously announced Sofia Boutella. Jena Malone, Staz Nair, E. Duffy, Charolette Maggi, and Sky Yang round out the cast. More to come. Let's go!"
RELATED: REBEL MOON: SOPHIA BOUTELLA LANDS LEAD ROLE IN ZACK SNYDER'S NEW SPACE EPIC
Snyder also revealed new concept art on his Twitter along with this cast announcement. Charlie Hunnam is likely best known for his role in the FX drama The Sons Of Anarchy, but has starred in movies including Pacific Rim and King Arthur. Djimon Hounsou recently starred in The King's Man as well as A Quiet Place Part II, and Captain Marvel. Bae Doona is no stranger to Netflix starring in the Wachowski's series Sense8. Rebel Moon will also reunite Zack Snyder with Ray Fisher who he famously worked with on Justice League, both the 2017 and 2021 productions.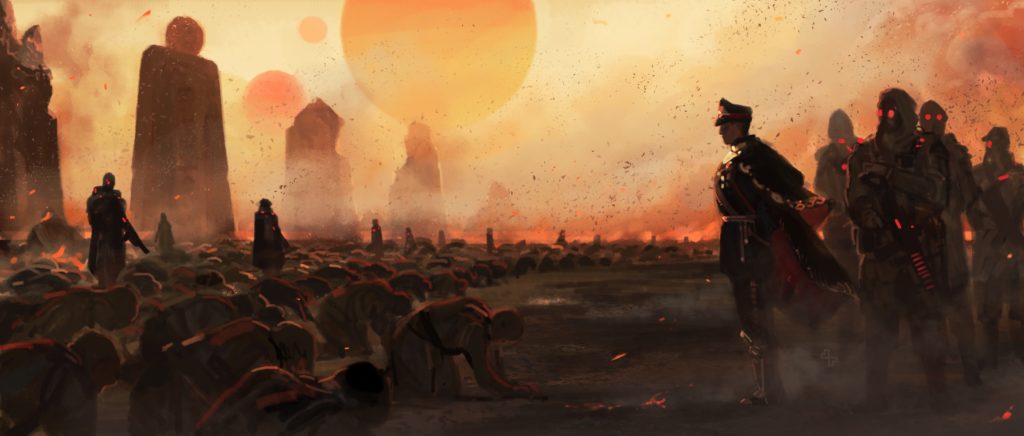 The Hollywood Reporter has reported that Hounsou will be playing General Titus and Bae will be playing "a nemesis who is proficient with a sword." Fisher is reportedly playing a resistance fighter named Blood Axe. Rebel Moon is scheduled for a long production shooting from April to November, reportedly due to Snyder ambitiously telling this story as a two-part film.
RELATED: ZACK SNYDER SHARES FIRST 'REBEL MOON' CONCEPT ART, EYEING PRODUCTION START IN EARLY 2022
We here at The Illuminerdi exclusively revealed character details for Rebel Moon including new information about Sofia Boutella's character, Kora. Our exclusive also included details about the character General Titus and a sword wielding "Nemesis" character. Hopefully more details about who the cast is play will be revealed soon. With a star-studded cast, an epic story, and his ambitious two-part approach to the film it seems like Rebel Moon is primed to be an exciting new space-based adventure.
Are you excited for Zack Snyder's Rebel Moon? What do you think about this cast? Leave your thoughts in the comments below or on our social media and check back with The Illuminerdi for more Zack Snyder and Rebel Moon.
KEEP READING: REBEL MOON: EXCITING NEW DETAILS SHED LIGHT ON ZACK SNYDER'S NEWEST NETFLIX SCI-FI FILM: EXCLUSIVE
Source: Zack Snyder's Twitter