Marvelous Mrs Maisel has another winning week as the next two episodes release for season 4 on Amazon Prime Video.
We got to see an amazing salute to cast member Brian Tarantina which tugged on fans' heartstrings in Episode 3, and then Episode 4 brought us deeper into some of the struggles we can expect to see this season.
RELATED: THE MIND-BLOWING EVERYTHING EVERYWHERE ALL AT ONCE RELEASES IN 1 MONTH

Here is this week's breakdown.
Marvelous Mrs Maisel Episode 3: Everything is Bellmore
This week we started to see a glimpse into Miriam's (Rachel Brosnahan) new job, MC for the burlesque show we ended up during last week. Quickly it becomes clear that the management behind the curtains does not run a tight ship. But don't fret just yet because Midge is down for the challenge. Let's not forget that throughout seasons, we have seen her shine as the woman who makes things happen.

But while bits and pieces of Midge and other characters filtered into the episode, they were not the main focus. This episode was a perfect goodbye to cast member, Brian Tarantina who passed away November 2, 2019. Tarantine played Jackie, the manager of the bar that started it all and the closest to a friend that Susie had, besides Midge.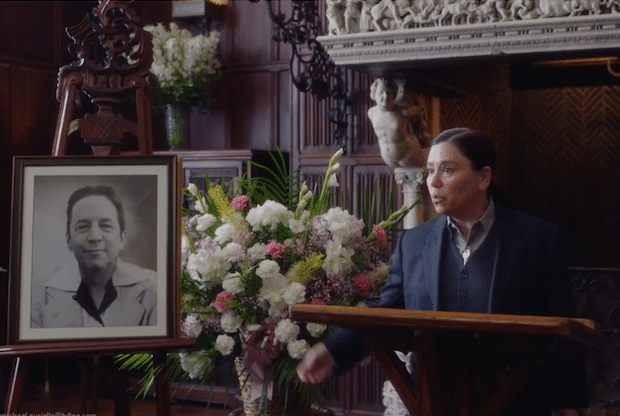 The episode follows Susie (Alex Borstein) as she learns of his passing and copes with the concept of death. Even with the other characters continuing on with life and the plot moving forward, the feeling of loss was strongly felt throughout. This was an episode where Borstein shined as Susie as she dealt with the complexity of death.
Many fans have their favorite moments of Susie shenanigans, but a common one between everyone is her obsession with the plunger in season 2. It's safe to say that this episode was filled with moments that might make that list as well.
From the shock of finding out, to the anger we saw as she sat at a table during Rose's tea appointments, to her discovering the life Jackie once lived, Susie stole our hearts. And not only that, but she proved that she is the friend we all need. Who else can you say will steal a whole funeral audience to make sure you are given a proper send off?
But it wasn't just Susie who stole the show. Two other important moments came down to a clothing accessory and a beloved character making a quick stop in. This show is known for its fashion choices and designs, proving once again that vintage fashion needs to make a come back. Especially if you can find something as amazingly glorious as the cape Abe Weissman (Tony Shalhoub) was wearing. Watching him twirl around and show off his cape from one shot to another, should have made everyone jealous to be without one.
One of the biggest questions in the series of Marvelous Mrs Maisel is the never ending question of, will they or won't they regarding beloved troublemaker Lenny Bruce (Luke Kirby). Always seeming to arrive at times he is needed most, he appeared right before Miriam was about to head on stage. There to give his support, lend some advice, and throw around some items, Lenny proved why fans are dying to see the two become a power comedy couple. Even though some suspect another love interest (Milo Ventimiglia) might be making a debut in season 4.
Episode 4: Interesting People on Christopher Street
Cameos abounded in this episode of Marvelous Mrs Maisel with the amazingly talented Jason Alexander, who we met in season 3 as Asher Friedman. Asher is Abe's best friend and a blacklisted playwright, who appears back in season 4 after an article Abe writes exposing the two in a federal crime. But it wasn't the only news that seems to have caused some trouble. During dinner with the family, Abe finds out that Asher and Rose Weissman (Marin Hinkle) once dated 35 years ago.
Abe doesn't seem to take this well as he starts to implode during a very important meeting with the FBI. Tony Shalhoub (Abe Weissman), is an incredible actor who won over fans when he played the obsessive-compulsive detective Adrian Monk, in Monk. There is just something so addicting to the way he chooses to play these sometimes erratic characters that leaves fans wanting more. And this episode was no different.
Episode 4 is where drama and plot started to thrive for this season. Marvelous Mrs. Maisel is set in the late 1950s, and while we mostly focus on the great things that time period had, it is wise for us to remember the extreme challenges others faced. For example, this week we got a glimpse into how the world appeared to the many people who happen to love the same sex. This is why it was such a great experience to see a legend like John Waters make his debut in the series. While it might be a small role, to many it was the perfect role.
But it wasn't just Abe who had hit some bumps. Miriam and Susie find themselves in a fight, while Joel also is starting to get sick and tired of his mother constantly pushing other women on him. Especially since he is happy with his current girlfriend, Mei Lin (Stephanie Hsu). This led the still new couple to face the reality of their relationship and how their family might react to the news.

However, it wasn't just all gloom and doom this week. It was fabulous to see the power of Midge take root as the hot mess of a strip club started to become a well oiled machine. But, one would suspect due to the glances of the manager, that perhaps not everyone is happy about the constant changes being brought about. Not only that, but we got to see Susie move up in the world as the two hitman she won over last season came back into the picture.

Besides seeing how Miriam will transfer back onto main stages, there are two new characters that have a lot of potential. The first being the columnist that seemed to have it out for her in the first two episodes, but was oddly not mentioned at all in episode 3 and 4. With such a set up, one would hope we will see this become a more pivotal moment for the fearless female duo. Maybe even leading Miriam to barge into a writing room and demanding to know what their issue is with her.
While the second character that is peeking interest is the bar magician, Alifie (Gideon Glick). We were first introduced to him as well in the first installment last week, and saw Susie grab him this week as her latest client. While much isn't known about Alfie, there is a lot of possibilities of how he might fit into the show. Plus, Glick is a Broadway actor with amazing vocals, perhaps amazing magic tricks isn't the only thing we will get to see him doing.
What awaits us in next week's Marvelous Mrs Maisel? Let's find out.
KEEP READING: THE MARVELOUS MRS MAISEL REVIEW: MAISEL SUBMITS SENSATIONAL SENIOR RETURN FOR SEASON 4