Murderville is ridiculous in the best way possible.
One-half murder mystery dinner, one-half escape room, and one-half improv comedy are what make up Netflix's murder mystery comedy, Murderville. Netflix's ridiculous new comedy series stars Wil Arnett as Terry Seattle, a down-on-his-luck detective who has to solve a new murder with a new celebrity partner every episode. The celebrity partner plays a detective trainee, with no script given, and must follow the clues, interrogate suspects, and make the final decision on who the murderer is.
Murderville is based on a BBC series called Murder in Successville. Murderville is objectively smaller in scale compared to Murder in Successville. Murderville's victims and suspects aren't played by well-known and easily recognizable celebrities, the shooting style and editing do not play with the crime series genre, and the set design is not used to really add to the artistry of the series. In comparison, it is kind of a letdown.
But as a First Season, Murderville Kills It
However, as someone who has never seen Murder in Successville, Murderville was an absolute joy to watch. The concept is thoroughly bonkers and Will Arnett fully leans into it. Arnett's full immersion into his character and the world is what drives the show. It is purposely a bit hokey, which might not be for everyone. But something about watching Arnett's Terry Seattle overreact to magic is just stupidly funny. His commitment and earnestness are the heart and highlight of the entire series and watching as his celebrity partners try not to laugh makes the viewers feel like they are in on the joke.
RELATED: The Adam Project Exclusive Clip
The celebrity guests are the biggest factor of the episodes' quality. Of the six guests, Marshawn Lynch is hands down my favorite. Mainly because it seems he's having the most fun playing in this world. Lynch committing to being a white guy's mirror image is one of the funniest things to happen on TV in a while. After Lynch, Annie Murphy would have to be the next best, as she is extremely reserved, especially in contrast to Arnet. However, her commitment is equal to Arnett's, and she gets in some hilarious barbs.
Where the show flounders is also with the celebrities. Lynch, Murphy, and Sharon Stone feel perfectly in tune with the world and themselves. They appear to fully get to play and enjoy the experience. However, with Conan O'Brien, Kumail Nanjiani, and Ken Jeong, they feel like their dials are turned down to an annoying degree. The latter 3 celebrities objectively have more screentime across all platforms as themselves. They entertain as themselves and have very recognizable public personas. However, in Murderville they do not seem to be able to react the way they would normally react. They seem like boring versions of themselves who desperately want to say something but can't.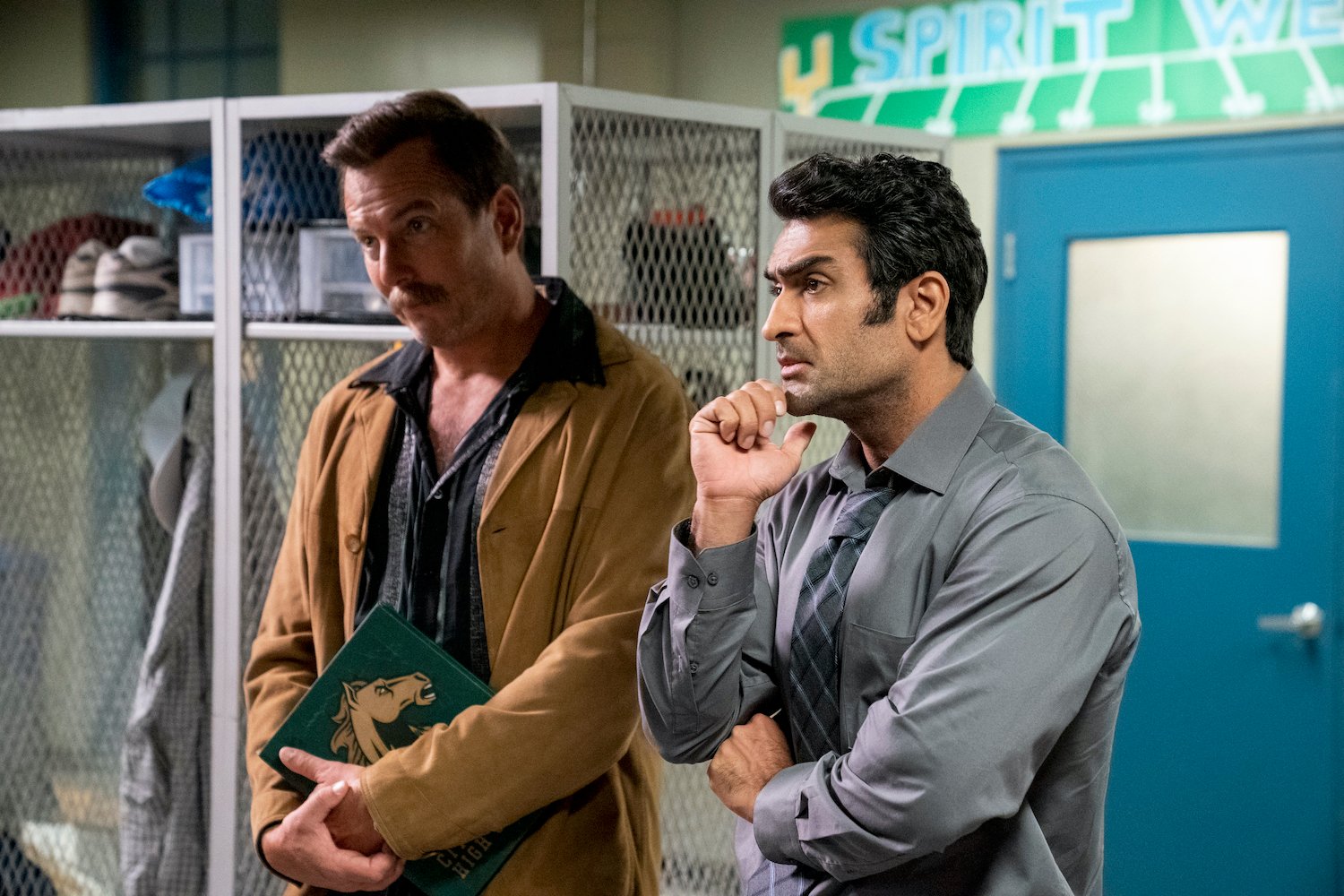 Considering their comedic backgrounds, it is very disappointing to have their genuine reactions and thoughts be actively withheld or avoided. Considering their celebrity status is part of the draw and purpose of the series, the active withholding of their personas is disappointing. While their episodes are still fun, the absence of their real reactions actively goes against what makes the series great and causes the viewers to stop suspending their disbelief. Without the suspension, it seems like the celebrities are actively being told to be less funny.
RELATED: Space Force Season 2 Official Trailer
Overall, Murderville is a fun show to watch. Arnett's dedication and commitment to the bit are sure to please all who enjoy his brand of comedy. For people who like improvisational/sketch humor, and celebrities doing escape rooms/playing games, this series is will definitely be a fast favorite that can be rewatched multiple times. However, those same fans, especially those of Conan, Kumail Nanjiani, and Ken Jeong, will likely be disappointed by the obvious subduing of their comedic prowess. Murderville would have ranked much higher, but definitely lost some points for shooting itself in the foot with its more prominent and seasoned comedic guests.
That's why Murderville only gets a 3/5.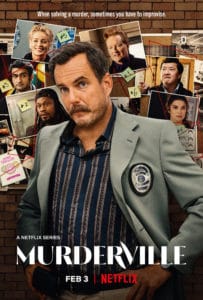 About Murderville
Available to binge now on Netflix
Director: Iain Morris
Cast: Will Arnett, Philip Smithey, Lilan Bowden, Haneefah Wood,
Celebrity Guest Stars: Annie Murphy, Conan O'Brien, Ken Jeong, Kumail Nanjiani, Marshawn Lynch, Sharon Stone
Meet Senior Detective Terry Seattle (Will Arnett), Homicide Division. For Terry, every day means a new murder case and a new celebrity guest star as his partner. But here's the catch: each episode's guest star isn't being given the script. They have no idea what's about to happen to them. Together, the guest star and Terry Seattle will have to improvise their way through the case… but it will be up to each celebrity guest alone to name the killer. Join them as they punch a one-way ticket to Murderville. The six-episode procedural crime comedy premieres globally on Netflix on February 3. Based off the BAFTA award winning BBC3 series Murder in Successville by Tiger Aspect Productions and Shiny Button Productions.

What did you think of Murderville? Were you able to figure out the killer in each episode? Who else would you want to see become a detective trainee? Let us know what you think in the comments below and share your dream casting with us on Twitter.
KEEP READING: Bel-Air Review: The Crown is Waiting and Bel-Air Has the Courage to Wear It