The Adam Project debuted an exclusive clip during IGN Fan Fest.
Ryan Reynold's upcoming time-traveling sci-fi adventure, The Adam Project, debuted a new clip today at IGN Fan Fest. The film reunites the director, star, and producers of Free Guy, Shawn Levy and Ryan Reynolds, on this highly anticipated feature film exclusive to Netflix. Reynolds plays Adam, who travels through time and teams up with his younger self, Walker Scobell, to save the world. They also team up with their parents, who are played by Jennifer Garner and Mark Ruffalo, and Adult Adam's partner, played by Zoe Saldana. Check out the exclusive clip below for a better glimpse of the film.
The Adam Project Exclusive Clip from IGN Fan Fest
The clip is about 4-minutes of pure entertainment. Reynolds has found a worthy sparring partner in the attitude department with Scobell. It is wholly believable that Reynolds is arguing with a younger version of himself. The personal jabs are not only meant as barbs from Adult Adam to Young Adam but as someone who may still resent that part of their life. It is hilarious and also very profound in a dumb way that many can relate to. Plus, there's a cute dog, so this film pretty much has everything going for it.
RELATED: The Adam Project Official Teaser Trailer and 1st Look Images
After its New York and Los Angeles screenings, it appears everyone loves the movie. It is family-friendly yet still thoroughly captivates the older audience. From the clip, it does not look as if the film is going to pull anything back even if it is targeted at a younger audience. This is a nice change of pace, as the last major family-friendly sci-fi film to do so that comes to mind is Super 8. The Adam Project is set to premiere globally on Netflix on March 11, 2022. Head over to Netflix now to set your reminder and continue reading below for some images and the production information from Netflix.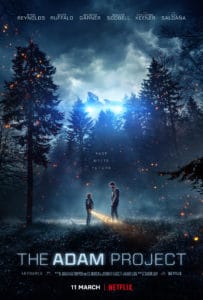 The Adam Project
Global Release Date: March 11, 2022
Director: Shawn Levy
Writers: Jonathan Tropper, T.S. Nowlin, Jennifer Flackett and Mark Levin
Producers: David Ellison, Dana Goldberg, Don Granger, Shawn Levy, p.g.a., Ryan Reynolds, p.g.a.
Executive Producers: Mary McLaglen, Josh McLaglen, Dan Levine, Dan Cohen, George Dewey, Patrick Gooing, Jennifer Flackett, Mark Levin
Cast: Ryan Reynolds, Mark Ruffalo, Jennifer Garner, Walker Scobell, with Catherine Keener and Zoe Saldaña
Logline: A time-traveling pilot teams up with his younger self and his late father to come to terms with his past while saving the future.
Are you excited about The Adam Project? Would you want to interact with your younger self? If so, what age of your younger self would you choose? Let us know what you think in the comments below or share your thoughts with us on Twitter.
Source: IGN Fan Fest
KEEP READING: Mystery Star Wars Series Reportedly Circling Spider-Man: No Way Home Director Jon Watts To Direct