The Marvelous Mrs Maisel has wrapped up another amazing season as episodes 7 and 8 released on Amazon Prime Video late Thursday night.
With a mix of emotions, it's sad to say goodbye to another season when it feels like there is still so much left on the table to figure out. If you haven't already, watch the episodes here, because there will be spoilers. Some delicious, long awaited spoilers.
The Marvelous Mrs Maisel Episode 7: Ethan…Esther…Chaim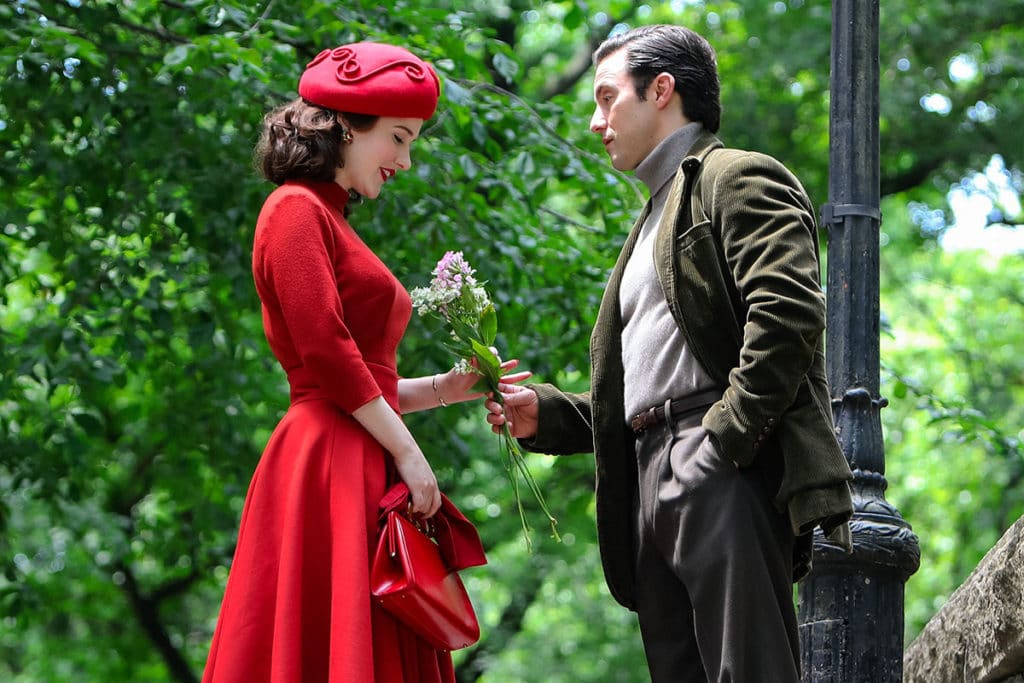 With everything so chaotic in the previous week, this episode was perfectly and yet unsettlingly relaxing. Of course we started off with a whammy cameo from Milo Ventimiglia that went like no one expected. From images it looked like he might be the new budding romance for our girl Miriam Maisel (Rachel Brosnahan), but looks can be deceiving.
And it didn't end there. We saw Joel take a pretty big loss from the start, while the matchmaking gang cornered Abe Weissman (Tony Shalhoub) while shopping. Honestly, it makes sense the lengths that Abe goes through to escape them. They are indeed very scary and the fact he ended up with a mouth full of Christ, was just a random beautifully chaotic moment. Probably the best moment of the episode, alongside Rose's stage debut.
RELATED: THE MARVELOUS MRS MAISEL REVIEW: MAISEL SUBMITS SENSATIONAL SENIOR RETURN FOR SEASON 4
This can't be said enough, the burlesque routines we have been gifted with this season have been breathtaking and wonderful. It feels as if it's a separate world within the world of Mrs. Maisel giving us small breaks between the ups and down of the plot. Dorothy flying through the air with the wicked witch, was mesmerizing and the perfect intermission before switching to Miriam and her bestie, Imogene (Bailey De Young) in the back.
At times during The Marvelous Mrs Maisel, there comes a point when the anticipation and fear of utter humiliation threatens our comfort. Especially due to the fact that Miriam is such a strong headed, risk it all kind of woman. This episode had two moments that kept fans on the edge of our seats. Starting with Miriam getting a gig worth dying for, a comedy act for THE Jackie Kennedy. As soon as the job was accepted, many fans probably were already speculating what was going to happen. And we were not disappointed. One has to wonder how many fans were screaming "no" to their TV as the audience pushed Miriam to tell about her beloved, lost dress.
The second moment that left us grabbing our pearls was when Alfie (Gideon Glick) finally got his first show. The excitement was real as we had been ready to see him finally step into the limelight last week. And he didn't disappoint! In fact his act was flawless and leaves fans wanting to see a lot more of this talent. The part that was hard to take was when the truth finally came out that Rose Weissman (Marin Hinkle) had in fact seen her daughter perform. Leaving the family and audience reeling, her performance was top notch, even if highly uncomfortable.
Episode 7 of The Marvelous Mrs Maisel was filled with small moments that felt like it was starting to build up to something more. Maybe not for this season, but for the next. We see Susie bring on another client, James, a comedian. While our favorite hitmen really shine in this episode and seem to be setting roots for more involvement.
But just as this episode started with a huge shock, it ended with an even bigger one when Moishe Maisel (Kevin Pollak) collapses to the floor.
The Marvelous Mrs Maisel Episode 8: How Do You Get to Carnegie Hall?

At the end of Episode 7 we see Lenny Bruce announce he will be performing at Carnegie Hall and in this episode fans are gifted with something we have waited 4 seasons for. With a season finale like this one, it's hard to even remember anything else that happened during the episode. The emotions are heavy.
Starting off frantically questioning what happens next for Moishe, it was nice to see the families come together. Even though in The Marvelous Mrs Maisel Season 1, Joel was set up to be the bad guy, this blended family of the Maisel's and Weissman's is truly a home away from home. No matter what they face, they always face it together and with every season they get stronger. Which makes one wonder will the family have Rose's back as they head into a matchmaker war?
Getting a second away from the hospital, Miriam is able to head back to the club for one set. Before chaos ensues, Lenny is able to win her over and announces a huge opportunity he set up for her. However, as we all know as a new rule through season 4, she will not do any opening shows. Which leads to a falling out between Susie (Alex Borstein) and Miriam. This is something that the season has teetered on back and forth and is surprising they didn't have a bigger fall out.
But it could be because every ounce of emotion was dedicated to Lenny and Miriam's moments together. Watching them finally melt into each other released all the tension that has been building over the years. It was a perfect blend of both personalities shining but not overstepping, allowing it to feel so kismet.
So why is the last image running through our head Lenny with tears in his eyes? Because while Susie tried so hard to get Miriam to understand what she was doing by refusing to do opening gigs and wanting to do it her way, Lenny knew exactly what needed to be said. As always, he rushes in to save the day in a ball of furry, cutting through her rough exterior. After performing at Carnegie hall, he pulls Miriam aside to have a tough talk. Putting everything on the line regarding her career and how much faith he has in her to be what we all know. That she is destined to be one of the greats.
This season of The Marvelous Mrs Maisel was a constant ferris wheel of emotions with so many ups and downs. A chaotic mess of figuring out what comes next and how to handle whatever life throws at us. And most importantly, it reminded us that no matter what happens, we must keep pushing forward. Letting fears of getting fired or upsetting a scary bunch of matchmakers is not worth giving up everything we want in life. Especially if it means breaking Lenny Bruce's heart!
The Marvelous Mrs Maisel Season 4 has come and gone so quickly, that it leaves a bit of an emptiness as the credits rolled. However, Season 5 has been announced and seems to be the last curtain call for The Marvelous Mrs Maisel. Will she finally decide to take all the risks? Will we see more of her and Lenny Bruce coming together? Will Rose win the war or turn her enemies into her friends? And what is going to happen with Susie and her other talents?
So many questions still exist and yet, we can have faith that in one way or another they will be answered. The writing team has never done us wrong and they aren't about to start now. Season 4 was just another masterpiece to this collection and to that we say bravo to The Marvelous Mrs Maisel.
KEEP READING: PACHINKO REVIEW: BELOVED STORY TOLD BEAUTIFULLY AND WITH APLOMB