With June quickly approaching, it is time to turn on the colorful Bat-Signal and spread the word. DC Pride 2022 is giving us a glimpse into what we can expect as we celebrate the alphabet mafia, aka the LGBTQIA+ community.
Pride this year is going to be jam packed with the return of DC's Annual Pride Anthology, multiple launches of new comic series, a new young adult graphic novel, a new Tim Drake special, and several DC pride variant covers. DC's 2022 Pride celebration will be available at your local comics shop, bookstore, library, and beyond.
One of the best things about DCs Pride celebration is the Pride-themed variant covers. They will feature artwork by Amy Reeder (Batman #124), David Talaski (Superman: Son of Kal-El #12), Derek Charm (Action Comics #1044), Joe Phillips (Aquamen #5), Kevin Wada (Nubia: Queen of the Amazongs #1), Kris Anka (Poison Ivy #1), Nick Robles (Nightwing #93), Nicole Goux (Wonder Woman #788), Olivier Coipel (Harley Quinn #16), Stephen Byrne (Multiversity: Teen Justice #1) and more.
DC 's Annual Pride Anthology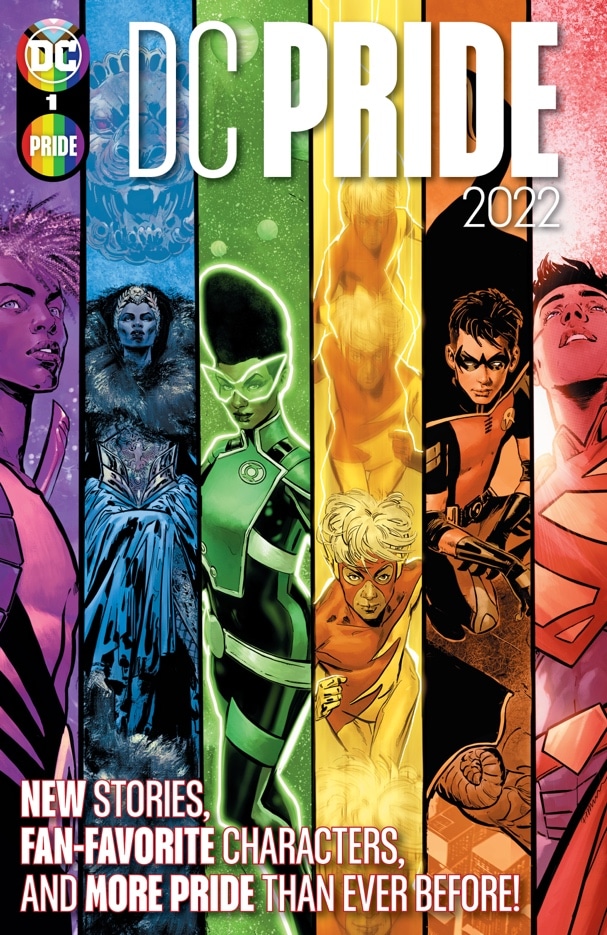 Containing all-new stories spotlighting LGBTQIA+ fan-favorites with over 100+ pages is DC's annual Pride-themed anthology comic. Published May 31, fans will be introduced to activist, actress, and real-life superhero Nicole Maines. While also giving a glimpse into her upcoming DC Project. But what steals the show is the artwork fans can expect to find. Featuring a main cover by Phil Jimenez and Arif Prianto, an open-to-order wraparound variant cover by Joshua "Sway" Swaby, and a 1:25 variant cover by Jen Bartel.
Comics fans also will be excited to see the list of characters the DC Pride 2022 creative team is developing stories for. Here is the list so far, but there is still more to come:
Alysia yeoh and Batgirl by Jadzia Axelrod and Lynne Yoshii
Aquaman/Jackson Hyde by Alyssa Wong and W. Scott Forbes
Green Lantern/ Jo Mullein by Timi Howard and Evan Cagle
Harley Quinn and Poison Ivy by Dani Fernandez and Zoe Thorogood
The Ray by Greg Lockard and Giulio Macaione
Superman/John Kent by Devin Grayson and Nick Robles
Time Drake by Travis G. Moore
This years anthology comic will also include contributions from J. Bone, Ro Stein and Ted Brandt, Samantha Dodge, Brittney Williams, and others. Plus new pinups by P. Craig Russell, J.J. Kirby, and more. The 104-page Prestige format comic is only one of the highlights during Pride month and celebrates the strength and courage it takes to be a DC Super Hero.
Young Adult Graphic Novel Galaxy: The Prettiest Star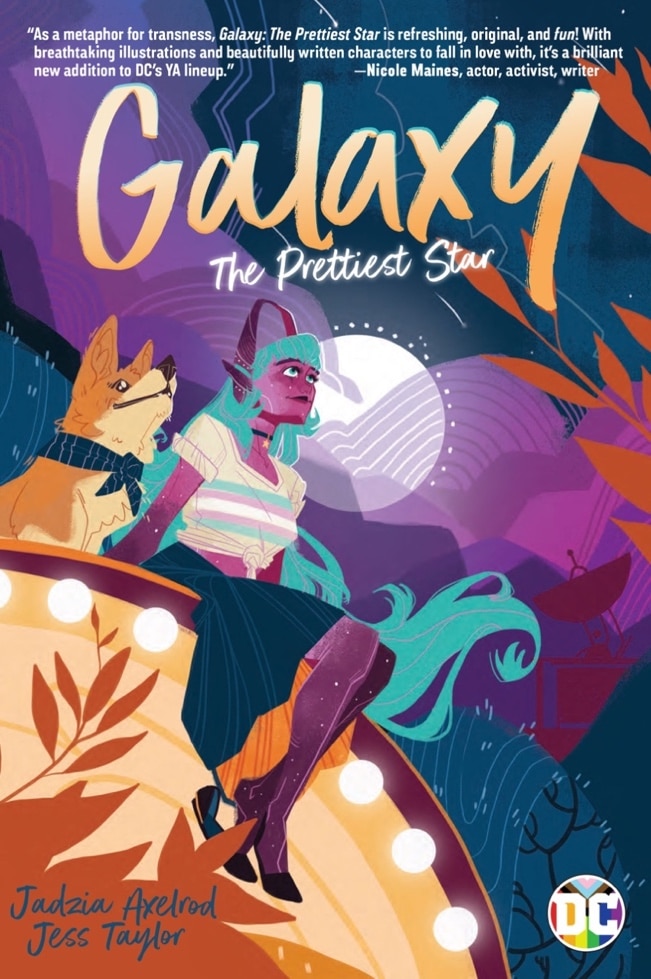 From writer Jadzia Axelrod and artist Jess Taylor comes a new young adult graphic novel. Galaxy: The Prettiest Star will publish on May 17th everywhere books are sold. This story will introduce an entirely new character to DC's pantheon of heroes, including Taylor, the Galaxy Crowned.

" Taylor Barzelay has the perfect life. Good looks, good grades, a starting position on the basketball team, a loving family, even an adorable corgi. Every day in Taylor's life is perfect. And every day is torture" reads the pre-order page on Amazon.
If you can't wait for May17, fear not. Because a free preview will be available on Free Comic book Day. Make sure to check your latest comic stores celebrating the event because you don't want to miss your chance at getting Galaxy: The Prettiest Star FCBD Special Edition 2022 #1.
New Comic Series Launching
One of the most frustrating things about Pride month and the companies that take part of it, is it all goes away as July appears. It is so important that representation for the LGBTQIA+ doesn't just get one month, but is celebrated and found year around. That is why it's great to hear that DC plans to release the following comics throughout the year.
Poison Ivy, by G. Willow Wilson and Marcio Takar, with covers by Jessica Fong (main), Warren Louw (open-to-order and 1:100 foil variants), Nick Robles (1:25 variant), Frank Cho (1:50 variant) and Dan Mora (team variant) launches June 7th. This new six-issue story arc follows Ivy as she leaves Gotham City and sets out to complete her greatest work- healing the world of the damage humanity has dealt it.
Nubia: Queen of the Amazons debuts on June 7th. This series takes place right after the Nubia: Coronation Special and is created by the amazing team behind Nubia & the Amazons, writer Stephanie Williams and artist Alitha martinez. Joining them is artist/inker Mark Morales, with covers by Khary Randolph (main), Jae Lee (open-to-order variant), and Alitha Martinez (1:25 variant). This series is planned for four issues.
DC Pride: Time Drake Special, by Meghan Fitzmartin, Belén Ortega, and Alberto Jimenez Alburquerque, with covers by Ortega (main) and Travis Moore (open-to-order variant), collects the breakout story from Batman: urban Legends in one volume. Arriving on June 14th, this 64-page one-shot comic features a brand-new story that sees Tim teaming up with his former Young Justice teammates and the Batgirls.
Multiversity:Teen Justice by Ivan Cohen, Danny Lore, Marco Failla, and Enrica Eren Angiolini, with covers by Robbie Rodriguez (main), Stephanie Hans (open-to-order variant), Bengal (1:25 variant), and Failla (1:50 variant) launches on June 7th. Featuring Kid Quick, the Future State Flash, along with other young heroes of Earth-11, this series will unfold many secrets within the planned six issues. Including what role will the mysterious Raven play , even though in the past they have refused to join the team.


So Much More!

These are just the highlights of what fans can expect during DC's Pride 2022. For those who wish to read comics featuring DC's LGBTQIA+ characters year-round can visit the DC Universe Pride hub page on DC universe Infinite, DC's premium digital comic book service. New titles are added every month, and the first two issues of Superman: Son of Kal-El are available now for subscribers. This is the perfect time to get caught up on that series since the groundbreaking big issue featuring Jon Kent and Jay Nakamura, Superman: Son of Kal-El #5 will be arriving on DC Universe Infinite in June!
Lastly, let's remember why we celebrate Pride. It isn't just about the amazing artwork and stories that are told. June is where we come together to celebrate and take a hard look at the history of gay rights and all that has been achieved and needs to still be achieved to make sure that all people are allowed to shine and be themselves. That's why it's important for readers and the LGBTQIA+ community to know that DC and WarnerMedia are proud to be working in partnership with organization such as PFLAG National, The Trevor Project, Family Equality, Human Rights Campaign, Athlete Ally, Mermaids (UK), Inside Out (Canada), and more to in honor of celebrating Pride in 2022.