Jurassic World: Dominion Legacy Featurette brings together both franchises of Jurassic Park
Say what you will about the Jurassic Park franchise, but the worse movie about revived dinosaurs is still a lot more fun than other movies that don't have dinosaurs. A raptor and a T-Rex fight a new genetically modified dinosaur? Take my money. A mosasaurs gets released to the world at large? I'll be first in line. With all of the out-of-this-world stuff, movies have to offer now, there is still something truly special about the dinosaurs brought to life in the original Jurassic Park that I and millions of others want to see. And on June 10, we will get to see what almost 30-years of dinosaur cinema magic culminates into with Jurassic World: Dominion.
Jurassic World: Dominion Legacy Featurette
Jurassic World: Dominion will mark the first time Sam Neil, Laura Dern, and Jeff Goldblum will share a Jurassic Park film together since the original in 1993. 29 years later, Doctors Alan Grant, Ellie Sattler, and Ian Malcolm will reunite and join Claire Dearing (Bryce Dallas Howard), Zia Rodriguez (Daniella Pineda), Franklin Webb (Justice Smith), and Owen Grady (Chris Pratt) to face the growing presence of dinosaurs on the planet. It is far-fetched on a massive scale but in the most intriguing and fun way possible. What is a chaos mathematician really going to provide in this stage of the dinosaur resurgence?
RELATED: New Exclusive Jurassic World Mattel Toys and Legos at Walmart
The film definitely leans deep into the fiction of its sci-fi genre. But to the benefit of the film and the audience. If it was "real" then we'd be running from raptors and cardio is definitely not my thing. I do not pretend like I would have done better than Tim and Lex did in Jurassic Park. I would have been Arnold. So I am perfectly content, and thankful, that I can enjoy the experience of dinosaurs being brought back to life without any of the actual danger and mess. Imagine cleaning up after a dinosaur. Hard pass. Watching Jurassic World: Dominion is exactly as close to the real thing as I, and most of the world, want to be.
RELATED: Fantastic Beasts: Secrets of Dumbledore Review – Opens Up The Magical World and Easily the Best of the 3
That being said, how are there dinosaurs in freezing climates? Are they evolving? Is that what's going on in this movie? I mean I am all for make-believe, but there are certain things that can't be so wrong it ruins the suspension of disbelief. Indominus Rex, I'm in. Indoraptor, still got me. Parasaurolophus, brontosaurus, and velociraptors in the arctic tundra running at full speed… okay what's up with that? The issue was addressed in Camp Cretaceous, so unless these are multiple generations later this doesn't make sense. Weird line to draw, I know, but that's where they got me questioning things.
But the intrigue still has me, and my love of the franchise hasn't wavered an ounce. It is still an incredible dinosaur franchise and began with one of the most revolutionary films ever made. So I will definitely be in theaters to watch Jurassic World: Dominion on opening night regardless of how these cold-blooded creatures functioning at full capacity in the arctic tundra confuses me. Jurassic World: Dominion releases exclusively in theaters on June 10, 2022.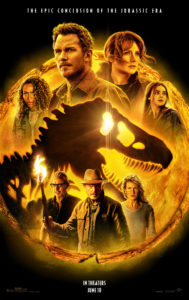 About Jurassic World: Dominion
Release Date: June 10, 2022
Directed by: Colin Trevorrow
Written by: Colin Trevorrow, Emily Carmichael, Derek Connolly
Cast: Mamoudou Athie, Chris Pratt, Laura Dern, Jeff Goldblum, Scott Haze, Bryce Dallas Howard, Dichen Lachman, Sam Neill, Daniella Pineda, Isabella Sermon, Justice Smith, Omar Sy, DeWanda Wise, BD Wong
Synopsis:
From Jurassic World architect and director Colin Trevorrow, Dominion takes place four years after Isla Nublar has been destroyed. Dinosaurs now live—and hunt—alongside humans all over the world. This fragile balance will reshape the future and determine, once and for all, whether human beings are to remain the apex predators on a planet they now share with history's most fearsome creatures.
Are you excited for Jurassic World: Dominion? What is your favorite film of the franchise? Can you explain how these cold-blooded creatures are seemingly thriving in an arctic climate? Let us know in the comments below and share your theories with us on Twitter.
Source: Universal Pictures
KEEP READING: Dual Director Explains How He Immediately Knew Karen Gillan Was Perfect For The Lead And How Aaron Paul's Casting Changed His Character: Exclusive Interview