Mattel's Jurassic World: Dominion toys will hit store shelves in spring 2022.
As we are getting closer to the film's premiere, Mattel will slowly release a variety of toys inspired by the movie, which can be found exclusively at Walmart.
RELATED: MYSTERIOUS NEW CHARACTERS ADDED TO THE WITCHER SEASON 3
The new Jurassic World Legacy Collection and Extreme Damage range shows the classic T-Rex and the "Roaring Allosaurus," and it includes a double pack that comes with a Coelurus and the devilish Velociraptor.
Toys For A Jurassic World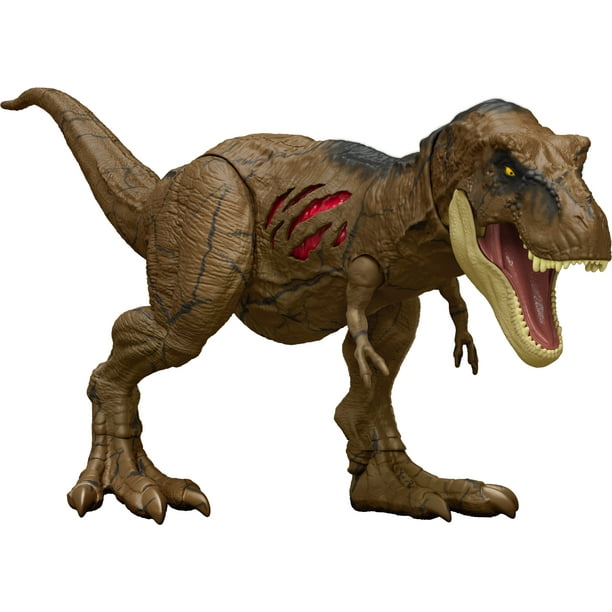 Credit: Walmart
LEGO has released promotional images for the Triceratops Pickup Truck Ambush and Pyrorapter & Dilophosaurus Transport sets for the next instalment in the Jurassic World franchise. Also, the T.Rex breakout set which is inspired by the iconic scene in the 1993 Steven Spielberg classic Jurassic Park. The sets are available for pre-order on the Lego website and will be released on April 17th, 2022.
Credit: Walmart
The iconic scene with the T.Rex Breakout is worthy of repeat viewing. It features a posable figure stomping on a flipped, crushed Ford Explorer, a second Ford Explorer and a smashed 'electric' fence.
It recreates the drama with Alan Grant, Ian Malcolm, Tim Murphy, and Lex Murphy minifigures, buildable night-vision goggles, a flare and 2 water glass elements, plus many other references to the famous scene.
Credit: Walmart
Jurassic World Dominion releases on June 10th, 2022. Fans are excited to see what the last instalment of the Jurassic World franchise will bring us. The movie will be 2 hours and 8 minutes long.
What will this last installment bring? Are we excited for this new dinosaur movie? Let us know in the comments below or on our social media.
KEEP READING: OBI-WAN KENOBI: JIMMY SMITS MAKES HIS TRIUMPHANT RETURN AS BAIL ORGANA