Triple H talks about his feelings towards NXT stars going to AEW and who decides who gets called up to the main roster and when.
WWE Executive Vice President of Global Talent Strategy & Development Triple H has not been a part of WWE for a while because of a heart issue, but he has made his return recently. Unfortunately with his return the news of just how serious his heart issue was and the announcement that he is officially retired from wrestling.
RELATED: TRIPLE H ANNOUNCES RETIREMENT
In the last few years Triple H was in charge of NXT before having to give his responsibilities over to Shawn Michaels. During a recent interview with Chris Vannini of The Atlantic Triple H was asked about some of the stars under in NXT during the time he was in charge moving to AEW. The names Adam Cole, Kyle O'Reilly, Bobby Fish, Keith Lee, Andrade El Idolo and Malakai Black were brought up during the conversation.
"I like all those guys," Triple H said. "They helped us get where we needed to get and I'm thankful for it. The truth is there was a period of time where we were trying to build NXT. We built NXT. Then we were trying to build a brand that could get a television show and sustain it. All those names helped us get there.

Whether anybody believed or not they fit on Raw or SmackDown, those aren't necessarily my decisions solely, and they're Vince's (McMahon) decisions and fans' decisions; and then, can we continue to do business with them?"
Vince (Mostly) Says Who Comes Up Or Says Down
It hasn't always been clear as to when and how people get called up to the main roster and how much say Triple H had. There are a lot of times where fans are clamoring to see a NXT star get called up, but stay in NXT. The two names which always came up were Johnny Gargano and Tommaso Ciampa. They seemed to be ready and ready for a very long time, but never got called up.
RELATED: ERIC BISCHOFF EXPLAINS WHAT THE WARNER BROS. DISCOVERY MERGER MAY MEAN FOR AEW
It was also confusing as to why some people got called up when there clearly wasn't a good plan as to how to use them. The prime examples being Keith Lee and definitely Karrion Kross. It is good to have it confirmed that it is mostly Vince's decision as to call ups.
Triple H went on to say he is on good terms with the NXT stars who made their way to AEW. Saying that he is still in contact with most of them. There is no ill will between him and the new AEW stars.  He likes to think about it like NXT taught them a lot and with that knowledge they are able to be better wrestlers. It just so happens that they now wrestle for AEW. 
"If they have great gigs, I'm happy for them. I stay in touch with almost all of them," Triple H said. "I like to think they came into us here, we taught them a lot, got them to (a higher level) where they learned how to do television, how to be professionals and all that to be successful there. At some point, they might come back with us, or they might never because they don't fit our brand as well, but that's OK.

They got us to certain places, and I'm thankful for that, and they're thankful for that, and they're off to different things. But that doesn't stop the train. People leave football teams, move to different teams all the time, and it's great."
Goodbye And Be Sure To Come Back Some Time
It is good to see that Triple H can see it as a business move and not a personal attack to leave the company. Having an attitude like that means they are more willing to come back and wrestle for WWE again.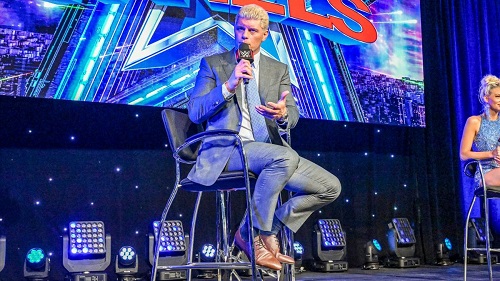 The prime example is Cody Rhodes. He is the co-founder of AEW and he returned to WWE. He learned how to wrestle in WWE and then left, but came back a better wrestler because of his time outside WWE. There is no reason other AEW couldn't do the same thing.
Do you think Triple H should be salty that NXT stars are leaving for AEW? Do you think more AEW stars will be welcomed back to WWE with open arms like Rhodes was? Be sure to let us know who you think will be the next NXT star to go to AEW and AEW star to go back to WWE over on Twitter.
KEEP READING: 2 NEW NXT STARS TO HAVE THEIR NAMES CHANGED BY WWE
Sources: Chris Vannini of The Atlantic, Wrestling Inc.