Kushida is rumored to be heading back to NJPW after his WWE release.
According to Dave Meltzer of Wrestling Observer Kushida's WWE contract expired this week. The wrestler decided to not re-sign with the company. It did not come as a surprise that he decided to move on from the company according to Meltzer.
It is believed Kushida will return to NJPW. Most NXT stars have a 30-day non-compete clause in their contracts so we may see him somewhere in not too much time. Melzer says the belief in WWE is that Kushida starts with NJPW in June.
RELATED: BULLY RAY'S THOUGHTS ON CODY RHODES TAKING CHAMPIONSHIPS OFF ROMAN REIGNS
Kushida's last televised match was on March 22 during the NXT Level Up episode. However, he did appear on last week's episode of NXT where he was attacked by Von Wagner backstage. It is believed that this was his send off as opposed to actually having a match. This is unfortunately a pretty typical way to send off a wrestler in WWE.
A Big NJPW Star Comes To WWE And Fizzles Out
Kushida signed with WWE back in 2019 with a lot of hype behind him. Prior to signing to WWE he was the face of the NJPW Junior Heavyweight Division.  He was with NJPW from 2010 to 2019.  He held the IWGP Junior Heavyweight Championship six times and the Junior Heavyweight Tag Team Championships twice with Alex Shelley.  In 2012 Kushida and Shelley won the Super Jr. Tag Tournament.  He also won the singles Super J-Cup Tournament in 2016.
Despite having a lot of success in Japan, Kushida wanted to try his luck in America. However, despite him coming over with a lot of hype and high hopes from fans, his time in the US was pretty lackluster.
Meltzer described his time in NXT as "kinda wasted three years of his career." He also went into the buzz with American fans with the announcement of his signing and what he thought went wrong.
"It seemed good, but once he got here, it's tough when you're a small Japanese wrestler in WWE," Meltzer said. "He wasn't…even during the Levesque [Triple H] era when they were more into wrestling ability than size.  He still wasn't a good fit because even more so than the wrestling ability they were into the talking ability and he was not a great English language talker so it was going to be tough, but he was a big star."
Kushida's Small Success In NXT
Despite Kushida's run not living up to the hype and the hopes of his fans from NJPW he was still able to have some success with WWE. He spent the entirety of his time in WWE wrestling for NXT. However, he was able to win the NXT Cruiserweight Championship off of Santos Escobar. He held the championship for a respectable 161 days before losing it to Roderick Strong.
RELATED: 2 NEW NXT STARS TO HAVE THEIR NAMES CHANGED BY WWE
Kushida also formed a tag team, Jacket Time, in NXT with Ikemen Jiro. The pair did well, but were used more and more as a comedy team. It isn't known what will happen with Jiro now that Kushida is gone.
Is Kushida Going Back To Japan Or Will He Give American Wrestling One Last Shot?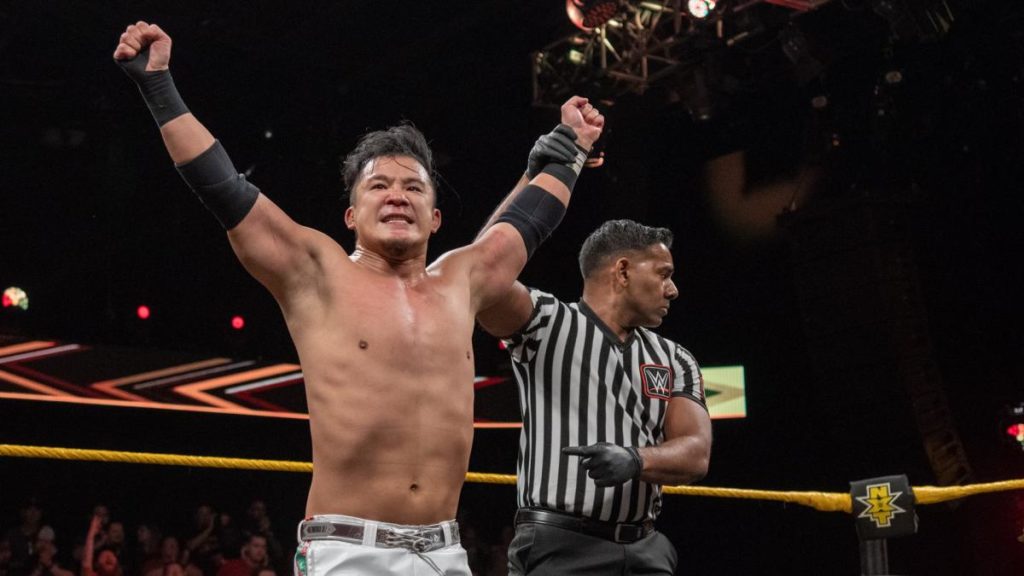 Despite the release being so recent, rumors are already out as to when Kushida will make his NJPW return. Like Meltzer said, it is believed June is when he will return. The reason for the June date is because NJPW Dominion will take place on June 12 and it is believed he will appear on that show.
However, like with all WWE releases AEW and IMPACT are probably looking at Kushida. So we could see him work in AEW and NJPW as the two promotions have a working relationship currently.
What did you think of Kushida's time in WWE? Are there any matches which are must watch matches from Kushida? Do you think he will go back to NJPW?  Do you think he should give wrestling in America one more shot? Do you think he would do well in AEW or IMPACT?  Let us know who you would have liked to see Kushida wrestle in WWE down in the comments and on social media.
KEEP READING: TRIPLE H GIVES HONEST TRUTH ABOUT NXT STARS GOING TO AEW
Sources: Wrestling Observer, Wrestling Inc., Fightful Select