Crunchyroll announces Dragon Ball Super: SUPER HERO global theatrical release this summer.
Crunchyroll announces the highly-anticipated Dragon Ball Super: SUPER HERO as their first truly globally-distributed theatrical release. Crunchyroll will distribute the film in North America and partner with Sony Pictures Entertainment for international distribution. The anime feature film is set to come to theaters around the world on all continents, including North America, Latin America, Europe, Australia/New Zealand, Africa, the Middle East, and Asia (minus Japan, which will debut the film on June 11). The film will be released in the original Japanese with subtitles and dubbed.
Dragon Ball Super: SUPER HERO Gets the Global Release it Deserves
It was a major disappointment to fans when the film's initial Japan release was delayed due to hacking issues. However, it looks like things are back on track and now the world will get to enjoy the film in relatively the same time frame. Series creator, Akira Toriyama, has created a brand-new original screenplay and designed new original characters in what looks to be aligned with his original vision of making Gohan the star and hero of the franchise. While, we know Goku ultimately is the star, heart, and main character, this film looks to at least give Gohan the redemption fans have been clamoring for. And Crunchyroll is taking the story global.
RELATED: Dragon Ball Super: Super Hero – 6 New S.H. Figuarts to Celebrate the Upcoming Movie
"For more than 30 years, the Dragon Ball franchise has delighted fans around the globe who have followed the world's greatest warriors who defend Earth from forces of evil," said Rahul Purini, President of Crunchyroll. "We're thrilled to partner with Toei Animation to bring fans the latest chapter of Dragon Ball Super to the legion of super fans eager to continue the adventure and to grow the anime audiences who are discovering it for the first time."  
The Best Dragon Ball Has Ever Looked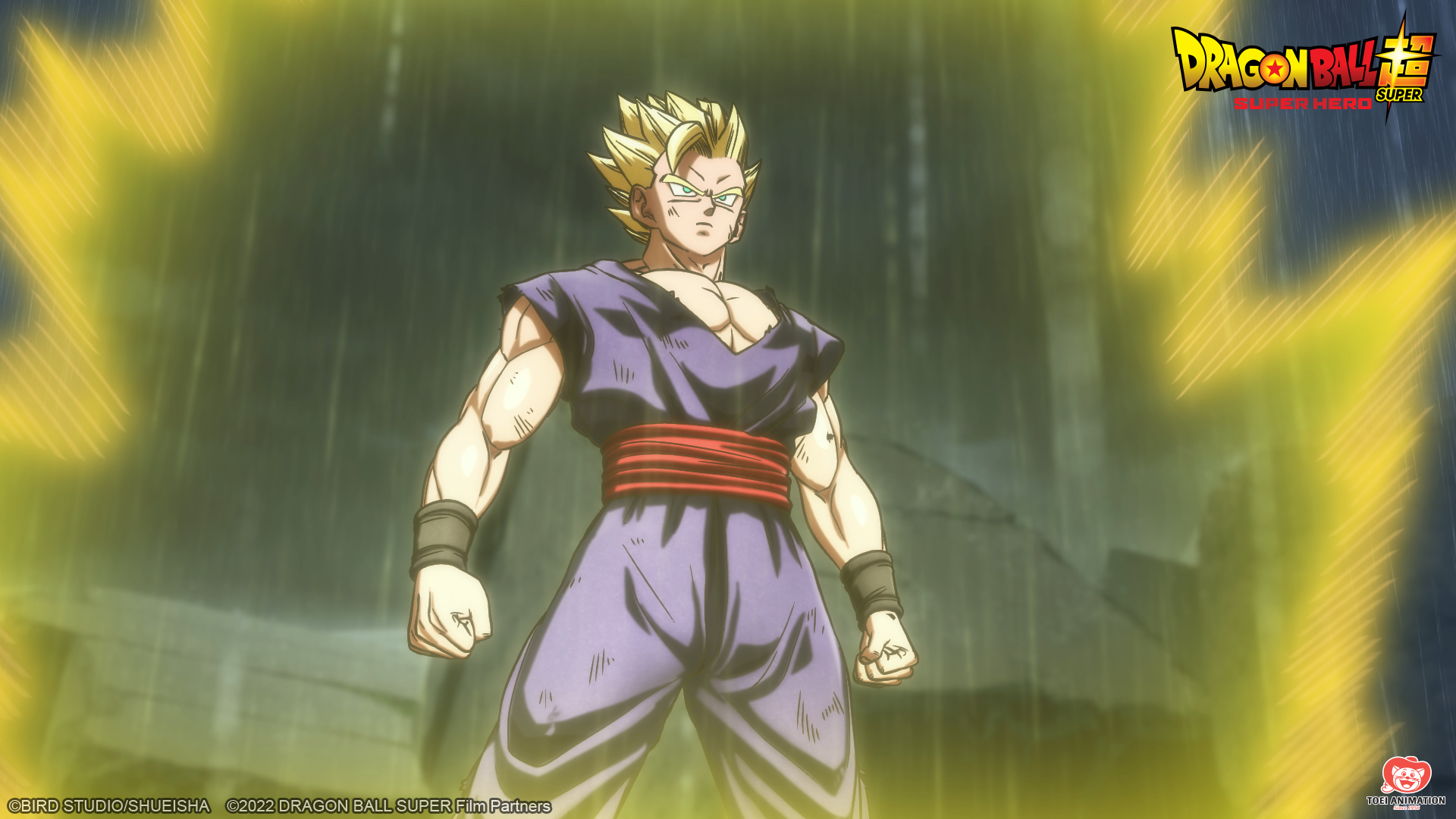 SUPER HERO is the second film in the Super franchise, as Battle of the Gods and Resurrection F are technically Z. DB Super: Broly release in 2018 to fans around the world and grossed over $120 million at the box office making it the fifth highest-grossing anime move in the U.S. box office. The film is gorgeous, and canonical, which is unlike most other Dragon Ball movies, and SUPER HERO looks to continue the trend. What this film also seems to boast is elevated animation. As seen in the trailers and images above.
RELATED: Anime Expo & Iconic Events Presents Theatrical Film Event For Ryoma! The Prince Of Tennis
Toei Animation has been maligned for the variance in quality throughout the series, though overall been renowned for their work. WIth SUPER HERO, the legendary animation studio looks to prove that when not put under a strict time constraint, they are on an entirely different level. They gave a nod to their mixed quality in Broly, but this time they aren't holding anything back and looking to set a new standard in anime and animation in general.
No exact dates for the film's release outside of Japan have been set. But for North America, Anime Expo is coming up so it wouldn't be surprising for the film to release near the date or even during the famed convention.
About Dragon Ball Super: SUPER HERO
Release: June 11, 2022 (Japan), Summer 2022 (Everywhere Else)
Director: Tetsuro Kodama
Screenplay: Akira Toriyama
Cast (Original Japanese): Masako Nozawa (Gohan, Goku and Goten), Toshio Furukawa (Piccolo), Yūko Minaguchi (Pan), Ryō Horikawa (Vegeta), Mayumi Tanaka (Krillin), Aya Hisakawa (Bulma),  Takeshi Kusao (Trunks), Miki Itō (Android 18), Bin Shimada (Broly), Kōichi Yamadera (Beerus), Masakazu Morita (Whis), Hiroshi Kamiya (Gamma 1), Mamoru Miyano (Gamma 2), Miyu Irino (Dr. Hedo), Volcano Ota (Magenta), and Ryota Takeuchi (Carmine)

Synopsis:
The Red Ribbon Army was once destroyed by Son Goku. Individuals, who carry on its spirit, have created the ultimate Androids, Gamma 1 and Gamma 2. These two Androids call themselves "Super Heroes". They start attacking Piccolo and Gohan… What is the New Red Ribbon Army's objective? In the face of approaching danger, it is time to awaken, Super Hero!
Are you excited about Dragon Ball Super: SUPER HERO? Will you watch it subbed or dubbed? Do you think Gohan gets a new form? Let us know in the comments below and share your theories with us on Twitter.
Source: Crunchyroll
KEEP READING: Pompo the Cinephile Review – Pompo Puts the Art of Filmmaking on Dazzling Display