Obi-Wan Kenobi actress Moses Ingram has been facing racist attacks after her character's reveal in the current Disney+ series. The show was released with a two-episode premiere last Friday and fans have been on the fence of the direction in which the show is heading towards to. Whether it's hate towards the show or hate towards the character, the actress has come forward in revealing the hateful messages she has been receiving.
Ingram has posted on her Instagram story the hateful comments she has encountered. One user said, "Your days are numbered" while another wrote, " You suck loser. You're diversity hire and you won't be loved or remembered for this acting role."
RELATED: ALL THE STAR WARS CELEBRATION 2022 DISNEY PLUS ANNOUNCEMENTS YOU NEED TO KNOW
Many of them have used derogatory terms and there's even a YouTuber who made a video about how Star Wars is trying to be more "woke" when it comes to hiring diverse casting.
Moses Ingram Speaks Out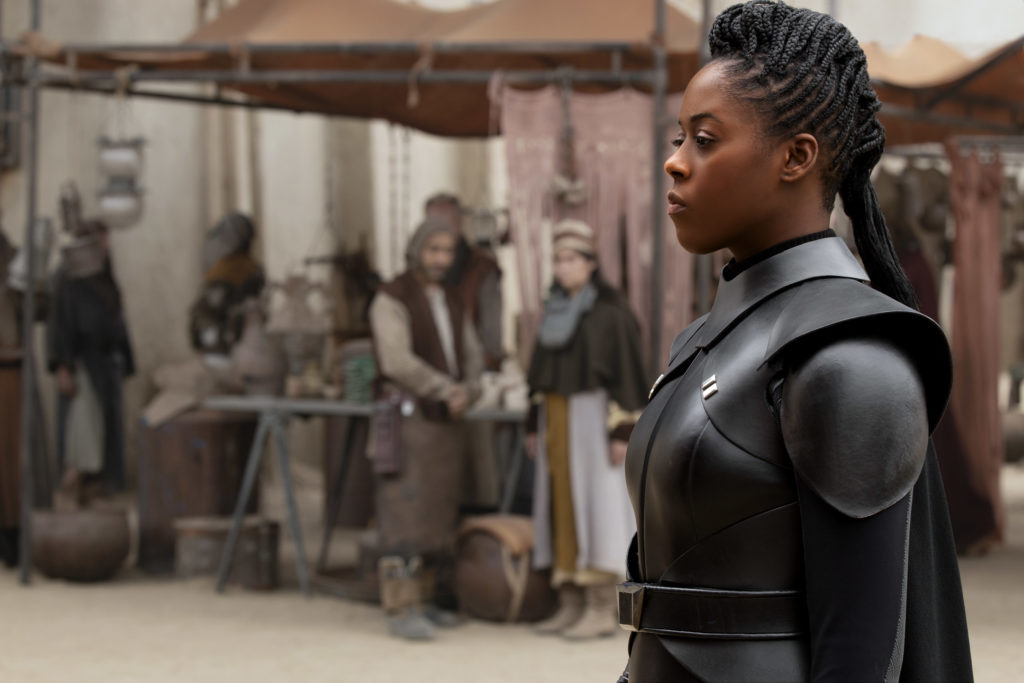 The actress explains that there are hundreds of hateful messages and even though she has many fans who send support, she can't really do anything to stop the hate. "I question my purposes and even being here in front of you saying that this is happening…..I don't really know."
The official Star Wars twitter page stood up for the actress by tweeting: "We are proud to welcome Moses Ingram to the Star Wars family and excited for Reva's story to unfold. If anyone intends to make her feel in any way unwelcome, we have only one thing to say: we resist. There are more than 20 million sentient species in the Star Wars galaxy, don't choose to be a racist."
Moses Ingram spoke to The Independent about how Lucasfilm executives warned the actress of the possibility of being faced with harassment, especially from racist Star Wars fans. "It was something that Lucasfilm actually got in front of, and said, 'This is a thing that, unfortunately, likely will happen. But we are here to help you; you can let us know when it happens," said Ingram.
Unfortunately, this isn't the first time a Star Wars actor, specifically a POC, has been harassed by toxic fans.
John Boyega and Kelly Marie Tran have been open about the negativity they received when they became part of the Star Wars franchise. For Boyega, the hate began when it was revealed that he was going to play Finn, a Stormtrooper, when the first teaser for Star Wars: The Force Awakens was released to the public in 2014. Many questioned about his character while others began to spread racist tirades to belittle the actor.
Boyega said in a now deleted Instagram post to fans to "Get used to it."
When it comes to Kelly Marie Tran, the actress was harassed so much that she ended up leaving social media altogether in 2018. Tran portrayed Resistance hero Rose Tico in The Last Jedi and soon after, she was faced with criticism and sexist/racist comments on her instagram. These so-called "fans" went after the actress by calling out her body type and how she wasn't the right "fit" for a role in the franchise.
It's honestly disgusting to see so much hate, especially in a franchise that has always spoken about unity and to fight for what's right. There's nothing "right" about sending racist comments and degrading someone's appearance for your own satisfaction. As a Star Wars fan, I'm appalled by the negativity this community has become and it seems like no matter the progress the franchise has given us in the sense of inclusion, there will always be a group of people who's hate will be louder than love.
No matter if you are a casual fan or one the biggest fan in the planet, we must all come together and support these actors. Because of their work, us fans are able to continue loving the epic world that is Star Wars. They bring us new stories and new adventures for us and future generations to enjoy. If you don't like a character, that's okay, but don't forget that the character and the actor are two very different people. One is fictional and one is a real-life human being who's just doing what they were hired to do. Don't spread hate. Spread love.
What do you guys think? Have you watched Moses Ingram's Obi-Wan Kenobi debut Should Lucasfilm and Disney do more when it comes to online harassment towards their actors? Do you think this toxicity will ever end? Let us know in the comments and don't forget to follow us on our socials!
KEEP READING: THE BAD BATCH SEASON 2 GETS NEW TRAILER AND RELEASE WINDOW
Source: Twitter