Netflix's new animated feature film, The Sea Beasts, stars Karl Urban in a pirate odyssey.
Just announced during this year's Netflix Geeked is a new film from the award-winning filmmaker of Moana and Big Hero 6, comes Chris Williams's next odyssey, The Sea Beast. First teased back in March, this epic tale of pirates and monsters takes us to the place where the map ends. A place where gigantic terrifying beasts roam the seas and the hunters of these beasts are revered as heroes. However, the world as it is known may not actually be as it is known. A stowaway on a fabled ship, an unexpected partnership, and a course set to make history, The Sea Beasts sets sail at Netflix on July 8, 2022.
The Sea Beasts Trailer
The Sea Beasts looks epic. Gigantic beasts, cute and cuddly beasts, Karl Urban as a pirate. Everything just seems right with this movie. Chris Williams is bringing his award-winning touch of adventure, heart, and humor by the barrel loads. The vibrant colors, powerful designs, and character personality clashes point are all marks of a film that the whole family will love. The world the film is set in looks to be turning upside down as this little stowaway looks to be developing a relationship with the beasts, while the other characters are bent on hunting them. The conflict of ideologies, pirates, and beasts, looks to be one that can't be missed.
RELATED: Netflix Possibly Dialing Back High-Budget Movies As Massive Streaming Company Evaluates Future Plans
The Sea Beasts was just the first new announcement from Day 2 of Netflix Geeked, and wow was it a BIG one. Netflix Geeked will continue through Friday. For more information on Netflix Geeked, how to watch, and some production info on The Sea Beasts, releasing in select theaters in June and on Netflix on July 8, 2022, continue reading below.
About Netflix Geeked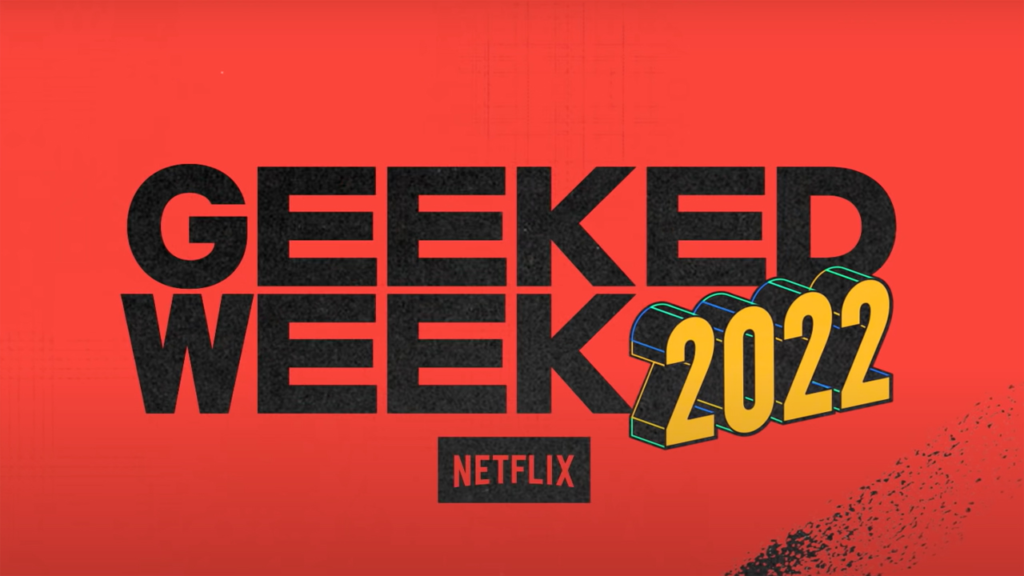 Netflix Geeked, Netflix's home for all things genre entertainment, is prepping for our second annual Geeked Week and we're going all out for this year's festivities. Geeked Week 2022 is a free five-day virtual event celebrating Netflix's genre series, films, and games that runs June 6-10 across all your favorite platforms. You can expect tons of exclusive news, new trailers, celebrity appearances and so much more. Here's everything you need to know so you don't miss a thing:
RELATED: Resident Evil 2022: Official Trailer For New Netflix Series Brings Raccoon City Into The Bloody Future
How to Watch
Netflix is hosting Geeked Week across all major platforms including our YouTube, Twitter, TikTok, Twitch and Facebook channels.
What to Expect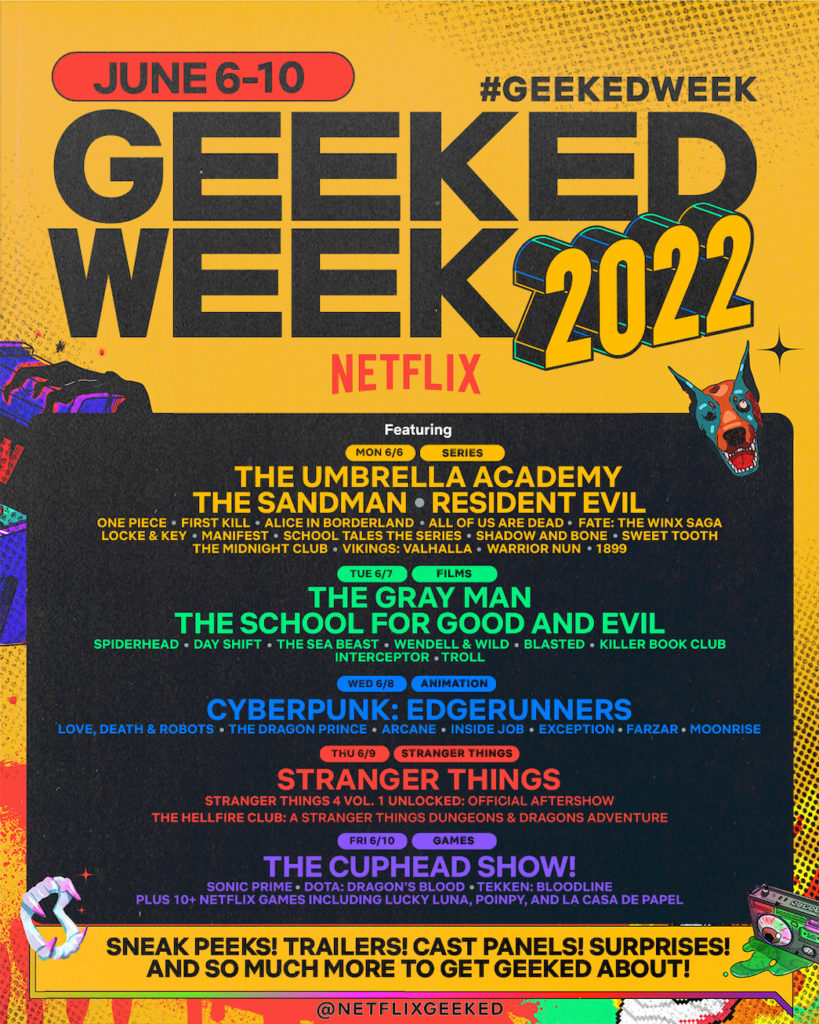 Every day promises lots of excitement about our Netflix genre series, films and games, including exclusive teaser and trailer premieres, sneak peeks, surprise announcements, never-before-seen footage, cast interviews, script table reads, and much more covering more than 60 Netflix projects. There even is a whole day dedicated to Stranger Things!
And each day of Geeked Week has a special theme:
Monday, June 6 (Day 1) – Series; Tuesday, June 7 (Day 2) – Film; Wednesday, June 8 (Day 3) – Animation; Thursday, June 9 (Day 4) – Stranger Things; and Friday, June 10 (Day 5) – Games.
About The Sea Beasts
Release: In select theaters in June and on Netflix on July 8, 2022
Director: Chris Williams
Writers: Neil Benjamin, Chris Williams
Cast: Karl Urban, Zaris-Angel Hator, Dan Stevens, Jared Harris, Kathy Burke, Marianne Jean-Baptiste

Description:
In an era when terrifying beasts roamed the seas, monster hunters were celebrated heroes – and none were more beloved than the great Jacob Holland. But when young Maisie Brumble stows away on his fabled ship, he's saddled with an unexpected ally. Together they embark on an epic journey into uncharted waters and make history.
Are you excited about The Sea Beasts? What other new Netflix series or movies are you hoping gets more coverage during Netflix Geeked Week? Will you be tuning in to see what's next? Let us know what you think in the comments below and share your reactions with us on Twitter!
Source: Netflix
KEEP READING: The First Poster & Release Window For The Addams Family Spin-off Wednesday Has Been Released