Baymax! premieres today on Disney+, taking audiences back to the wonderful world of Big Hero 6!
The 6-episode Disney+ series features the return of everyone's favorite inflatable healthcare robot as he travels through the fictional city of San Fransokyo, helping a different person in each episode. And while he might set out to help people with their physical ailments, viewers will find that he often ends up helping them work through their deeper emotional struggles along the way.
RELATED: PAWS OF FURY: THE LEGEND OF HANK DROPS 2 VIDEOS AS TICKETS GO ON SALE
The streaming series is the second spinoff of the popular animated movie (after Big Hero 6: The Series aired for three seasons on DisneyXD), and while that show featured a sharp shift in animation style, Baymax! perfectly carries over the animation style from the original film, making a seamless transition to the streaming platform.
And I'm happy to report that the series is an absolute delight.
What Makes Baymax! Work
Baymax! is a fantastic return to the beautifully animated world of San Fransokyo, and carries over the warmth of the original film in a big way. Much of the same crew returned for this show, including director Don Hall and producers Roy Conli and Bran Simonsen, as well as Scott Adsit, who once again nails his voice performance as the titular character. In an age where many other universe-building properties seem to be soulless cash-grabs, this fantastic team of creators and animators have all returned to this world bringing their A-Game.
This does not mean that fans should not expect the show to be a big and bombastic sequel, however! This series is solely about, well…Baymax. The rest of the Big Hero 6 superhero team don't make an appearance, and even Hiro Hamada only appears for one episode. This is a very clear choice that was made by the creative team, because rather than focus on flashy super-heroics and action scenes, this show dwells on the healthcare aspects of the character.
In each episode, the huggable, squeezable robot provides personal healthcare to a brand new character, which highlights his true superpower…kindness. Despite each episode being only 6-9 minutes long, this show will punch you right in the feels. Baymax! features some very deep subject matter, and I was surprised at how willing the creators were to dive into real-world situations.
For example, in one episode, Baymax helps a young girl who is struggling with her first period, and I thought that it was handled brilliantly. While a lesser show wouldn't have dared broach the subject, this series talks about it with a refreshing sense of openness and honesty.
As Baymax arrives to help the young girl (who is absolutely mortified by what she's going through), he doesn't shy away from the situation or treat it as something to be embarrassed about. Instead, he speaks to her very openly, which is something that Hollywood could take a pointer from! It was really refreshing to see, and was easily the highlight of the series. I guarantee it will be in the same conversation as Pixar's Turning Red, which came out earlier this year and featured the same subject.
In another episode, Baymax assists a character who is coming to terms with being gay. This is probably the most direct inclusion of an LGBTQ+ character that we've ever seen from Disney, and while many will praise its inclusion in the series, I thought it was handled with less finesse than the previous example.
The writers made a very odd choice in how they decided to frame the story, and there's an analogy that's used that, while I'm sure was completely unintended by the creators, can actually be seen as crude and offensive towards women. Its something that's difficult to discuss without going into detail, but I'm curious to see if other viewers pick up on it the same way that I did.
But if all this serious subject matter gives the impression that Baymax! doesn't have any levity, that is not the case at all. The series is filled to the brim with humor, and I found myself laughing out loud many times throughout its short runtime. One of the best parts about this show is that Baymax is relentless in his pursuit to provide care…even when the patients don't always want it.
There are several hilarious moments of what I would call "mock horror", where Baymax is framed like the killer in a slasher movie as he stalks his patients, and it brings a lot of great laughs. It's phenomenal how much humor and empathy that the animators can covey through only subtle expressions. The character has such a simple design, and yet that never prohibits the audience from connecting to him on a deeper level. All of this is a huge credit to the art team, who blow it out of the park.
Overall, the series is a very enjoyable return to the world of Big Hero 6, and a timely reminder on how we can all be real-life heroes just by being there for those who need us. In a recent interview, when asked what he wanted audiences to take away from the series, Scott Adsit summed it up perfectly:
"It's an example of just being available," he said, "And recognizing what is needed when its needed. Baymax is not quite like us, because he has one purpose: going around the city looking to help people. We can't all do that, but if we can be aware enough to find those moment when our specific skills and compassion are needed, we can put them to good use. And I think that watching him do it constantly gives us maybe a little peak into how we can do it ourselves."
THE VERDICT: 4/5 Stars!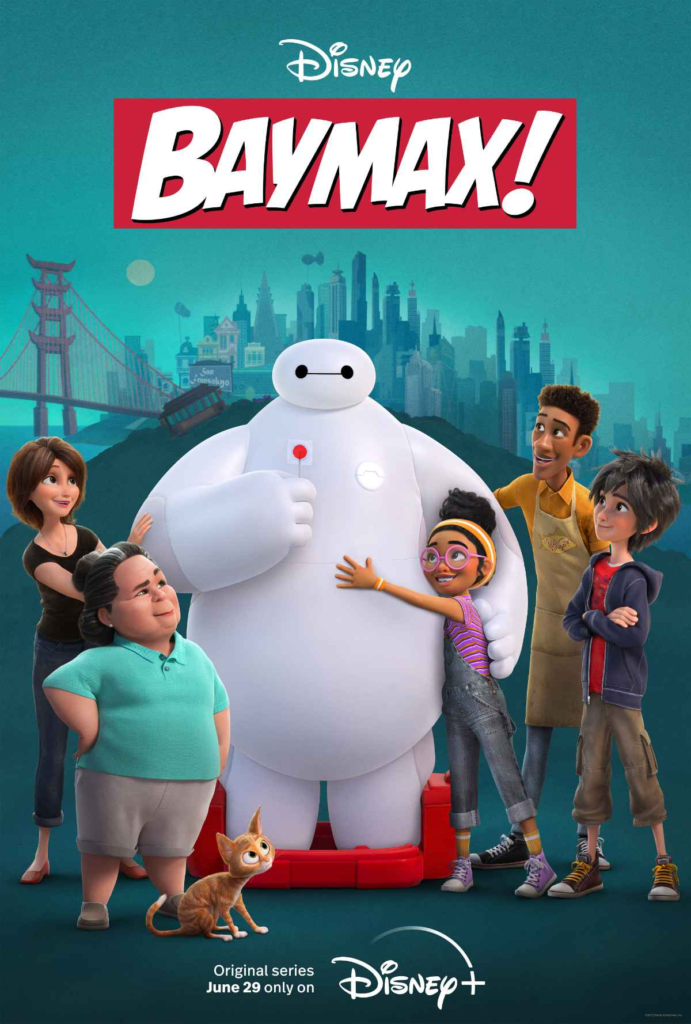 Baymax! debuts June 29th, exclusively on Disney+. Let us know what you think on our social media!
KEEP READING: WATCH THE MAGICAL NEW TRAILER FOR HOCUS POCUS 2 NOW!