HexGaming is offering eSports Players the ultimate advantage with the Hex Rival Pro modular PS5 eSports Controller.
Casual gaming, competitive gaming, and of course eSports, all benefit from a good controller. Some people take their stock controllers and customize them, while others turn to trusted companies like HexGaming, which offers custom options without the need for technical know-how. Today, HexGaming delivers PS5 gamers the most options available for custom PS5 eSports controllers in the industry with their Hex Rival Pro for PS5! The Hex Rival Pro for PS5 is available to order now starting at the SRP of $199.99, but if you want to learn more continue reading below.
HexGaming Hass The Industry's Most Impressive Line-Up of eSports Controllers
With the Hex Rival Pro added to their lineup, HexGaming now has the industry's most impressive line-up of eSports controllers. The Hex Rival Pro joints the Rival and Ultimate controllers to round out their impressive offerings.
RELATED: New HYTE x Hakos Baelz Unveil Limited Edition Y60 PC Case at Anime Expo 2022
The HexGaming Hex Rival Pro is a fully modular controller made using authentic PS5 controllers and customized specifically for tactical eSports gamers. The modular design allows gamers to switch components in and out to fit and adapt to games and playstyles. The Hex Rival Pro also features an ergonomic layout that makes them the most comfortable eSports controller available. The ergonomic design provides gamers who play for long periods of time with the perfect fit that keeps them in the game longer by reducing unnecessary strain from ill-fitting controllers.
 Key features of the Hex Rival Pro include:
– Interchangeable thumbsticks, play wired or wireless, switch thumbsticks in seconds, and remappable rear buttons configurations on the fly.
– Players can activate the remap program during the game and assign a maximum 15 buttons (X, O, Triangle, Square, Up, Down, Left, Right, L1, L2, R1, R2, L3, R3, Touchpad ) to the rear buttons.
–          6-in-1 interchangeable thumbsticks, 3 different heights, 2 different ergonomic thumb grip design, domed or concave. Gamers can operate the controller flexibly, capture targets faster and improve accuracy.
"With the highly engineered Hex Rival Pro controller, the standard for top-notch gameplay has been elevated. Gamers of all skill levels will improve their eSports skills and results with the Hex Rival Pro, as the amazing controls and impressive feedback can make the difference between victory and defeat." 

Ray Zhu, CEO of HexGaming
The Hex Rival Pro package comes complete with: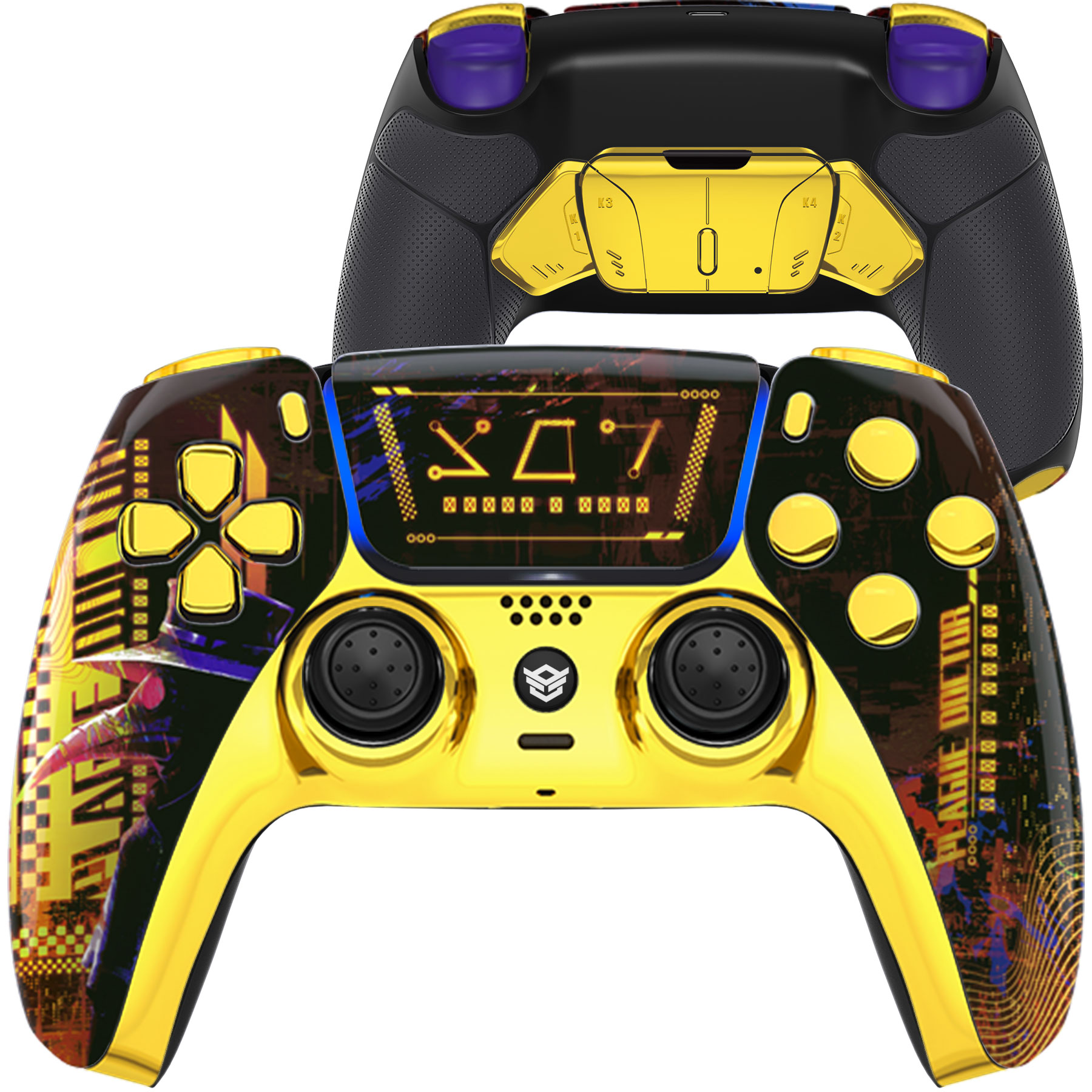 The Hex Rival Pro Controller
6 -in-1 interchangeable thumbstick
User manual and after-sales service card.
***Please note, the controller doesn't come with cables or any other accessories.
RELATED: Exclusive NBA 2K23 WNBA Cover Features Sue Bird and Diana Taurasi
HexGaming has debuted a truly awesome controller, and with PlayStation 5's becoming slightly easier to get and with gas prices the way they are, staying in and playing games seems like a great plan to follow. Plus with the Hex Rival Pro, you can probably play longer without cramping up your hands. The only downside is that it doesn't come with a cable to charge it or connect it for PC use. However if you have PS5, you should already have at least one cable for that already. The Hex Rival Pro for PS5 is available now.
About HexGaming
HexGaming is an offshoot company of ExtremeRate Limited. eXtremeRate has nearly ten years of experience in customized gamepads and has leveraged its experience in innovative custom solutions to give gamers an entirely new brand for creating their controller, HexGaming. HexGaming provides prebuilt customized esports controllers for gamers to peak performance.
To enhance the gaming experience and elevate the game, HexGaming offers a variety of styles and functional customization such as front and back shell, thumbsticks interchangeable area, trigger control mechanism, ergonomic back buttons, etc. Using the HEXGAMING controller allows gamers to compete like a gaming pro. More information is available at www.HexGaming.com.
What do you like most about HexGaming's Hex Rival Pro? Would you rather get a Hex Ultimate? Is there another controller you think is better? Let us know in the comments below and tell us why your have to play with your controller and not someone else's on Twitter.
Source: HexGaming
KEEP READING: Teenage Mutant Ninja Turtles: Shredder's Revenge Review [STEAM] – Pure Turtles Excellence