MultiVersus is shaping up to be the game you need if you're looking for the ultimate gaming throwback with great graphics and even better characters. If you're eager to escape to this gaming extravaganza, you're in luck because MultiVersus is now open for Beta.
MultiVersus is earning its title as the must-play game of the summer. Especially if you are like so many gamers who hold a special place in your heart for classic games like Smash Bros. Published by Warner Bros and created by Player First Games, MultiVersus is now available for open beta. You can find it available for download on PS4, PS5, Xbox Series X/S, Xbox One, and advanced PCS with seamless server support. And honestly, it doesn't matter what system you get it for, since this game is cross-platform!
RELATED: MULTIVERSUS OPEN BETA TO BEGIN JULY 26; EARLY ACCESS AVAILABLE JULY 19; NEW MULTIVERSUS GAMEPLAY TRAILER REVEALED WITH FIRST LOOK AT IRON GIANT
Similar to Smash Bros, players will be able to pick their character from a variety that falls under the Warner Bros Interactive Entertainment name. This means if you are a DC nerd like me, they have you covered. Like Scooby-Doo, they got you. Adventure Time, Steven Universe, Looney Toons, and Game of Thrones? Check, check, and more checks. But the list doesn't stop there. Because more and more characters will be added as time goes by. For example with open beta now available, new characters have already been announced and added. Basketball legend LeBron James is available today. While it was announced that Rich Sanchez and Morty Smith from the popular animated series, Rick and Morty would be joining in season 1.
But it isn't just updated that will allow players to add new characters to their roster. Similar to Fortnite, MultiVersus allows players to win rewards through seasonal Battle Passes. This is probably one of the best features I've seen out of games that offer this type of play progression. Not only is there a free track for players to win rewards like character skins, profile icons, XP, Gold, and other cosmetics. There is also the option for players to upgrade to the Premium Track.
Currently, right now there is a Preseason Battle Pass that will run until August 8th. With August 9th marking day one of Season 1. Because we are currently in the Preseason, please note that this is a shorter list of items than what players can expect with regular seasons. Right now, the prized character in the Premium Track is Cake from Adventure Time.
MultiVersus Character Mechanics Steal the Show
Similar to most battle games, characters are grouped up into five classes. This is shown with the small greyed icons in the top right corner of the character's photo, but also in their profile once you click on them. The classes are Tank, Support, Bruiser, Mage/Ranged, and Assassin. Not only is it interesting to see the DPS category be broken down into three separate classes, but it allows a lot more flexibility for players. No matter your fighting style, there is a character for you.
Bruisers thrive in up-close battle, but also have the ability to take more damage than others. This is great for players who like a mix between Tank and DPS.
Assassins bring the pain with the help of their tools/weapons. Not to mention, they are one of the best when it comes to mobility, allowing for a quick getaway.
Mage/Ranged is not the easiest class to learn, but it can be a lot of fun. These characters focus more on keeping a distance while using spells, tricks, and weapons to attack.
Tanks are your front liners who are able to take a punch but lack the flexibility to escape attacks. But they aren't just a pretty shield. Tanks in this game can also pack a pretty punch, that allows some of their attacks and combos to be the highest damage-dealing in the game.
Supports are one of the most important classes in any game. They might lack some damage output, but they are necessary when battling because they will help keep other teammates alive.
And it isn't just the classes that will add to the overall play of MultiVersus. Perks are unlocked as soon as a character levels up and can be the huge difference between winning or losing a game. Every character has a different playstyle with abilities that are special to them. With the ability to add up to four perks, players will be able to alter characters for more diverse playstyles. As well as create a more team dynamic for ultimate victories. Perks fall into different categories, as well as some might be character specific. The categories are Offense, Defense, and Utility.
Some of the Perks players will find include: Bouncerang, Fire Projective, Coffezilla, Aerial Acrobat, Triple Jump, Wounded, Green Thumb, and many more. Adding these won't ever hurt your character, but not adding them can leave you at a disadvantage against other plays who might have them equipped.
Visually Addicting
There are so many things that make this game addicting, but one of them is the overall visuals. And I don't just mean graphics. I'm talking about the characters, different skins, and the maps. MultiVersus currently has eight maps that include scenes like The Batcave, Scooby's Haunted Mansion, Adventure Time's Tree Fort, and Steven Universes Sky Arena. It would also be safe to say that since this game will be constantly updating, we might see other maps get added down the line. I for one would love to see a Game of Thrones map.
There are so many titles that fall under the WB name, more so than I think we ever imagined. So imagine the shock when Arya Stark was just waiting to be unlocked. Not only does she look amazing in this version of graphics, but it is so nice to see a uniform look for characters even if they come from a mixed match of media. This adds a level of excitement for a realm of possibilities when it comes to characters we might see in the future. Including characters that were leaked to be "mostly finished" like Daenerys (Game of Thrones), Gizmo (Gremlins), and Wicked Witch (The Wizard of Oz).
RELATED: MULTIVERSUS TECHNICAL ALPHA [STEAM] 1ST IMPRESSION OF WB'S EPIC CROSSOVER FIGHTING GAME
Games can never go wrong when they add the ability to customize characters. Because some of these franchises are so diverse in content, fans have certain styles they like more. Take example Harley Quinn and her variety of outfits between TV Series, movies, and games. As a massive fan of DC's most chaotic girlie, the fact that there are different variants of her has kept me coming back day after day. It is also these variants, like Uncle Shagworthy that just add to the overall fun and style of the game.
Let the Fighting Begin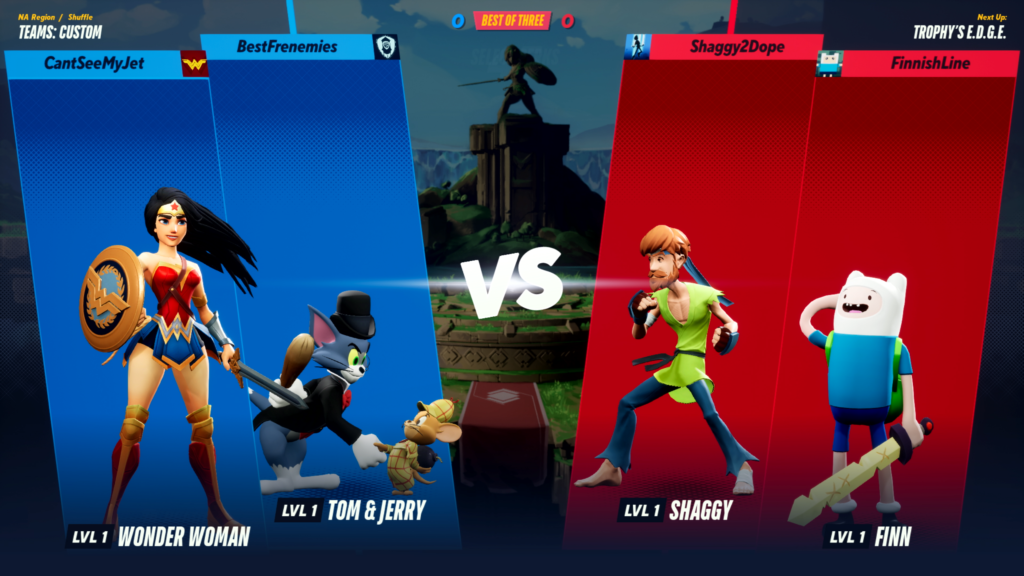 When you first begin you will want to work your way through the tutorial. This will give you an extensive rundown of the different button combos that will be used in battle. There is a lot to remember, and if you are like the majority of players you might not remember it all at first. But don't worry because not only can you revisit tutorials, but there is also a lab to refine your skills in training.
Where the fun really begins is in the different modes players can choose from. There is the 2v2 team-based cooperative mode or the 4-player Free For All. If you are feeling a little more adventurous then try the 1 vs 1 matches. And if by chance you are ready to take the ultimate test, players can play in Ranked Competitive.
Overall, whatever gaming style you choose, you are going to have a blast playing. With MultiVersus being free-to-play along with the ability to play local, online, and cross-platform there is no reason to miss the chance to challenge your friends to a battle. Download MultiVersus Open Beta now available here and grab some of the amazing prizes from the Preseason Battle Pass before it's too late.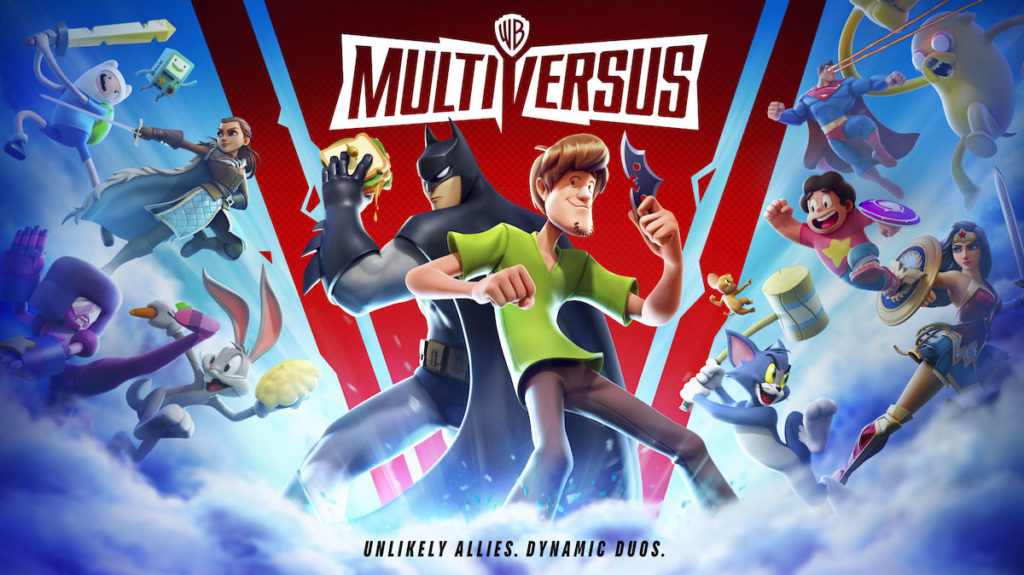 Will you be downloading MultiVersus Open Beta? Let us know in the comments what characters are you most excited to play. As well as what characters you hope will make an appearance in the future. If you like what you read there's more where that came from, follow us on our social media so you don't miss a thing.
KEEP READING: AVENGERS: THE KANG DYNASTY FINDS AN EXCITING DIRECTOR IN DESTIN DANIEL CRETTON