Fans in the Southern California area will get a chance to see the latest cinematic installment of the One Piece saga a little early ahead of its theatrical bow in November. The upcoming One Piece Film: Red will be one of the centerpiece screenings at this month's Animation Is Film Festival in Los Angeles, California.
The upcoming screening is slated for Saturday, Oct. 22 at 6:30 pm PDT. It will be held at TCL Chinese 6 Theaters located in Hollywood, California. Fans who would like to attend the special screening are able to purchase tickets now at the festival's official website. You can also check out a trailer for the upcoming festival, showcasing its epic lineup, below:
RELATED: CRUNCHYROLL REVEALS 'ONE PIECE FILM RED' NORTH AMERICAN RELEASE FOR NOVEMBER 2022
ONE PIECE FILM: RED WILL BE FEATURED AT THE ANIMATION IS FILM FESTIVAL
One Piece Film: Red commemorates the 25th anniversary of the top-selling One Piece manga series, which first began its publication in the pages of Shueisha's Weekly Shōnen Jump in July 1997. The new film is directed by Goro Taniguchi (One Piece – Defeat Him! The Pirate Ganzack) from a script by Tsutomo Kuroiwa (One Piece Film: Gold).
Red marks the 15th feature film in the global franchise. The new cinematic adventure showcases the backstory of the pirate Shanks, introducing his daughter, Uta, who is also the childhood friend of the one and only Straw Hats captain, Monkey D. Luffy.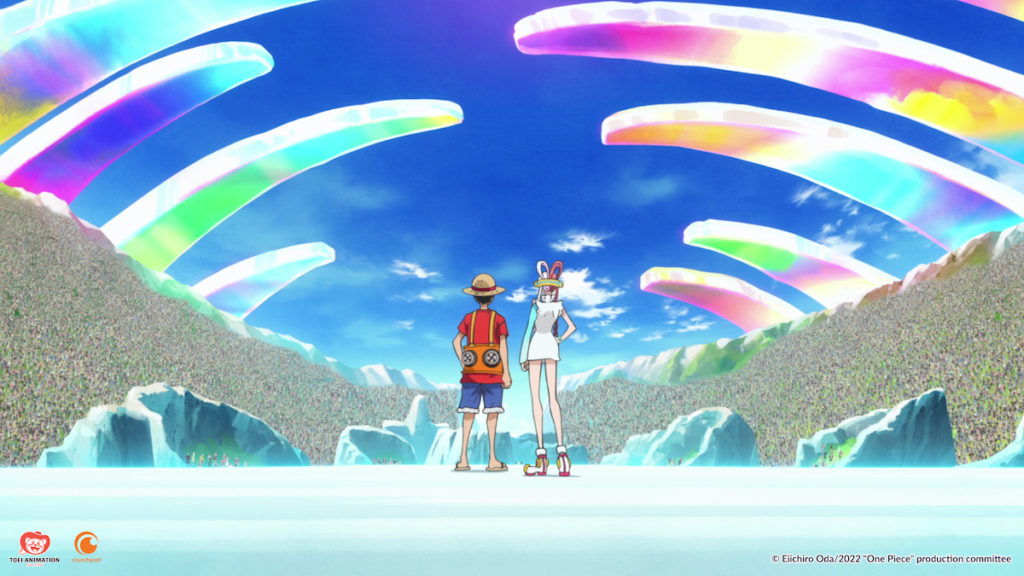 The normally reclusive Uta, a beloved singer with a voice described as "otherworldly," has opted to reveal herself to the world for a live concert. The Navy is on close watch of the event, which is attended by Uta's fans and an excited group of pirates, including the Straw Hats and one Captain Luffy. Many came far and wide to attend Uta's performance. The adventure is sparked by the shocking revelation that she is in fact the enigmatic daughter of Shanks.
The Animation Is Film Festival screening of One Piece Film: Red will mark the world premiere of the English dub release of the film.
RELATED: ORIGINAL STITCH UNVEILS MESMERIZING NEW ONE PIECE FILM: RED DESIGNS FOR VOL. 3 LAUNCH
The upcoming Animation Is Film Festival looks like a fantastic event that champions animation as a cinematic art form on par with live-action cinema. The upcoming festival will also feature Guillermo Del Toro's Pinocchio as its special Closing Night film. Oscar-winning filmmaker Guillermo del Toro will be live in attendance for the first U.S. screening of his film, appearing for both an intro and a post-film Q&A session.
Meanwhile, Henry Selick's Wendell & Wild will serve as the festival's Opening Fight Selection, with Red serving as the Centerpiece Screening. Other screenings include the North American premiere of Nora Twomey and Cartoon Saloon's My Father's Dragon and the award-winning Little Nicolas. Other film festival screenings include award contenders, such as Skydance Animation's Luck, Pixar's Turning Red and Aurora's Sunrise. Many of these films will be in Oscar contention for the coming award season.
Fans who aren't able to attend the Animation Is Film Festival in October need not worry. One Piece Film: Red is slated for a North American theatrical release next month. It will be hitting theaters on Nov. 4.
What do you think of the news? Are you looking forward to One Piece Film: Red? Do you plan on seeing it in theaters when it comes out, or do you plan on waiting for streaming or a home video release? Let us know what you think about it on our official Twitter account.
SOURCE: Crunchyroll, Animation Is Film Festival
KEEP READING: NEW 'ONE PIECE' SET PHOTOS LEAK ONLINE WITH 1ST LOOK AT ALVIDA'S SHIP