Jade Cargill reveals who, out of all the big names in AEW, are the ones she is learning the most from.
AEW is full of wrestlers who have been in the industry for longer than their fellow wrestlers have been alive, and many of them have wrestled all over the world.  The amount of wrestling knowledge in front of the camera and backstage is incredibly immense.
JADE Cargill Knows AEW Is Overflowing With Knowledge
All the knowledge just hanging out backstage waiting to be tapped into must be very tempting even to someone who has been doing very well in AEW like Jade Cargill.  Her being dominant is a gross understatement.  She is currently undefeated with a record of 37-0 according to AEW's website and is the inaugural and current TBS Champion.  It doesn't seem like she needs much help with anything, but having some mentorship is always a good thing.
RELATED: SARAYA AKA PAIGE MAKES HUGE AEW DEBUT
In an interview with DJ Whoo Kid, Jade Cargill said one of the people she turns to and is learning from is none other than the American Dragon Bryan Danielson and some other very big names in the wrestling industry.
"That's my main [guy]. That's my trainer," Jade Cargill explained. "This is a guy who has crazy star power. He's been on reality shows, he did his thing over at the other company [WWE]. Just to work with him is just amazing. I'm working with one of the number one guys as far as technical wrestling. I'm working with Chris Jericho as far as my promos.

Tony Khan has my back. I have everything. I had a dream laid out for me. And this is something that I never woke up and wanted to be. Wrestling found me. Mark Henry is like my father in wrestling, and he's a Hall of Famer. People look up to him, and he's for the culture 120 percent. I have everything that's needed to succeed in this business." H/T To Wrestling Inc. For Transcription
The Best Technical Wrestler And The Best Promo Guy In The Business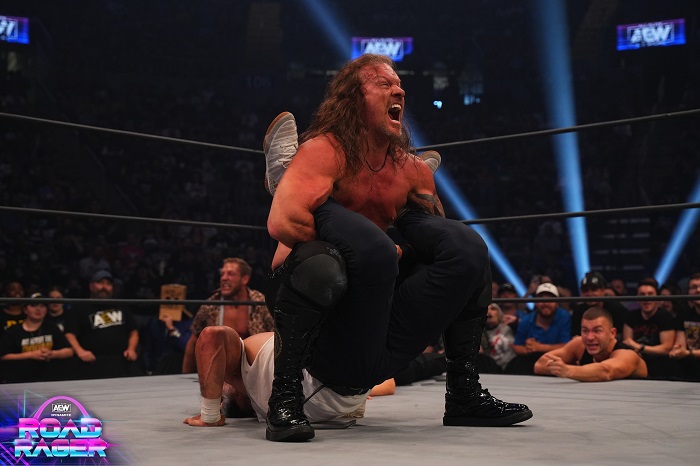 If you are looking for the best technical wrestler active today you can't go wrong with Danielson.  He has the technical skills and has also been one of the top guys wherever he has wrestled.  He is a former ROH World champion, four-time WWE champion, one time World Heavyweight champion among many other championships.  He also can teach Jade Cargill how to be a champion and how to carry the burden of being the best in her division.
RELATED: DARBY ALLIN REFLECTS ON BEING "GROOMED" FOR THE EXCITING KINGDOM OF THE NXT
Danielson is one of the most experienced wrestlers in AEW, but far from the most and not Jade Cargill's most experienced mentor.  Jericho made his wrestling debut in 1990 and has wrestled in WWE/WWF, WCW, NJPW and ECW.  He is regarded as one of the best wrestlers of all time and his legend continues to grow.  Cargill learning her mic skills from Jericho is learning from an absolute master.  He has been at the top as a babyface and a heel and both come naturally to him.  Throughout his career he has been able to reinvent himself time after time and year after year.
We don't know who Jade Cargill will be facing next, but after last week's AEW: Rampage it looks like it may be Nyla Rose.  Rose is a very tough opponent, but with Cargill learning from greats like Danielson, Jericho, and Mark Henry? She is well-prepared for anyone.
What do you think of Cargill?  Is she at her peak or does she still have a lot to learn?  Can you see Danielson, Jericho, and Henry's mentorship in her?  Do you think she is ready to challenge for the AEW Women's Championship?  Leave a comment below and let us know if you think she lacks in any area and who would be the best mentor to fill that gap.
KEEP READING: AEW: DALTON CASTLE GIVES AN UPDATE ON HIS HEALTH AND STATUS
Source: DJ Whoo Kid, Wrestling Inc.