Fans of physical media may rejoice. Crunchyroll has revealed some new anime home video releases that will be sure to get fans and collectors excited, especially for those who are still interested in physical media over digital streaming. Crunchyroll has announced several new titles coming to Blu-ray in February 2023, including Horimiya, The Slime Diaries, Love After World Domination, How NOT to Summon a Demon Lord, and World Witches Take Off!
CRUNCHYROLL REVEALS ITS LATEST HOME VIDEO RELEASES FOR FEBRUARY 2023
Just in time for Valentine's Day, the slice-of-life romcom anime, Horimiya: The Complete Season, will be available as a Blu-ray + DVD box set along with a Limited Edition set. It arrives on February 7. The Limited edition set features art cards, a 72-page art book, and a special enamel pin. New special features include a voice actor panel, a textless opening, and ending song title sequences, promo videos, and more.
RELATED: THAT TIME I WAS REINCARNATED AS A SLIME SEASON 3 COMING SOON
Also arriving on Feb. 7, 2023 is the Blu-ray release of How NOT to Summon a Demon Lord – Season 2. Feb. 14, 2023 will see the Blu-ray launches of The Slime Diaries – The Complete Season and World Witches Take Off! – The Complete Season. Finally, Love After World Domination – The Complete Season hits Blu-ray on Feb. 21, 2023.
All the newly announced Blu-ray sets are available to pre-order now at the official Crunchyroll Store. You can check out some images of the new upcoming Blu-ray sets scheduled to launch in February below:
Of course, fans also have the option of watching all these shows now via Crunchyroll's app and browser-based website. All of these shows are streaming on the Crunchyroll library right now. Fans can download the anime and manga app now. It's available on 15 platforms, including all major gaming consoles.
The Slime Diaries is a spinoff to the popular anime series, That Time I Was Reincarnated As A Slime. The good news for fans of the show is that Season 3 is currently in the works, so hopefully, the wait won't be too much longer. Some new artwork for the third season was also revealed, showcasing Hinata Sakaguchi and Rimuru in his new dark attire and sword from some of the latest episodes. The upcoming season does not yet have an official launch date.
RELATED: CRUNCHYROLL ANNOUNCES GLOBAL RELEASE DATES FOR POPULAR ROMANTIC COMEDY "THE QUINTESSENTIAL QUINTUPLETS MOVIE "
Meanwhile, How Not To Summon A Demon Lord – Season 2 continues the isekai story from where the first season left off. Demon Lord Diablo and his friends are back for more fantasy world adventures and high jinks. It's certainly an irreverent series.
Love After World Domination is a goofy and hilarious rom-com series about the leader of a Super Sentai hero team who falls in love with the soldier of an evil army of baddies who are bent on world domination. It doesn't matter that they are on opposing sides of a dire conflict. They are absolutely crazy about one another and are weirdly perfect for each other as well. Fans of Power Rangers and Super Sentai will definitely want to give this show a look if they haven't already.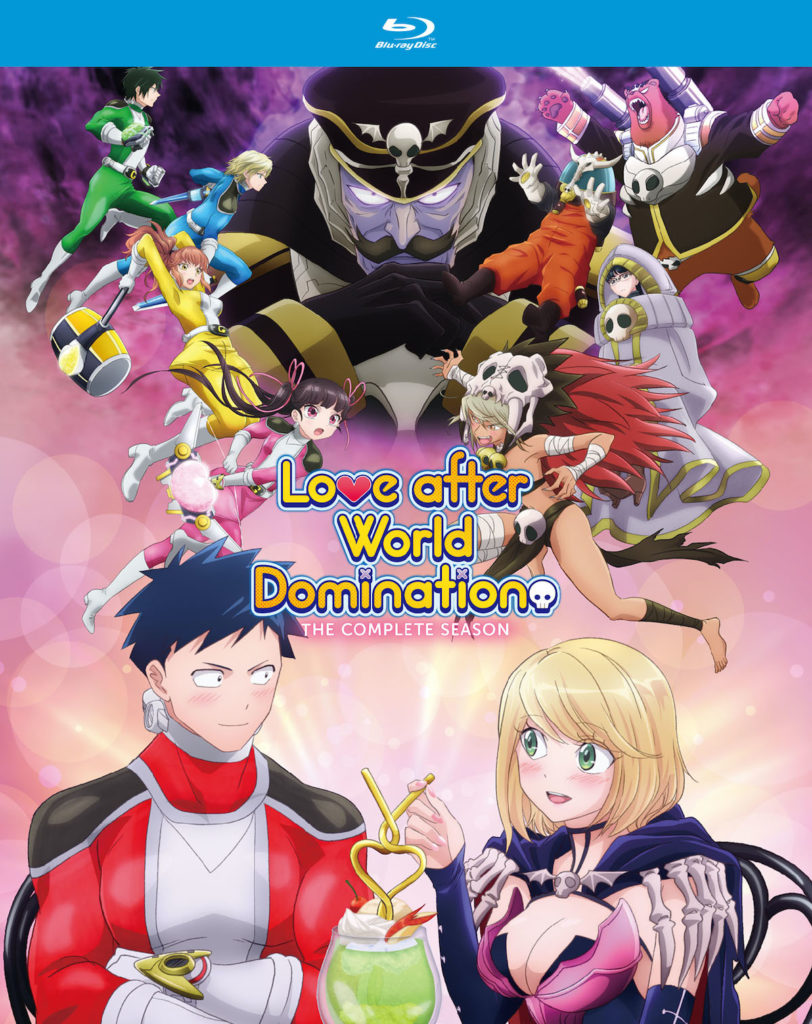 What do you think of the new Crunchyroll Blu-ray set announcements for February 2023? Do you plan on picking any of these up? Do you think they would make great gifts for anime fans? Are you happy to see Crunchyroll stepping up its home video releases? Let us know what you think about the topic on The Illuminerdi socials.
SOURCE: Crunchyroll
KEEP READING: CRUNCHYROLL ANNOUNCES THE HOSTS FOR ANIME AWARDS AHEAD OF LIVE EVENT IN MARCH 2023