Start those Princess lessons and host a wild slumber party in celebration because The Princess Diaries 3 is finally happening at Disney!  The Hollywood Reporter recently confirmed that a third installment of the beloved franchise is in the works from screenwriter Aadrita Mukerji, who also wrote the television series Reacher and the recent Quantum Leap television reboot for NBC. 
THE PRINCESS DIARIES 3 IS MOVING FORWARD AT DISNEY STUDIOS
Longtime franchise producer Debra Martin Chase is also returning for the planned sequel. As it's currently only in the scripting stage, we don't know at all what the story will be. Star Anne Hathaway has long lobbied for a 3rd entry in the series, which she reiterated to ETOnline back in October.
RELATED: PRINCESS DIARIES SPINOFF TO STAR MIA'S LITTLE SISTER: EXCLUSIVE
Hathaway said regarding the sequel while speaking to Entertainment Tonight at the time, "I would more than entertain it, I'm pulling for it." She added, "If there's any way to get Julie Andrews involved, I think we would make it work. We would go to where she was and put a green screen behind her and just make it happen."
It's difficult to fathom a Princess Diaries entry without Julie Andrews right alongside Hathaway as it has always been.  Andrews had long been a star of both stage and screen, collaborating with Disney on the classic Mary Poppins back in 1964.  As Queen Clarisse Renaldi, Andrews provided a warm yet commanding regality to the character and shared strong chemistry with lead Hathaway, helping the original film dance to a global box office haul of $165 million.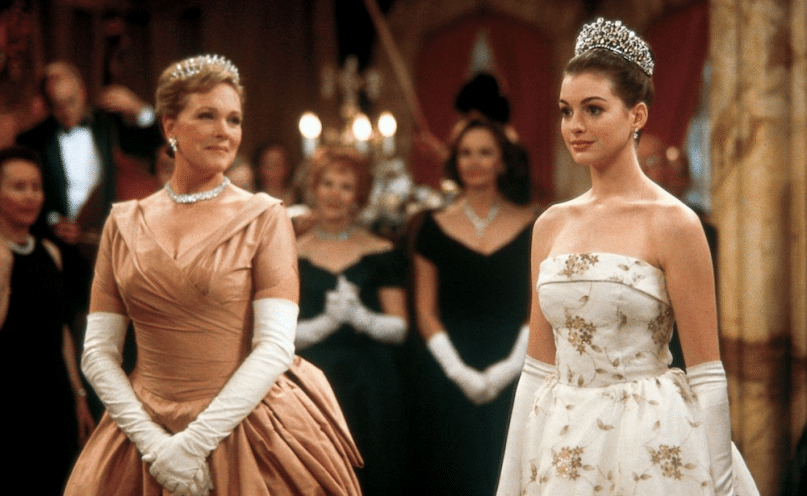 That success lead to a sequel, 2004's The Princess Diaries 2: Royal Engagement, which saw the return of Pretty Woman director Garry Marshall and a nice $134 million in returns.  The sequel was written by future and current television giant Shonda Rhimes, while the original took its name and premise from a novel by Meg Cabot.
Both films helped catapult Anne Hathaway to superstardom in the early 2000s and have remained family staples for all who saw them on release.  The original followed teen Mia Thermopolis as she discovers she is the princess of the country of Genovia and is trained in princessdom by her wise grandmother, and the Queen of Genovia, gaining both a stronger relationship with her and more self-confidence along the way. 
RELATED: WATCH RAYA AND THE LAST DRAGON'S FEATURETTE TAKE YOU BEHIND-THE-SCENES OF THE REMOTE VOICEOVER RECORDING PROCESS
The sequel, Royal Engagement, saw Mia continue royalty training whilst trying to find a suitor so she could rule the country.  Then of course there was frequent Marshall collaborator Hector Elizondo as the kindly bodyguard Joe, who acted as a love interest for Clarisse. The second film saw the arrival of future star Chris Pine on the scene as Mia's love interest Nicholas. While both films received rather mixed reviews from critics, audiences embraced them with open arms, praising their charm, light touch, lead actors, and of course, the fantasy escapism. 
The announcement of The Princess Diaries 3 comes with a few caveats, though: Firstly, franchise director Garry Marshall passed away in mid-2016, so a replacement will obviously have to be found. Secondly, as of this writing, none of the original cast has signed onto the project. However, it's still early enough in the development process for that to be expected. 
Both stars, Hathaway and Andrews, have been committed to other projects as of late, with Hathaway currently starring in James Gray's drama Armageddon Time alongside Anthony Hopkins, which was recently released in theaters. Meanwhile, Andrews provides the voice of Lady Whistledown on Shonda Rhimes' Netflix series Bridgerton.
Pine also went on to become a prominent leading man following his role in The Princess Diaries 2. He is currently working on Dungeons and Dragons: Honor Among Thieves, which hits theaters on March 31, 2023. Hathaway and Pine specifically tend to be very busy with their schedules. So, it remains to be seen if they will be back for The Princess Diaries 3.
Regardless, as someone who grew up with this series, I'm very much looking forward to seeing what royal hijinks Mia Thermopolis and co get up to when The Princess Diaries 3 releases.  Thank you for being here today, and follow The Illuminerdi for all things The Princess Diaries 3 as well as any other nerdy needs.
Are you excited about The Princess Diaries 3?  Did you grow up with the original films or see them later?  Did you ever imagine yourself as royalty?  What are your favorite performances from Anne Hathaway and Julie Andrews?  Let us know in the comments below and on our Twitter.
KEEP READING: DISNEY PLUS IS BRINGING THE LOVE FOR VALENTINE'S DAY 2022
SOURCE: The Hollywood Reporter