Mattel and Cryptoys drop the second wave of their fan-favorite Masters of the Universe Digital Toy Collection.
Just a little over a month after launching their first wave of Masters of the Universe digital toys, Mattel and Cryptoys have announced a second wave of digital toys from the iconic franchise. The latest drop includes Orko, Beast Man, Teela, and Trap Jaw. These digital figures are joining He-Man/Prince Adam, Evil-Lyn, Battle Cat/Cringer, and Tri-Klops from the first wave released on November 9, 2022. The final drop in the MOTU series will occur early next year and include other legendary MOTU characters Skeletor, Sorceresses, Panthor, and Man-At-Arms.
Mattel and Cryptoys Masters of the Universe Digital Toy Collection
Cryptoys is creating an expansive universe for fans to collect and play with one of Mattel's most famous properties, The Masters of The Universe. Fans will be able to take their digital figures and play in the world and games Cryptoys continues to expand and add to. Mattel and Cryptoys have found a way to digitize the surprise pack toy experience into the virtual world and allow fans to play with the figures without ever having to worry about damaging the figures when playing with them.
RELATED: Mattel and Cryptoys to Launch Masters of the Universe Digital Toy Collection
"It's been amazing to see how much fun fans have been having with our new Masters of the UniverseTM digital action figures over the past few weeks. The community is excited to see the surprise inside each cube when they unbox, and they fall in love with their new MOTU toys as soon as they come to life onscreen. Our next drop featuring four new characters will give everyone a chance to build out their collections, earn more rewards, and play with even more MOTU toys."

Will Weinraub, CEO and Co-Founder at OnChain Studios
"We hope the latest installment of the Masters of the Universe Cryptoys series will not only delight fans of Mattel's iconic IP being turned into digital art, but will also continue to build on the heritage of the MOTU brand in a meaningful way. We look forward to sharing even more updates in the new year."

Mike DeLaet, Global Head of Digital Gaming at Mattel
Masters of the Universe Wave 2 Characters and Rarity Skin Levels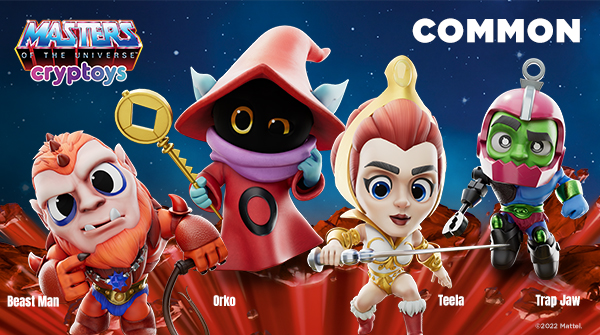 RELATED: New Mighty He-Man and MOTU Figures Showcased at 40th Anniversary Press Day
The Cryptoys experience makes it easy for anyone to build an interactive collection, beginning with the surprise pack Cryptoys Cubes. From there, fans can choose to keep cubes in mint condition or unbox them to reveal blister-packed toys. Once the toy is unwrapped, it comes to life and is ready to play. These digital figures are priced at $39.99 each and can be purchased with credit or debit cards 5% transaction fee) or crypto since the platform is built on the Flow blockchain. Each time a collector max mints five Cryptoys Cubes per transaction, they'll receive a Golden Ticket for early access to future drops.
The Masters of the Universe collection is the first brand to launch on Cryptoys' NFT platform as part of its multi-year, global partnership with Mattel. The MOTU digital toy collection is available exclusively at Cryptoys.com.
Will you be adding the Wave 2 figures to your MOTU cryptoys collection? What grade are you hoping to get? Who is your favorite Masters of the Universe character and why is it Orko? Share your thoughts and pics of your collection with us on social media!
KEEP READING: Original Stitch Announce Gorgeous One Piece T-Shirts, Sweatshirts, and Hoodies