In 2023 Hasbro's Power Rangers franchise will be celebrating the 30th Anniversary of its debut back in 1993. As part of this celebration, it's now been discovered Hasbro will be releasing special "Remastered" versions of the original Mighty Morphin Power Rangers team in the popular Power Rangers Lightning Collection toy line.
BLUE RANGER BACK TO ACTION
Found on the France version of the online retailer Vinted a seller has listed a brand new Mighty Morphin Blue Ranger figure not yet revealed by Hasbro. This figure features the all-new branding of "Power Rangers Lightning Collection: Remastered" and is included in a Deluxe-priced point figure box with all-new artwork and aesthetics to give it an overall higher quality look.
RELATED: NEW POWER RANGERS LIGHTNING COLLECTION ZORD ASCENSION PROJECT TIGERZORD COMING IN 2023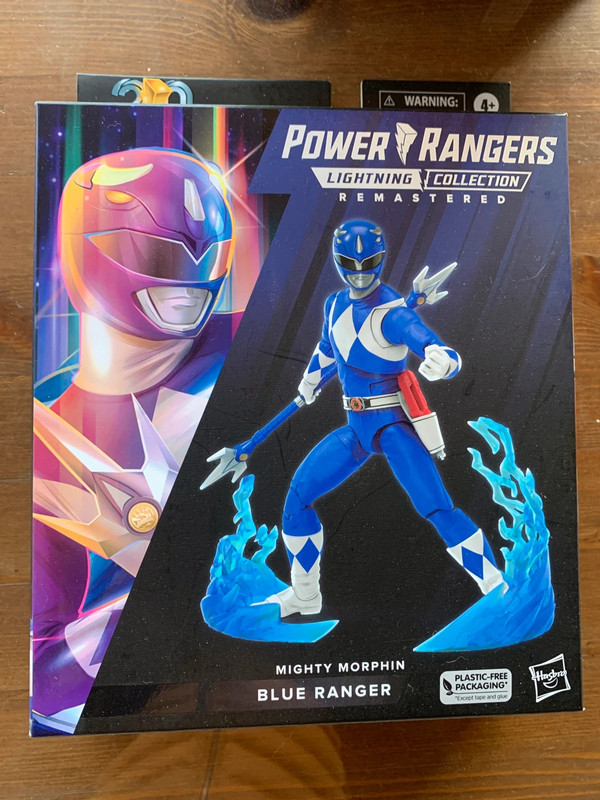 The top of the box showcases the brand new 30th Anniversary logo for the franchise that will be featured on a number of products in 2023. The actual figure itself has upgrades that can be seen throughout, including a pinless joint look that is slowly becoming the standard for joints in the figure line, as well as additional paint applications for the black lines around the belt and Blade Blaster holster.
Speaking of the Blade Blaster, present here is the holstered mode of the weapon, something that wasn't included with the original release of the figure in 2020 and is something often reserved for special releases or more expensive releases of MMPR figures. Also included are special new effect pieces to showcase an energy effect with twirling the Power Lance around.
Due to this being the only picture posted, a layout of the included accessories that would be included on the back can't be seen so it's unknown if these figures will include a new Billy Cranston likeness of David Yost, though it's likely it will.
MMPR REMASTERED
So far, only pictures of the Blue Ranger have been spotted online, but with this getting its own special subline name and the 30th Anniversary right around the corner, it is incredibly likely that the entire MMPR team will be getting this Remastered treatment.
Right now price point and release date for these new releases is unknown until Hasbro officially announced this figure and any others in the line though thanks to the Drop Zone page on retailer Entertainment Earth, it's possible new Power Rangers products will be going up for pre-order on Tuesday, January 17th thanks to a clue left in their Hasbro product drop for the day.
SPECIAL TIE IN
Right now, until more details are shown, it's unknown how much these releases will tie into the upcoming Mighty Morphin Power Rangers: Once and Always special releasing on Netflix in April, but it's likely Hasbro will plan for these to hit store shelves around the time of the special's release.
RELATED: POWER RANGERS 30TH ANNIVERSARY SEASON: DAVID YOST SET TO RETURN: EXCLUSIVE
The original Blue Ranger Lightning Collection figure was released as a part of Wave 5 back in 2020 and has since gone out of print, leading to high costs on the aftermarket. While some fans may not be happy to see yet another Mighty Morphin figure appear in the line, these can be helpful for those who missed out before, are just getting into the line, or want something special that is branded for the 30th Anniversary, even with the higher cost these releases will have.
Right now, it is also assumed this "Remastered" line will only be MMPR releases and not dive into other figures, but with the amount of figures in the line fans have been unhappy with, it's something that could be interesting if explored beyond the original team.
To stay up to date with all the news for the Power Rangers Lightning Collection, fans can check out The Illuminerdi's Josh Perry on his weekly Lightning Storm YouTube series every Saturday at 9:00 am Pacific or on Twitter at @LightningFigPR. 
Do you plan to add these Remastered MMPR figures to your collection? Leave your thoughts in the comments below. Also, be sure to follow The Illuminerdi on social media to be notified of more Power Rangers news and updates in the future!
Source: Vinted & Entertainment Earth
KEEP READING: POWER RANGERS LIGHTNING COLLECTION ALIEN RANGER 5 PACK COMING IN 2023