Earlier this week, A24 revealed a brand-new trailer for Darren Aronofsky's latest movie, The Whale, which stars Brendan Fraser in a career-making role, Sadie Sink, and Hong Chau. The film is currently playing in select theaters across North America and will expand to more venues on Dec. 21.
You can check out the new trailer here:
The Whale follows Brendan Fraser's Charlie as a 600-pound online English teacher who is trying to reconnect with his estranged teenage daughter, played by Sadie Sink, whom he abandoned for his male lover. He has now decided to die, but before that happens, he examines his life and tries to confront long-buried traumas and ghosts that have been haunting him for decades. The film is described by A24 as a deep character study of a man dealing with his regrets once he voluntarily reaches the end of the road, as well as the weight that fatherhood implies, and overall, feelings of guilt and remorse.
RELATED: FLORENCE PUGH STARS IN THE FIRST TRAILER FOR A GOOD PERSON
This new trailer focuses on Charlie's efforts to reconnect with his daughter, and culminates with the emotional delivery of the line "I need to know I've done one thing right with my life". We meet Hong Chau, who plays Charlie's long-time best friend, as she tries to persuade Brendan Fraser's character not to go after his daughter. However, he's determined. Before leaving this world behind, he must know that not all of his life decisions have been terrible.
Is The Whale a major Oscar contender?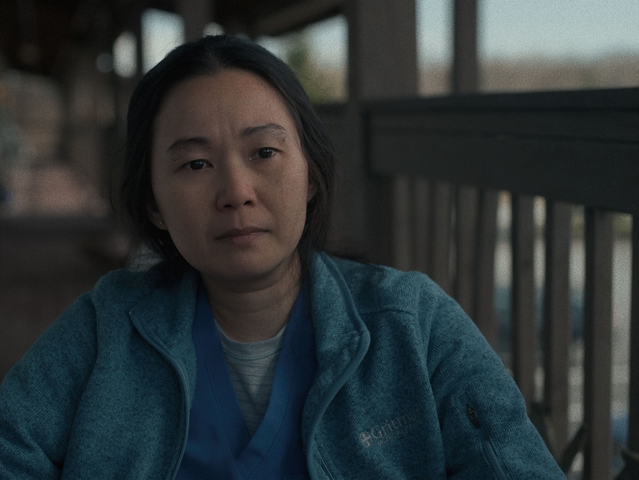 The Whale's marketing and awards campaigns have mostly been focused on putting Brendan Fraser's performance under the spotlight, hoping for a Best Actor nomination and ultimate win. The actor is currently the frontrunner on Gold Derby to get a nomination in the category, and could very well walk home with the statue come March 12. The only real competition he has at the moment is Colin Farrell for The Banshees of Inisherin, and perhaps Elvis' Austin Butler, though the buzz has mostly diluted for him at this point. In general, it's a weak year for this category (Best Actress is much more competitive), so he could easily come out on top.
Hong Chau could score a Best Supporting Actress nomination, though odds are that Kerry Condon will take the win in this category — even if she's nominated, Chau won't be a major threat to some of the other favorites. This is perhaps the most heated acting category at the moment.
Additionally, Gold Derby also predicts the screenplay could score a nomination in the Best Adapted Screenplay category, where Women Talking is the current frontrunner to be nominated and even win. More technical categories like Best Makeup & Hairstyle could also show some love for Fraser's incredible prosthetics, which added around 300 pounds to the character.
Who worked on The Whale?
The film was written by Samuel D. Hunter, based on his own play, and directed by Darren Aronofsky. It is a 180-departure for him from his last job, the Jennifer Lawrence-starring, 2017 question mark known as mother! It is also a big departure from his typical mind-bending, psychological thrillers (see Pi or Black Swan), to focus on a deep character study that takes a lot of the spotlight away from the direction and instead focuses on the acting and the script. The cast includes Brendan Fraser as Charlie in what has been described as a career-defining performance; Hong Chau as his best friend Liz, Stranger Things' Sadie Sink as Ellie, Ty Simpkins (Iron Man 3) as Thomas, Samantha Morton as Mary, Sathya Sridharan as Dan The Pizza Man, and Jacey Sink as young Ellie.
Aronofsky, Jeremy Dawson, and Ari Handel are producers, while Tyson Bidner and Scott Franklin are executive producers, and Dylan Golden and Brendan Naylor are associate producers. Matthew Libatique, a frequent Aronofsky contributor who recently worked on Don't Worry Darling, acted as cinematographer, while Andrew Weisblum, another Aronofsky usual who also worked on Tick, Tick… Boom! last year, is the editor of the film.
The Whale will expand nationwide on Dec. 21 and will open on international markets throughout January and February. What did you think of the trailer? Are you excited to see Brendan Fraser in such in The Whale? Let us know your thoughts on our social media!
KEEP READING: VIKINGS: VALHALLA SEASON 2 RECEIVES OFFICIAL TRAILER & LAUNCH DATE FROM NETFLIX