There's no better feeling than watching a rambunctious, over-the-top, maximalist action film straight out of India in IMAX, especially when it's something as grandiose as Siddharth Anand's Pathaan. Truth be told: I'm not the biggest fan of the YRF Spy Universe, Yash Raj Films' shared universe of spy flicks. Minus the impeccably shot and cathartic Tiger Zinda Hai, both Ek Tha Tiger and War have left me…cold. One is a highly clichéd ripoff of The Spy Who Loved Me; the other is a baffling riff of John Woo's Face/Off with competently shot action sequences but containing eye-rolling twist after twist, completely bogging down any attempt at emotional momentum.
Anand seems to be a fan of John Woo because the plot of Pathaan is plucked straight out of Mission: Impossible II. A RAW spy (Shah Rukh Khan) is tasked with stopping a rogue agent (John Abraham) from unleashing Raktbeej, a deadly bioweapon before it spreads across India. He teams up with an ISI Agent (Deepika Padukone), who was previously romantically involved with the rogue agent until his plans for the world are revealed.
Man, where have I seen that before? Oh yeah! But here's the thing: Pathaan is better in every conceivable way than Mission: Impossible II because of Shah Rukh Khan's incredible performance as the titular character and the fact that it never takes itself seriously during prolonged sequences of high-octane fun. 
Shah Rukh Khan Magnifies the Screen From Beginning to End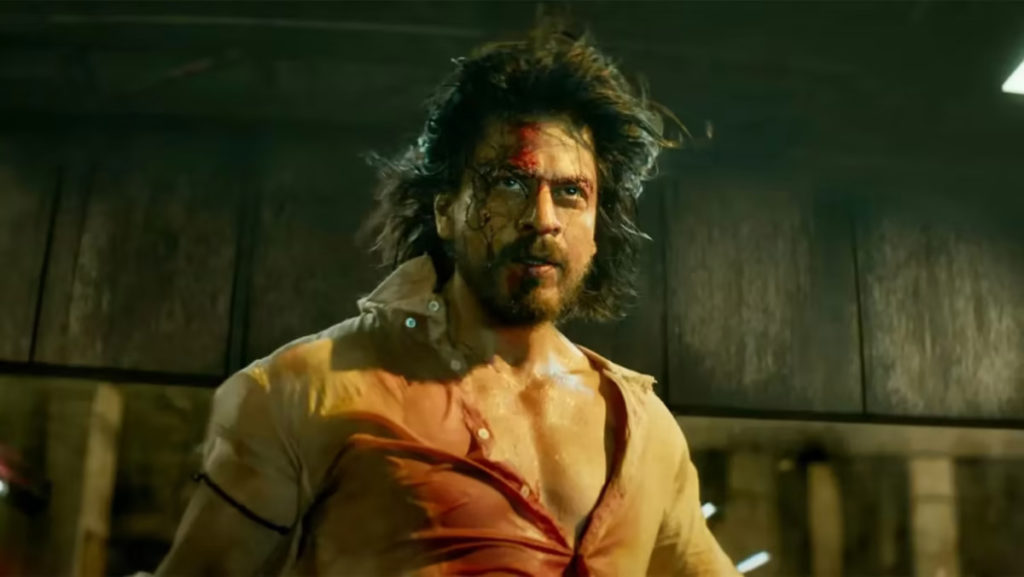 Pathaan marks Shah Rukh Khan's first film as a lead actor in five years since starring in Aanand L. Rai's Zero. Khan has also appeared in other movies, most notably in Brahmāstra: Part One – Shiva, but those were extended cameos and not full lead or supporting performances. Historically known as the King of Bollywood, Khan commands the screen from the minute he appears as Pathaan in an action sequence so ridiculously over-the-top that it sets the stage for the rest of the movie.
As soon as Pathaan opens, it never lets up and produces insane levels of adrenaline to prepare you for the rest of the film: a series of one crazily conceived setpiece after the other that your brain can't process until the next one appears, intending to melt away your perceptive skills completely. 
There's a reason why Khan is one of the, if not the best, Bollywood actors working today. No one can match the charm and emotion he can convey through a slight glance or grin, directly at the camera or with other characters. Look at the way they introduce Khan in the movie. This is the first time that Indian audiences have seen him in a lead role in the past five years.
RELATED: BABYLON REVIEW: DAMIEN CHAZELLE'S LATEST IS WILD (BUT VERY LONG)
At first, the camera doesn't directly show his face. They hide him behind a huge patch of hair until he glances at a henchman, and his mouth starts to move. The movie then cuts to his mouth talking, addressing the henchman that he knows who he is. He'll recognize him in five, four, three – cut to the henchman saying "Pathaan!" and SRK appears, looking at him with his signature stare that has embraced India's collective imagination for the past three decades.
At 57, Khan has never lost his talent as one of the remaining showpeople working in the film industry. He's as good as he was in films like Baazigar, Dilwale Dulhania Le Jayenge, Mohabbatein, Om Shanti Om, and Chennai Express (the last two also stars Padukone), his last genuinely spectacular role. He's also terrifically ripped, which allows Anand to linger on his elaborate pecs as he takes down bad guys with effortless skill.
The body count keeps piling up, and SRK never flinches for one second. He's always in his element and one step ahead of the antagonist, even if Jim thinks he's got him. But it would help if you never bet against King Khan. And the King will always make his final move after all the pieces are in place. 
Deepika Padukone and John Abraham Are Stellar in Pathaan
Khan shares excellent chemistry with Padukone and does the RAW/ISI romance far better than in Ek Tha Tiger, solely because Padukone is charming and a far better actress than Katrina Kaif. I said what I said, but Kaif's acting (minus her fighting skills) in both Tiger films is stiff and not in sync with Salman Khan's brand of quick-wit humor and smoldering intensity. Salman also shows up to aid Pathaan as Tiger in the YRF Spy Universe's first significant crossover inside a rousing train battle, brilliantly setting up Pathaan's eventual appearance in Tiger 3, which will release in cinemas during Diwali.
SRK is also a great measure against John Abraham, who delivers a genuinely menacing foe for our King. He doesn't have the same level of charm as Khan (on a different planet from ours), but he's still able to share the screen with him and deliver intense bouts of action. Watch him carry a steel rope with two (!!!) helicopters attached, or see him fly a wingsuit plucked straight out of a rejected James Bond idea in a high-speed chase. But the cherry on top comes in one of the most unbelievable action scenes I've ever seen in a film.
Typing words to describe it won't do justice, but here goes: see Shah Rukh Khan and John Abraham chase each other in motorcycles on a frozen lane while Deepika Padukone ice skates to retrieve the two vials carrying the virus while avoiding the motorcycles. Describing it sounds perplexing enough, but trust me when I say this: you've never seen anything quite like it, even by Bollywood standards.
As Telugu cinema has had its success story with S.S. Rajamouli's RRR, Bollywood was also due for a comeback in the aftermath of the COVID-19 pandemic. While Gangubai Kathiawadi is the best of post-COVID Bollywood due to Sanjay Leela Bhansali's luscious visual storytelling and Alia Bhatt's high performance, audiences craved the return of pure maximalism, harkening back to the days of Dhoom and its sequel (Dhoom 3 is an abomination), Don, Krrish (Koi… Mil Gaya isn't that good), and Baazigar.
With Pathaan, Siddharth Anand delivers a return to maximalism, with action sequences so unbelievable they must be seen on the biggest screen imaginable and brings back the raw and magnifying power of Shah Rukh Khan for the world to see after many years of stepping away from the spotlight. Whoever said, "there are stars, and then there's Shah Rukh Khan," is correct. There will never be a Bollywood star like Shah Ru — scratch that. There will never be an icon quite like Shah Rukh Khan. His imprint on cinema history will be felt long after he's gone. 
5/5
Pathaan is now playing in select IMAX theatres. What did you think of the movie? What is your favorite Shah Rukh Khan performance? Let us know in the comments below, and be sure to follow us on social media to be notified of more news and reviews like this in the future!
KEEP READING: THE 1619 PROJECT REVIEW: A BEAUTIFUL RETELLING OF THE INDELIBLE CONTRIBUTIONS OF BLACK PEOPLE TO AMERICA