Former professional wrestler Lanny Poffo has died at age 68. On Thursday morning, WWE Hall of Famer Hacksaw Jim Duggan and later WWE announced Poffo's death. His cause of death is not currently known.
Poffo is far from a household name, but he has been involved in the wrestling business his entire life. He wrestled for WWF from 1985 to 1992 under the Leaping Lanny Poffo and The Genius gimmicks. Although he had a long tenure in WWE he is by far most well-known for being the younger brother of legendary pro wrestler Macho Man Randy Savage, real name Randy Poffo.
RELATED: RIC FLAIR MAKES TREMENDOUS AMENDS AND RELINQUISHES "THE MAN" TITLE
FROM A LEGENDARY WRESTLING FAMILY
Lanny was born to pro wrestler and wrestling promoter Angelo Poffo. Lanny began his wrestling career in 1974 wrestling with his father as a tag team.  He eventually made his way to Big Time Wrestling which was the Detroit territory of the National Wrestling Alliance.
He continued to wrestle for different small NWA territories until 1984 when he began wrestling for Bill Watt's Mid-South Wrestling.  The following year he made his way to the big time and began wrestling for Vince McMahon and the WWF.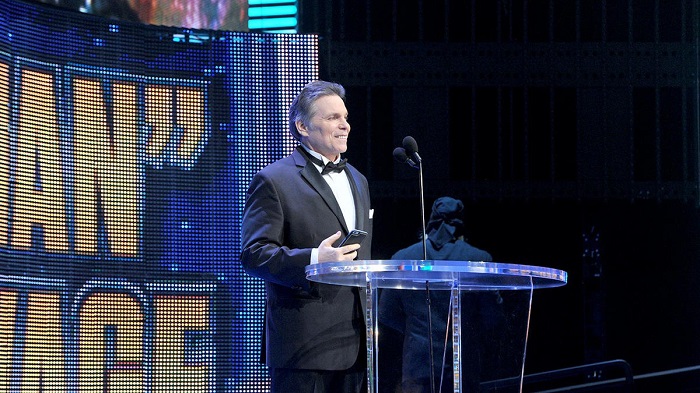 TIME TO HEAD TO WWF
Lanny joined WWF and eventually teamed with the legendary Pedro Morales under his Leaping Lanny Poffo gimmick. They enjoyed an undefeated streak until they suffered their first loss against The Iron Sheik and Nikolai Volkoff.  
Poffo earned the "Leaping" nickname as he was considered to be one of the first high-flyers in WWF history.  It must have been quite a sight to see someone jumping off the top rope as much as he did back in the mid-1980s.
THE FIRST GENIUS OF THE SKY
Poffo wasn't just a high-flyer known for jumping around.  He also used his intelligence to write and recite poetry and limericks written for the I'm sure very grateful WWF crowds. He began managing Mr. Perfect and perhaps he wasn't quite as perfect until Poffo took him under his wing.
He remained on the mid-card for most of his WWF career and primarily wrestled in tag matches.  Perhaps the highlight of his career was when he went one-on-one with Hulk Hogan and won.  Well, he taunted Hogan which allowed Mr. Perfect to grab the WWF Championship and stick gum on it. 
This forced Hogan to leave the ring and Poffo won by count-out. Perfect and The Genius also stole Hogan's WWF World Heavyweight Championship title belt, taking it back to the locker room, and The Genius sang and danced while Perfect to a hammer to the belt, destroying it and shattering it to pieces. This led to a short feud with Poffo and Mr. Perfect vs. Hogan.  The Genius was not able to win any championships in WWF, but he sure tried his best.
RELATED: ROH AND TAG TEAM WRESTLING LEGEND JAY BRISCOE DEAD AT AGE 38
Poffo began wrestling for WCW in 1995. In what is a funny wrestling story Poffo only wrestled for WCW one time until he left in 1999. He was paid by WCW the entire time, but WCW never booked him and he called often looking to be booked. Sounds like a pretty great deal to me.
LANNY POFFO LATER IN LIFE
In Poffo's later life, he began to do motivational speaking. He also later released a comic book and a book of poems and limericks.  In 2018, he started a podcast where he interviewed wrestling legends called The Genius Cast with Lanny Poffo. However, he was mostly seen talking about his brother Randy Savage in documentaries about Savage.  He was also the person to induct his brother into the WWE Hall of Fame as part of the Class of 2015.
We here at The Illuminerdi want to wish our deepest condolences to the Poffo family.
Did you know Lanny Poffo and Savage were brothers if you were able to watch WWF as a kid?  Do you have any memories of Poffo which stick out to you?  Do you think he was able to open the door a bit in WWF for other high flyers to enter shortly after?  If Savage wasn't his brother do you think he would be a household name?  Let us know if you think he will be inducted into the WWE Hall of Fame in the next few years on The Illuminerdi Twitter account.
KEEP READING: ROMAN REIGNS WILL HAVE HIS REVENGE AGAINST SAMI ZAYN AT ELIMINATION CHAMBER
Sources: Hacksaw Jim Duggan, WWE