Halle Bailey provided insight on how the remake of Disney's beloved film The Little Mermaid will take a different story direction.
As with the original animated film based on the Hans Christian Andersen fairy tale, The Little Mermaid (2023) focuses on Ariel, who is fascinated with the human world. After rescuing Prince Eric from a shipwreck, her love for him motivates her desire for a life out of water. Following an argument with her father King Triton, she makes a deal with the sea witch, Ursula, to trade her voice for human legs.
Bright Young Bailey, Ready to Stand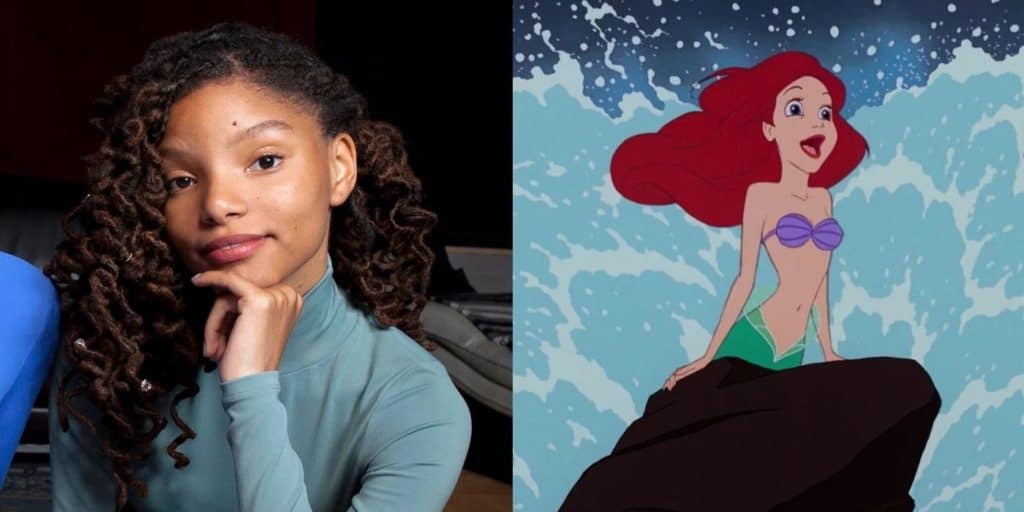 Halle Bailey knew that she would be providing something new to The Little Mermaid in her role as Ariel. She loved the original 1989 film growing up, though the original incarnation of Ariel, portrayed by Jodi Benson, looked radically different from Bailey. When Bailey got a call from Rob Marshall approving her for the role, she was overjoyed and awestruck.
RELATED: NEW THE LITTLE MERMAID TV SPOT REVEALS MORE UNDERWATER MAGIC
Although Ariel was designed with a fair complexion and bright blue eyes, Bailey's acting and musical talents landed her the role. Her performance of "Where is the Love" alongside her sister Chloe at the 2019 Grammy Awards caught Marshall's attention. Bailey's vibrato brought a timeless quality that would fit in a contemporary fairy tale about finding one's voice, exactly what Marshall was looking for. Everyone who auditioned for the role of Ariel came from different races and backgrounds, but Bailey hit the right notes in capturing the essence of the character.
"What's beautiful about this version of The Little Mermaid is that it's a lot more modern. When we saw it, when we were younger, she gave up everything for the guy. But I don't think [that] reflects modern women today. So [now] it's more about Ariel finding freedom for herself because of this world that she's obsessed with… [Prince Eric] is a cherry on top, but it's not all about him."

– Halle Bailey –
According to Bailey, this modern retelling of The Little Mermaid will have a more modern approach in its storytelling and characters. In the original film, Ariel sacrifices her voice and renounces her status as a mermaid to be with Prince Eric. Compared to the demure Snow White, Cinderella, and Aurora, Ariel was the first Disney Princess to actively rescue and earn her romance. 
RELATED: STEVEN SPIELBERG REVEALS THE HEARTWARMING REASON HE TURNED DOWN DIRECTING THE HARRY POTTER FRANCHISE
Although Ariel's portrayal was considered progressive for the time, it conflicts with modern views on the definition of feminism. With the live-action remake, Ariel's story will be more about her fascination with the human world turning into a journey of finding freedom. This also changes the context to her romance with Prince Eric; he is not the end goal in Ariel's story, but the cherry on top.
Watch and You'll See, Bailey Will Be Part of Your World!
Like Ariel, Bailey grew up as the youngest sister in the family. Bailey looked up to her sisters, especially Chloe, with whom she performs as the R&B duo Chloe x Halle. Bailey learned to become independent when she moved away from her older sister and played the role of Ariel. Her real-life self-discovery aligns with Ariel's story of diving into the unknown and striving for new experiences.
RELATED: THE SIMPSONS: GET YOUR FIRST LOOK AT LIZZO'S OUTRAGEOUS NEW CHARACTERS IN SEASON 34 FINALE
Bailey's casting was not the first time that an actor was chosen for their ability over their appearance. Back in 1967, Eartha Kitt replaced Julie Newmar as Catwoman in the first Batman television series. In 1994, The Shawshank Redemption starred Morgan Freeman as Red, who was Irish in Stephen King's original novella. While there may be heated discussions on diversity and representation in entertainment, it cannot be denied that an actor's skill is the deciding factor in bringing a character to life.
The Little Mermaid (2023) is scheduled for theatrical release on May 26, 2023. How do you think Bailey's version of Ariel will fare in the story? Let us know all of your thoughts and theories over on our social media!
KEEP READING: GET YOUR FIRST HIDEOUS LOOK AT SEBASTIAN THE CRAB IN DISNEY'S LIVE-ACTION THE LITTLE MERMAID