We Have a Ghost teams up three MCU stars. David Harbour, Anthony Mackie, and Steve Coulter (from She-Hulk: Attorney at Law), inside a ghost-centered adventure from the director of Freaky and the Happy Death Day movies. Damn, sign me up! It has all the ingredients for a successful movie: a fun adventure film bolstered by the charisma of Mackie and Harbour (as a ghost), mixing a bit of psychological horror and political actioners, because why not?
RELATED: NETFLIX SHOWCASES THEIR 2023 MOVIE SLATE WITH A GLORIOUS TRAILER
And while the concepts director Christopher Landon presents in We Have a Ghost build the skeleton (get it?) of an exciting film, its execution could be better. It becomes yet another forgettable Netflix piece of content.
We Have a Ghost is Neither Scary Nor Exciting
Ghost stories are tricky to do, especially children's ghost films. Lord knows some deeply traumatized me as a kid. I still can't rewatch The Peanut Butter Solution after seeing it in sixth grade and experiencing actual trauma. It can't be too scary, but it should be enough to mesmerize the audience's interest, at least enough so that younger moviegoers would want to venture into the world of kiddie horror. However, We Have a Ghost is neither scary nor exciting enough to hold anyone's attention. It re-treads a plot most have seen before, and any newer elements are relegated to second fiddle.
The gist is simple: the Presley family moves to an old house occupied by a ghost named Ernest (David Harbour). They, of course, do not know that until Kevin (Jahi Winston) encounters Ernest while exploring the attic. Ernest tries to haunt him away, but he's not scared and instead films it on their phone. When Kevin's father, Frank (Anthony Mackie), sees the video, he posts it on YouTube, and Ernest becomes a viral sensation.
However, it also reaches the attention of the CIA, with Deputy Director Arnold Shipley (Steve Coulter) reigniting an old program called Wizard Clip, led by Dr. Leslie Monroe (Tig Notaro), who has been wanting to capture a ghost for over twenty years.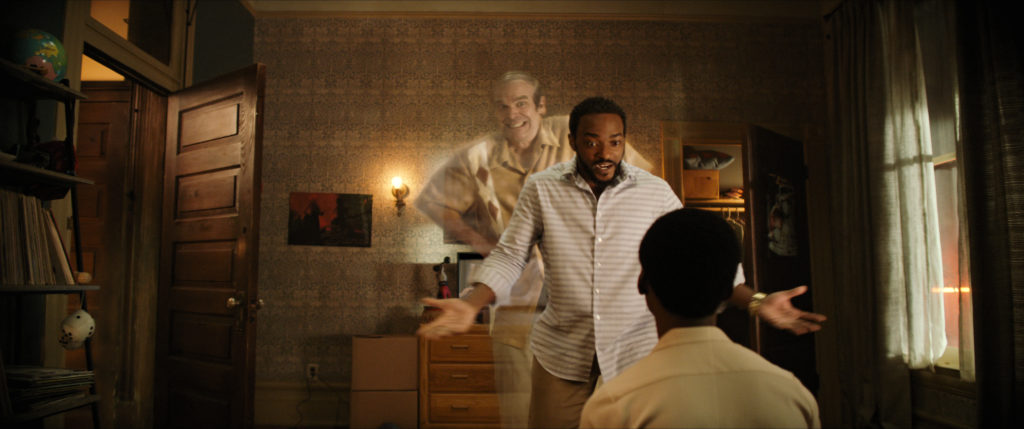 The political aspects of the film are by far the most interesting: There's a sub-CIA operation dedicated to ghost hunting? How cool! And whenever the CIA shows up with their ghost-hunting guns, the stakes elevate naturally and the action is thrilling to watch. Unfortunately, it barely scratches the surface of what could be a fun aspect to explore.
Instead, the movie focuses on things we've already seen, such as a story of a kid helping a ghost cross over to the afterlife by finding the closure he needs to make peace for himself. Some of it works, but most are bogged down by so many unrealized concepts and barely-developed ideas that we don't get a chance to enjoy the film at its fullest potential.
We Have a Ghost Doesn't Know What It Wants to Be
The biggest problem is that We Have a Ghost has no idea what it wants to be. Does it want to be a purely haunted house film? A kiddie horror film? A slasher picture? A political thriller? A family comedy where the father will use the ghost's existence to make a profit online? What does it want to say with everything it starts to throw at us? Its runtime (127 minutes) is way too long.
It wouldn't be a problem if it had an identity, but since it keeps throwing us things without much thought, the audience quickly gets bored. It doesn't help that the film is poorly shot and contains several risibly-looking sequences filled with bad CGI and lifeless cinematography that makes the entire thing look like an algorithmic product instead of a movie with a real sense of visual style and substance.
Thankfully, most of the performances are good. Mackie is charming enough to make his character interesting, even if you do not root for him. Winston has terrific onscreen chemistry with Isabella Russo, who plays Kevin's love interest as they go on a road trip. The whole thing is clichéd, but at least they're an exciting pair to watch, especially when they go on an intense chase with the police. Tig Notaro is two-for-two (in February!) in starring in bad Netflix films with limited screentime and stealing the show from the leads, especially Harbour, who looks completely bored playing a mute ghost whose grins supposedly convey multiple expressions, but we only see pure desperation.
RELATED: POWER RANGERS COSMIC FURY: A RANGER ALUM WON'T BE MAKING A GOLDEN HOMECOMING FOR THE 30TH SEASON: EXCLUSIVE
Jennifer Coolidge makes an extended cameo as a fake medium (Steve Coulter also starred in Shotgun Wedding alongside Coolidge). That scene is hands-down the funniest thing of the whole affair. It's the only time that Landon does something interesting with the ghost potential, having Ernest take multiple shapes before frightening the living hell out of Coolidge and the rest of the crew. It's an incredible feat, but the entire sequence could've also been cut out. Unfortunately, that's how pointless it is, and the movie seems to be.
As soon as We Have a Ghost starts, we know exactly how it will end without fault. And as much as Landon tries to keep the film moving by throwing a bunch of genres and plot threads simultaneously, it only partially morphs into something worth watching. Netflix likes to attract considerable talent for its projects that are rarely worth watching. This is no exception, and what a shame it is.
1.5/5
We Have a Ghost is now streaming on Netflix. What did you think of the movie? What's the scariest film you saw as a kid? Let us know in the comments below and be sure to follow us on social media!
KEEP READING: POWER RANGERS COSMIC FURY: A RANGER ALUM WON'T BE MAKING A GOLDEN HOMECOMING FOR THE 30TH SEASON: EXCLUSIVE