Season 2 of The Ghost and Molly McGee introduces best friends to the McGees with the Chen family, Bill Motz and Bob Roth explain why they went the best friends route.
When a series gets a season 2, it is never surprising for a show to add new characters. However, in family-oriented shows, new characters are usually rivals and antagonists. But in true The Ghost and Molly McGee fashion, the new characters aren't rivals, they're the new best friends of the McGee family, the extremely cool and likable Chen family. While the Chen family and McGee are best friends, the Chen family are world-renowned ghost hunters. Considering the McGees live with a ghost, this puts an obvious obstacle in an otherwise perfect friendship that is the Chens and the McGees.
Why Bill and Bob Chose to Make the Chens and McGees Best Friends in The Ghost and Molly McGee
RELATED: The Ghost and Molly McGee Creators Wanted to Make A Show About Friends Not 2 People Who Hate Each Other
It is not often that new characters are best friends and rivals. It makes for a truly interesting dynamic. It's easy to have rivals be in opposition, but it's a lot hard to make best friends be in opposition. Series creators and executive producers share why they chose to make the Chens and McGees best friends rather than enemies, despite being on very opposing sides of ghosts.
The Illuminerdi: With the new season, you're introducing the Chens who are a great addition. A lot of shows usually introduce rivals down the line. What inspired you to make them to be the perfect best friends for the McGees?
Bill Motz: In a way, our first thought was that very thing of just, "Let's just have these antagonists who come in and they start shaking it up."
Bob Roth: It's a little paramilitary group of [ghost hunters].
Bill Motz: Yeah. And then we kind of decided, "I don't know if that is as interesting as if you picked a best friend family, this group of people that you share so much in common with, except for this one, but very important, exception."
Bob Roth: It's super adorable! But…
Bill Motz: Yeah. And I think that that makes it hard because Molly's point of view is to believe the best in people and the idea of enhapifying and making the world a better place. And here's a group of people that are very much on board with that, except that they hate ghosts. And part of her conundrum is going to be, 'How do I be connected to that family?' Because they have to now, because they're across the street and they've bonded and also protect my best friend, Scratch, and maybe try to help change their mind about their perspective. Before they destroy Scratch.
RELATED: The Ghost and Molly McGee Creators Want to Add Positivity and Joy to The World
Personally, I love how the series shows that even best friends can be on completely opposing sides on an issue, and can't wait to see how the Chens and McGees overcome it.
ABOUT THE GHOST AND MOLLY MCGEE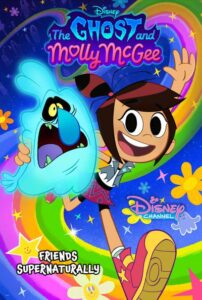 Release: Season 2 now airing on the Disney Channel and Streaming on Disney+ Created By: Bill Motz, Bob Roth Executive Producers: Steve Loter, Bill Motz, Bob Roth Producer: Bitta Reitman Editors: Tony Molina (S1), John Royer (Current) Production Company: Disney Television Animation Cast: Ashly Burch, Dana Snyder, Jordan Klepper, Sumalee Montano, Micaela Dietz, Lara Jill Miller Synopsis: The Ghost and Molly McGee is the story of a ghost and the girl who brings him back to life… figuratively. When a cantankerous ghost named Scratch places a curse on exuberant tween Molly McGee, it backfires and leaves him forever cursed to be in Molly's presence. Now he's forced to go everywhere Molly goes and do everything Molly does… which, in Molly's eyes, makes him her best friend! As Molly drags reluctant Scratch along on all her misadventures, a funny thing happens: Scratch comes to like Molly, and an unlikely friendship blossoms.
The Ghost and Molly McGee is currently in full stride of Season 2 with new episodes premiering every Saturday at 5pm on the Disney Channel, as well as streaming on Disney+. Are you caught up with The Ghost and Molly McGee? Is it possible to watch this show and not smile? Are you more like Scratch or Molly? Let us know your thoughts and share your love of the series with us on social media!
KEEP READING: 'Gremlins: Secrets of the Mogwai' Sets Magical Premiere for May 23 on MAX