The Ghost and Molly McGee creators share where the authentic representation in the series comes from.
Disney's The Ghost and Molly McGee is not only an epitome of positivity and goodness that adds light to the world, but it is also an incredible testament to representation. The McGee's are a family of mixed heritage and fully embrace the cultural influences. The series also does not shy away from the darker aspects of the culture. Coming from an Asian household, it was powerful to see the contentious relationship between an adult Asian person has with their parent and also how Asians make fun of other people's spice tolerance. It's something that is rare and often usually played for extreme drama or comedy, but treated as normal in the series.
The Ghost and Molly Creators Share How They Get Real Representation
RELATED: The Ghost and Molly McGee Creators Tease The Origins of the Super Cool Chen Family
It's hard to explain how impactful it is to see real representation of yourself on screen. While it is far more common now, it's still a foreign feeling having spent decades and the majority of your life ignorant of it. There are more attempts at it, but often times the attempts don't do it quite right, and you end up applauding the effort more than the act itself. But The Ghost and Molly McGee do both to perfection. So I had to ask Bill and Bob about it.
The Illuminerdi: The show also does a really good job of being very full of the paranormal but also very grounded. Like you have some real cultural staples that oftentimes, especially in animation and stuff, get glossed over or not addressed at all. In Season One, you had Nin and Sharon's relationship, which is [without giving anything away] a very common thing, especially even in my own family. And then on the lighter side, in Season Two Episode One, it's like, "Oh, yeah, it's hard to get spices around here. Pepper the spice everybody here." Is it a goal to include these cultural staples, or is it just something natural that you feel it just plays into it?
Bob Roth: It's both. With the writers' room we put together, it came naturally. They brought so many touches from their own lives into it. It all just flowed like butter. It was like, :Oh, great. They know all the little moments that are going to make this feel authentic and natural and unique." The goal, the hard work was in putting the writers' room together, finding the right people. But once we found the right people, it was frictionless.

Bill Motz: And not to tease too much, but we have more episodes coming up in season two that go even deeper into heritage issues and dynamics. And we're excited for people to see…

Bill Motz and Bob Roth, Creators and Executive Producers of The Ghost and Molly McGee
RELATED: The Ghost and Molly McGee Creators Explain Why The Chens Are Best Friends Instead of Rivals
Bill and Bob assembled a tremendous writers' room. They got the right people and basically, just let them be the people they are and we get to see people being people even in an animated ghost-inhabited world. It's great that they approach the issue directly, mindfully, and artistically. Bill Motz and Bob Roth are true artists that further prove animation is film. Even when it's for kids, it's for everybody. Plus, we also know there will definitely be more of it this season.
The Ghost and Molly McGee is currently in full stride of Season 2 with new episodes premiering every Saturday at 5pm on the Disney Channel, as well as streaming on Disney+.
ABOUT THE GHOST AND MOLLY MCGEE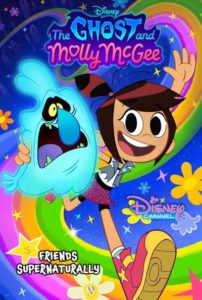 Release: Season 2 now airing on the Disney Channel and Streaming on Disney+
Created By: Bill Motz, Bob Roth
Executive Producers: Steve Loter, Bill Motz, Bob Roth
Producer: Bitta Reitman
Editors: Tony Molina (S1), John Royer (Current)
Production Company: Disney Television Animation
Cast: Ashly Burch, Dana Snyder, Jordan Klepper, Sumalee Montano, Micaela Dietz, Lara Jill Miller

Synopsis:
The Ghost and Molly McGee is the story of a ghost and the girl who brings him back to life… figuratively. When a cantankerous ghost named Scratch places a curse on exuberant tween Molly McGee, it backfires and leaves him forever cursed to be in Molly's presence. Now he's forced to go everywhere Molly goes and do everything Molly does… which, in Molly's eyes, makes him her best friend! As Molly drags reluctant Scratch along on all her misadventures, a funny thing happens: Scratch comes to like Molly, and an unlikely friendship blossoms.
Are you caught up with The Ghost and Molly McGee? Is it possible to watch this show and not smile? Are you more like Scratch or Molly? Let us know your thoughts and share your love of the series with us on social media!
KEEP READING: The Ghost and Molly McGee Creators Wanted to Make A Show About Friends Not 2 People Who Hate Each Other