Power Rangers: Once & Always will debut the return of an Alpha alongside the iconic returning cast. The fully sentient, multi-functional automaton has been a supporting character in Mighty Morphin Power Rangers and will now appear as part of the 30th-anniversary celebration. There have been many Alpha Units that have appeared over the years featured throughout history, including Operation Overdrive and Power Rangers Hyperforce. However, will the Power Rangers franchise finally debut Alpha 8 in the upcoming release?
Power Rangers first debuted Alpha 5 as a supporting character to assist the Rangers since the first season of Mighty Morphin Power Rangers. As the robotic companion to Zordon, they often act as technical support and maintained everything the Rangers possessed from their Morphers to their Zords. There have been many different Alpha units including Alpha 6 from Turbo to Lost Galaxy plus Alpha 55 featured in Hyperforce. A reimagined Alpha 5 was also featured in the 2017 movie, which magnified the alien origins of the robotic assistant.
RELATED: What Boom Studios Figures Could Be Next For The Stunning Power Rangers Lightning Collection in 2023?
There was also a briefly revealed Alpha 7 during the Forever Red 10th anniversary special episode during Wild Force and the first Alpha unit featured in Boom! Studios Comics. Alpha 1 featured as a villainous character in the Go Go Power Rangers comic series, who was revealed to be the first assistant to Zordon and first appeared in Issue 18.
Alpha 6 has also made a reappearance for the 15th-anniversary special episode for Power Rangers Operation Overdrive, but who is the Alpha appearing in the 30th Anniversary special?
Where is Alpha 8 and Which Alpha stars in the Power Rangers Special?
The Alpha featured in Power Rangers: Once & Always has been revealed to be Alpha 9, which has been confirmed by a signature found on Walter Jones' script. Alpha 9 will be voiced by Richard Steven Horvitz in the 30th Anniversary special.
RELATED: Former Power Rangers Pink Ranger Developing New 30th Anniversary Comic Series For Boom! Studios
Whether this Alpha making his debut appearance, or it is an inherited number based on the systematic appearances of an Alpha, has yet to be confirmed. As pre-existing Alpha units have been accounted for, the only Alpha outstanding for the series of characters is Alpha 8.
It's curious that Alpha 5 will not be appearing in the upcoming special, but it is still possible that he is the same character. Since the original voice actor for Alpha 5 is making a return. The possible locations where Alpha 8 could exist include assisting Adam and Aisha at SPA, but SPD could also have an Alpha unit to help the teams of Rangers formed by these intergalactic protectors. The ongoing theory is that Alpha 5 was originally destroyed by Dark Spector's attack on Eltar but his memory survived, which means the number for this Alpha could be related to his rebuild.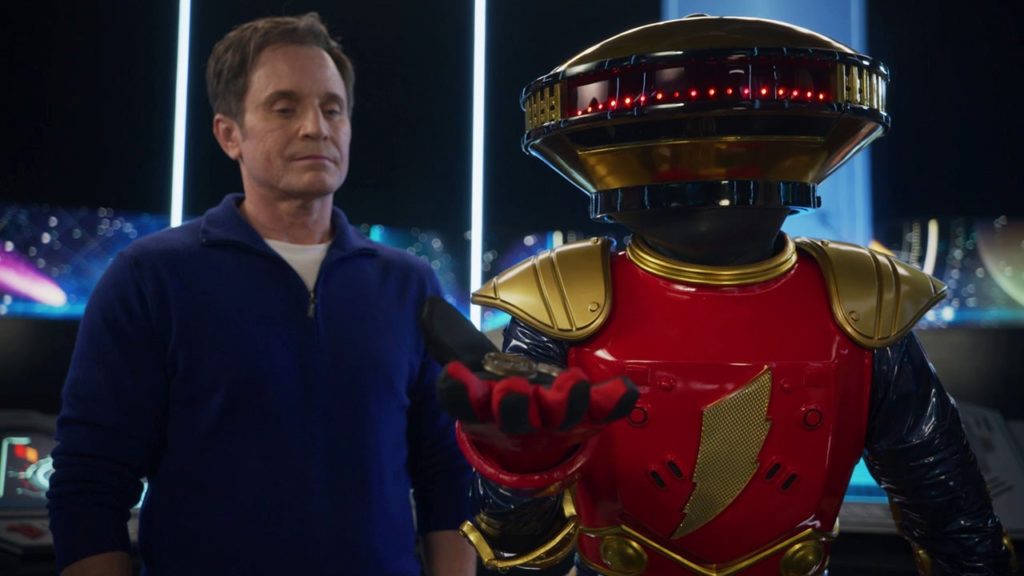 The lore of Alpha has yet to be confirmed but there are many Alpha Units known to exist. Whether Alpha 5 becomes Alpha 7 to 9 has never been confirmed, but there have been parts mixed for different Alpha appearances. We know that Alpha 6 was last seen accompanying Adam and Alpha 55 still travels with the Hyperforce Rangers, but there are still plot holes involved. For now, Fans have the debut of Alpha 9 to look forward to during Power Rangers: Once & Always coming to Netflix worldwide.
Power Rangers: Once & Always is coming to Netflix on Wednesday, April 19.
What do you think of Alpha 9 on the 30th anniversary special? Are you excited about Power Rangers: Once & Always? Where do you think Alpha 8 is? Let us know on social media and keep following The Illuminerdi for more Rangers content.
KEEP READING: Boom! Studios Announces Power Rangers 30 Direct Reserve Campaign