Disney and Pixar's Elemental selected as the closing film for Cannes Film Festival.
Pixar Animation Studios is making its triumphant return to the Cannes Film Festival with its all-new feature film, Elemental. The movie will debut at the festival on May 27, ahead of its theatrical release on June 16. Elemental is the 27th animated feature from the storied studio and the fourth to be selected for the Cannes Film Festival, joining the ranks of Up, Inside Out, and Soul.
"As we all emerge from our pandemic cocoons and come together in story rooms, animation dailies and impromptu brainstorming sessions, it's a joy and honor to have Pixar back on La Croisette. Directed by the extraordinary storyteller Peter Sohn, 'Elemental' is so funny, full of heart and, frankly, stunning to see. It was created for audiences to experience on the big screen and I love that it'll make its world premiere at Cannes." Pete Docter, Pixar's Chief Creative Officer
Elemental at Cannes
Docter, Sohn, and producer Denise Ream will be in attendance at the festival alongside members of the film's voice cast. The Cannes Film Festival has been hosting the international competition since 1946, and it's become an event where animated films from around the world can be celebrated. In 2009, Pixar made history at the festival by opening the 62nd edition with Up, directed by Pete Docter. The studio's return to Cannes with Elemental is yet another opportunity to present an amazing film and to think about our lives in a powerful way.
RELATED: Elemental Creator Reveals The Personal Inspiration Behind Pixar's Newest Animated Feature
Elemental is an all-new, original feature film set in Element City, where fire, water, land, and air residents live together. The story introduces Ember, a tough and fiery young woman whose beliefs about the world are challenged by her friendship with a fun and go-with-the-flow guy named Wade. Leah Lewis stars as Ember, with Mamoudou Athie as Wade, Ronnie del Carmen as Ember's soon-to-be-retired dad Bernie, Shila Ommi as Ember's love-seeking mom Cinder, Wendi McLendon-Covey as Wade's stormy and Air-Ball-loving boss Gale, Catherine O'Hara as Wade's welcoming mom Brook, Mason Wertheimer as Ember's admiring neighbor Clod, and Joe Pera as an overgrown city bureaucrat, Fern.
RELATED: Elemental All-New Trailer, 4 New Character Posters, and Amazing Voice Cast Reveal
Directed by Peter Sohn and produced by Denise Ream, Elemental features a screenplay by John Hoberg and Kat Likkel, and Brenda Hsueh with a story by Sohn, Hoberg, Likkel, and Hsueh. The film's original score was composed and conducted by Thomas Newman.
Pixar has a long history of creating some of the most beloved and acclaimed animated films of all time. With Elemental, the studio is sure to once again capture the hearts of audiences around the world. Its premiere at the Cannes Film Festival is just the beginning of what promises to be a thrilling journey for fans of the studio and its work. The combination of an all-star voice cast, talented filmmakers, and a compelling story set in a fascinating world is sure to make Elemental one of the most talked-about films of the year. Pixar fans and animation enthusiasts won't want to miss it.
Elemental releases on June 16, 2023, exclusively in theaters.
ABOUT ELEMENTAL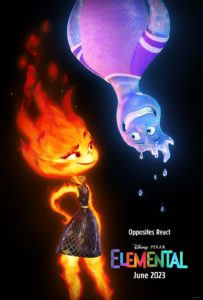 Release Date: June 16, 2023
Director: Peter Sohn
Executive Producer: Pete Docter
Producer: Denise Ream
Screenplay: John Hoberg & Kat Likkel and Brenda Hsueh
Story By: Peter Sohn, John Hpberg & Kat Likkel and Brenda Hsueh
Score: Thomas Newman
Produced By: Pixar, Walt Disney Pictures
Distributed By: Walt Disney Studios Motion Pictures
Cast: Leah Lewis, Mamoudou Athie, Ronnie del Carmen, Shila Ommi, Wendi McLendon-Cobey, Catherine O'Hara, Mason Wertheimer, Joe Pera

Synopsis
Disney and Pixar's "Elemental" is an all-new original feature film that transports moviegoers to an extraordinary place called Element City, where a host of elements live and work. The trailer showcases each element—air, earth, water and fire—and what sets them apart according to Ember, a quick-witted and fiery woman who's always stayed close to home in Firetown. In "Elemental," which opens in theaters on June 16, she finally ventures out of her comfort zone to explore this spectacular world born from the imaginations of Pixar's filmmakers and specifically crafted for the big-screen experience. Element City is inspired by big cities around the globe and embraces theorized contributions from each elemental community—from giant pine-tree-like buildings and waterfall skyscrapers to a tornado-shaped arena called Cyclone Stadium.
What do you think about Disney and Pixar's Elemental? Which element do you think you would be? Will you be at Cannes? Let us know your thoughts and expectations on social media!
KEEP READING: Nani Cast For The New Live-Action Remake Of Lilo & Stitch Coming to 2024