Are you ready to embark on a thrilling adventure through Element City? Pixar's upcoming film, Elemental, promises to transport audiences to a breathtaking world where different elements coexist in harmony. With tickets now on sale, get ready to witness the stunning visuals and captivating story of Ember and Wade as they challenge the norms and explore the extraordinary. Tickets are now available!
Elemental Tickets on Sale Now
Element City is a mesmerizing metropolis inspired by real-world cities, featuring architectural wonders that embody the essence of each elemental community. From towering pine-tree-like structures to majestic waterfall skyscrapers, the cityscape of Element City will leave you in awe. And don't forget Cyclone Stadium, a one-of-a-kind arena shaped like a tornado that adds an exhilarating touch to the already dazzling setting. The filmmakers at Pixar have spared no expense in crafting a world that will transport you to new heights.
RELATED: Elemental Creator Reveals The Personal Inspiration Behind Pixar's Newest Animated Feature
Director Peter Sohn, known for his heartfelt storytelling, brings his own life experiences to the film, exploring themes of multiculturalism and interracial relationships. Sohn's personal journey, combined with the allegorical representation of different elements, adds depth and relatability to the characters and their struggles.
As you immerse yourself in the world of Elemental, be prepared for an emotional rollercoaster. Pixar's signature storytelling will tug at your heartstrings and remind you of the importance of connection, family, and the sacrifices our loved ones make for us. With every frame meticulously crafted and a powerful score by Thomas Newman, this film promises to be an unforgettable cinematic experience.
RELATED: Global Smash Hit The Super Mario Bros. Movies Warping Onto Digital May 16
But that's not all! Pixar continues its tradition of pairing their feature films with captivating shorts, and Elemental is no exception. Just before the main event, audiences will be treated to Carl's Date, a heartwarming short featuring the beloved characters from Up. Join Carl and his faithful companion, Dug, on a hilarious and heartwarming adventure that explores the complexities of dating in a charming and relatable way.
Get ready for a supernatural adventure and secure your tickets now to embark on an extraordinary journey to Element City. Get ready to be captivated by the visual splendor, touched by the heartfelt story, and immersed in the magic of Pixar's Elemental. As well as see a new chapter from the wonderful world of Up.
Carl's Date will premiere along with Elemental on June 16, 2023, exclusively in theaters. Tickets are on sale now.
About Elemental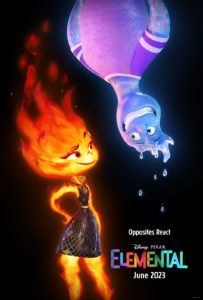 Release Date: June 16, 2023
Director: Peter Sohn
Executive Producer: Pete Docter
Producer: Denise Ream
Screenplay: John Hoberg & Kat Likkel and Brenda Hsueh
Story By: Peter Sohn, John Hpberg & Kat Likkel and Brenda Hsueh
Score: Thomas Newman
Produced By: Pixar, Walt Disney Pictures
Distributed By: Walt Disney Studios Motion Pictures
Cast: Leah Lewis, Mamoudou Athie, Ronnie del Carmen, Shila Ommi, Wendi McLendon-Cobey, Catherine O'Hara, Mason Wertheimer, Joe Pera

Synopsis:
Disney and Pixar's "Elemental" is an all-new original feature film that transports moviegoers to an extraordinary place called Element City, where a host of elements live and work. The trailer showcases each element—air, earth, water and fire—and what sets them apart according to Ember, a quick-witted and fiery woman who's always stayed close to home in Firetown. In "Elemental," which opens in theaters on June 16, she finally ventures out of her comfort zone to explore this spectacular world born from the imaginations of Pixar's filmmakers and specifically crafted for the big-screen experience.
What do you think about Disney and Pixar's Elemental? Which element do you think you would be? How excited are you about the new Up short 'Carl's Date'? Let us know your thoughts and expectations on social media!
Source: Fandango
KEEP READING: Ant-Man and the Wasp: Quantumania Share Hilarious Deleted Scene to Celebrate Home Media Release on May 16