The upcoming Star Wars live-action series, Ahsoka, will mark the live-action debut of fan-favorite villain, Grand Admiral Thrawn. Not only that, the actor who portrayed the role previously in Star Wars Rebels, Lars Mikkelsen, is also bringing the character to life for the new television series. Mikkelsen recently spoke to EW.com and offered some insight on his approach to his performance as Thrawn and his approach to playing the character in live-action.
LARS MIKKELSEN REVEALS HIS APPROACH TO THE LIVE-ACTION GRAND ADMIRAL THRAWN IN AHSOKA
Grand Admiral Thrawn made his debut in the updated Star Wars canon in the third season of Star Wars Rebels, with Mikkelsen voicing the character throughout the third and fourth seasons. The series finale of Rebels led to Thrawn and Ezra Bridger, one of the heroic members of the Ghost crew and a fighter in the Rebel Alliance, disappearing into the far reaches of space.
RELATED: Ahsoka Reveals Epic Teaser Trailer and Release Date at Star Wars Celebration 2023
Ezra Bridger utilized his force powers to have wild purrgils ensnare Thrawn's ship before they all jumped to lightspeed to unknown space. Later in Season 2 of The Mandalorian, former Jedi Knight Ahsoka Tano (Rosario Dawson), is seen hunting for an elusive Thrawn. In Season 3, the Imperial Shadow Council indicated that Thrawn is mounting an army and is considered the "Heir to the Empire." It appears Thrawn is now mounting an offensive to attempt to take down the New Republic and restore the Empire.
Now, Thrawn makes his formal return with the events of Ahsoka, and now, fans will get to see the character depicted in live-action for the first time ever. Speaking on his approach for the new series, Mikkelsen stated, "In many ways, it's the same character. He's based on the same material. But we needed to think: Do this right."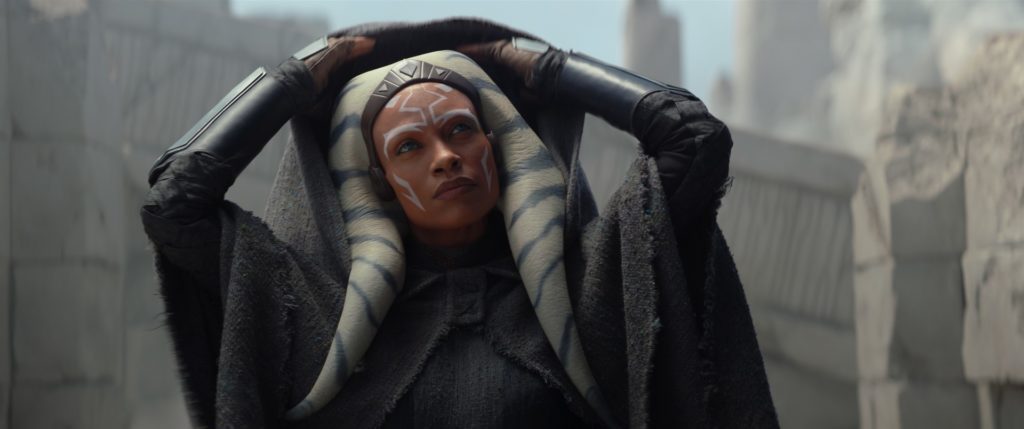 To prepare for his return and translating the character to live-action, Mikkelsen revisited his performance in old episodes of Rebels. While he's still playing the same character, Mikkelsen still "wanted to create something new" with his performance.
With regards to how he views Thrawn, whether he's an irredeemable villain or a military genius simply trying to achieve victory, Lars Mikkelsen added, "He's a top strategist. He's always seven paces ahead of anybody else. And ruthless, of course." The actor continued, "But only when it's needed, actually. I think he thrives also with the creativity of the surroundings. I mean, he's not using people in a bad way. He's using their creativity to reach his goals."
RELATED: Eman Esfandi Confirmed as Ezra Bridger in Exciting New Ahsoka Series
The series also stars Dawson as Ahsoka Tano, Lars Mikkelsen as Thrawn, Natasha Liu Bordizzo as Sabine Wren, Mary Elizabeth Winstead as Hera Syndulla, Diana Lee Inosanto as Morgan Elsbeth, Ivanna Sakhno as Shin Hati, the late Ray Stevenson as Baylan Skoll, David Tennant as the droid Huyang, and Eman Esfandi as Ezra Bridger. Kevin Kiner will serve as the series composer.
The new Star Wars live-action series, Ahsoka, will stream exclusively on Disney+ starting later this summer. The show is slated to debut in August.
What do you think of the news? Do you like what Lars Mikkelsen has to say about portraying Grand Admiral Thrawn in live-action? Are you glad he's back to portray the role in this version? Do you plan on watching Ahsoka? Let us know what you think about the news on The Illuminerdi's social media.
SOURCE: EW.com
KEEP READING: Punisher and Ahsoka's Ray Stevenson Dies at 58